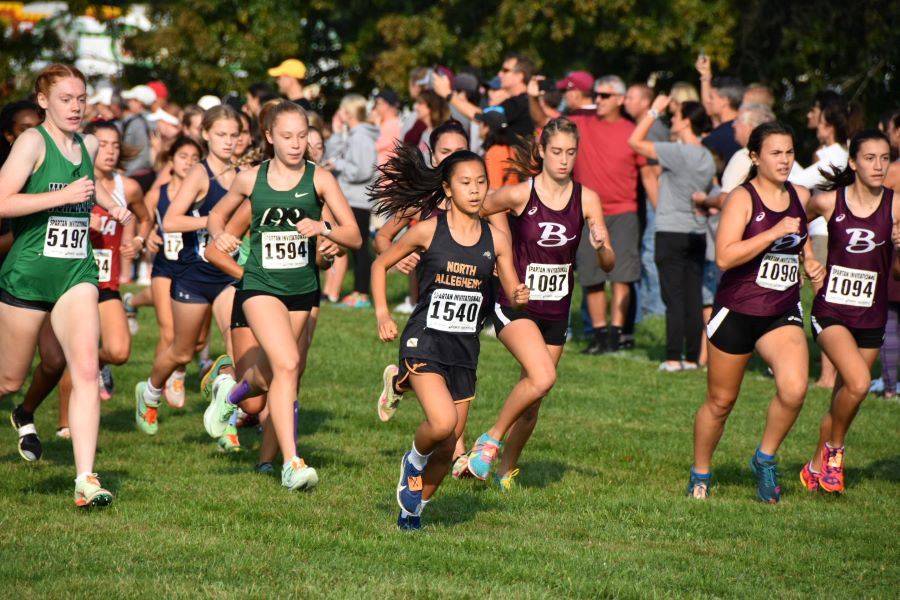 Tigers Win Team, Individual Titles At Boardman Invitational
The North Allegheny cross country teams traveled to Boardman, Ohio to compete against some of the best teams from the Tri-State area. The NA Boys and Girls won gold with outstanding performances across the board.
The Lady Tigers dominated the field of 37 D1 (elite division) teams with an incredible score of 29 points, outdistancing second place by 91 points.  NA had four out the top six in the race and all seven scorers in the top 18. Sophomore Wren Kucler took the lead early in the field of 319 runners and didn't look back.  She ran an impressive 18:40, gapping the runner-up by over 26 seconds. The trio of Eva Kynaston (Junior – 4th overall), Erin McGoey (junior – 5th overall) and Grace Rowley (senior – 6th overall) ran amazingly well, putting in their best performances of the season. Returning to the lineup was sophomore Robin Kucler with a very stellar season debut in 13th place.  Sophomore Camille Swirsding was fantastic in 16th overall and sophomore Elizabeth Pizon was not far behind with a strong finish in 18th overall.
The NA boys took first prize out of 44 D1 teams with an impressive 86 points (second was place totaled 133 points). Sophomore Jack Bertram found his stride pulling away from the field of 369 runners in the middle of the race and winning the whole thing with the only sub-16-minute time on the 5k course. Having a breakout race and stepping up in a big way was senior Jackson Pajak (14th) who continues to improve with each race. A couple seconds back from Pajak was senior Gregory Kossuth who ran an excellent race in 15th. Senior Joey Rempe was fantastic with another huge performance in 27th place overall. Rounding out the top five for the Tigers was James Behrend with a very solid performance in 29th. Sixth for NA and 35th overall was junior Michael Gauntner. The final varsity scorer was a Vincent Rotunno who had one of his best races, displacing many top five runners from other teams in 47th overall.
Complete Results from all races can be found by clicking here.