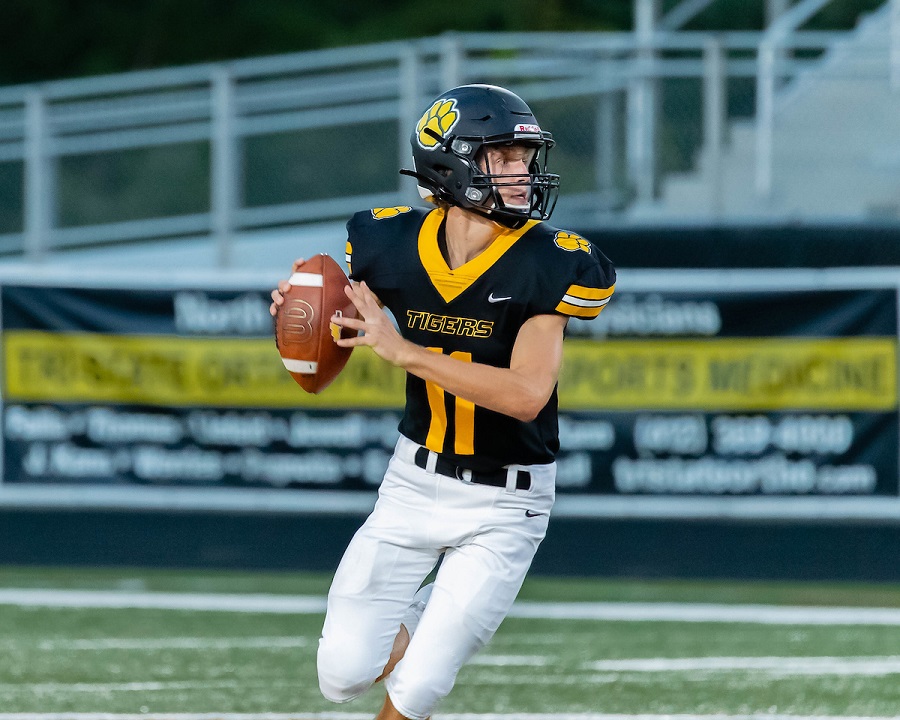 Top-Ranked Tigers Host Mt. Lebanon Tonight
The North Allegheny Tigers (2-0) play host to the Mt. Lebanon Blue Devils (1-1) tonight in a Quad County Conference matchup.
The top-ranked Tigers are coming off an important 35-21 victory over the formerly ranked No. 1 team in Class 6A, the Central Catholic Vikings. In the victory, North Allegheny allowed only 17 rushing yards to PCC star running back Eddy Tillman and intercepted three passes, including a 40-yard interception return for a touchdown by senior linebacker Khalil Dinkins in the third quarter. Seniors Brady Leczo and Mason Kress added interceptions as well. So far this season, the NA defense has yielded a scant 38 rushing yards in the team's two games combined.
The Blue Devils, meanwhile, lit up the scoreboard during a 52-26 win over Hempfield last week for their first conference win. Junior running back Alex Tecza led the way for Mt. Lebanon with rushing touchdowns of 5 and 75 yards, and added a third score on a 51-yard touchdown catch. For the season, Tecza is second on the team in rushing with 108 yards, behind senior Maurice Plummer, who paces the Blue Devils with 127 yards on 21 carries. Last year's leading rusher, senior Visawn Pennix, has missed the first two games due to injury but could return for tonight's contest.
Quarterback Joey Daniels is a returning starter after throwing for over 1,300 yards and 16 touchdowns as a sophomore last season. So far in 2020, Daniels has 386 yards passing and five touchdowns with no interceptions. The top target for Daniels and the passing game is slot receiver Eli Heidenriech, who has hauled in six passes for 139 yards and three touchdowns.
The Mt. Lebanon offense averages 35 points per game, but the defense has allowed 25 points on average. In the season opener, the Blue Devils saw a 17-point lead evaporate in a 24-17 loss to Canon-McMillan.
The North Allegheny offense allows 27 points per game, while defense permits just six points per contest.
The Tigers have won 10 in a row in the head-to-head series with the Blue Devils, including a 40-14 win in their most recent meeting last season. In that game, NA sacked Daniels six times and permitted only 23 total yards in the second half. Running back Percise Colon rushed for 150 yards and two touchdowns.
Tonight's game between North Allegheny and Mt. Lebanon will kickoff at 7:05 p.m. from Newman Stadium and can be see live on video stream, with the pregame show getting underway at 6:45 p.m. The pregame show includes an interview with Tigers head coach Art Walker. To watch tonight's game, click here.