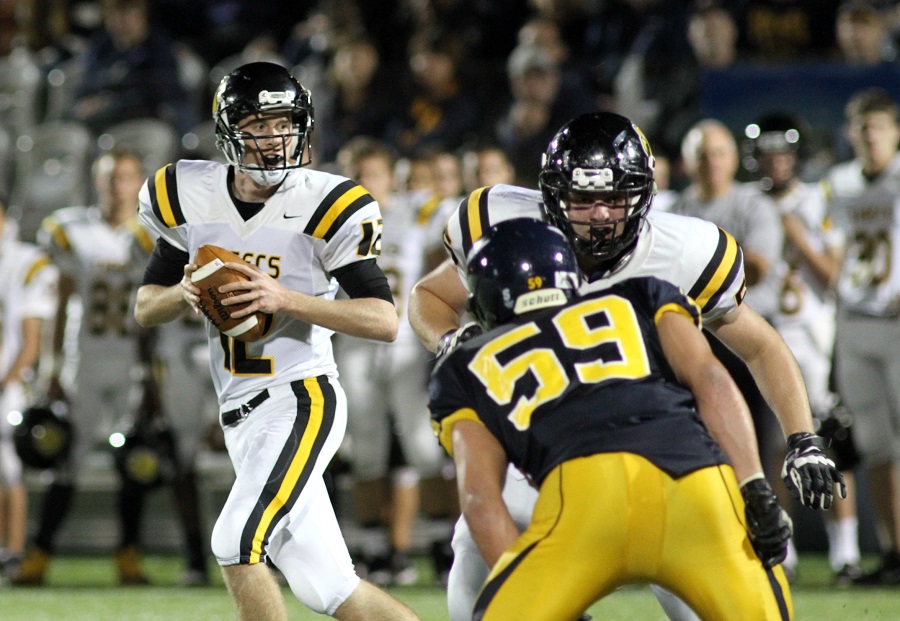 Top-ranked Vikings Defeat Tigers, 27-0
The Central Catholic Vikings clinched at least a share of the Northern Eight Conference title with a 27-0 win over North Allegheny on Friday night.   The Vikings scored all of their points in the first half as fullback Devin Falloon rushed for three touchdowns and J.J. Cosentino scored on a 2-yard QB keeper to cap the scoring late in the second quarter. The defeat for North Allegheny marks the first time since 2006 that the Tigers have dropped consecutive games.
Central Catholic running back Riley Redman rushed for 187 yards and Falloon added another 79 yards in the Vikings ground heavy attack.  North Allegheny was held to -12 yards rushing and committed three turnovers.  Using a variety of players at quarterback, senior Cage Galupi was a bright spot for the Tigers, completing 11 of 20 passes for 130 yards.  His top target was Clay Byerly who hauled in six passes for 76 yards.  Behind the arm of Galupi, North Alleheny's best chance to score came late in the second quarter when the Tigers drove to the Central Catholic 6-yard line.  However, two bad snaps resulted in a pair of sacks for the Vikings and thwarted the NA drive.
The second half was a stalemate between two dominant defenses.  The Tigers forced a fumble from running back Grant Foster on the first play from scrimmage in the third quarter and allowed the Vikings just 93 yards of offense in the second half.  Amongst the NA standouts on defense were Jason Monper with 5.5 tackles, Layne Skundrich with 8.5 tackles, Jon Sumpter with 9.5 tackles, and Reilly Sullivan with a team-high 10.5 tackles.  For his efforts, Sullivan was selected as the Wright Automotive Player of the Game by the North Allegheny Sports Network.
The loss drops North Allegheny to 4-3 overall and 3-2 in the Northern Eight Conference.  Central Catholic jumps 7-0 overall and 6-0 in the conference.  The Tigers look to bounce back next week with a home game against the Shaler Titans.  The Vikings hit the road with a non-conference meeting with the Altoona Mountain Lions.
For total team and individual stats, click here.