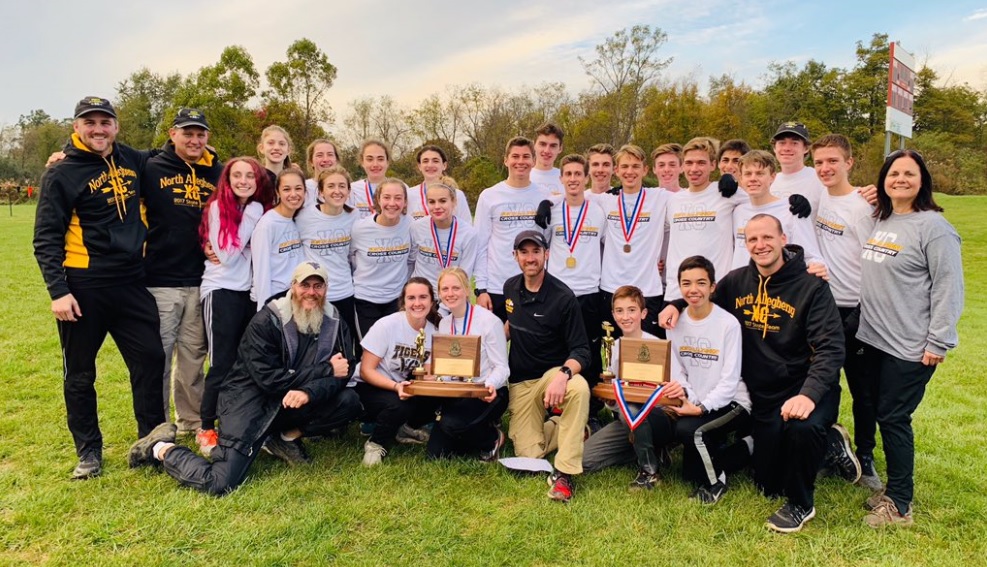 WPIAL Gold For NA Boys, Girls Cross Country Team
The North Allegheny cross country teams took part in the WPIAL championship on Thursday afternoon and both squads came away from California University of PA with a gold medal finish. The NA Girls posted a team score of 45, which was 63 points better than second-place Oakland Catholic. The WPIAL crown is the eighth overall and first since 2004 for the Lady Tigers.
The NA Boys totaled a team score of 63 to take first place and dethrone defending champion Seneca Valley. The Raiders finished in second place with a score of 84. Thursday's title win is the 29th for the NA Boys cross country program, the most of any school in WPIAL history.
Leading the way for the Lady Tigers with top-10 finishes were sophomore Keeley Misutka (6th), junior Caroline Daggett (7th), freshman Rachel Hockenberry (9th) and junior Hannah Lindgren (10th). Senior Ally Christy (13th), freshman Maura Mlecko (22nd) and sophomore Emily Thompson (39th) also contributed to NA's impressively low team score. For a look at the girls WPIAL Class AAA results, click here.
The NA Boys were led by individual champion Daniel McGoey, who garnered first place with a time of 16:01. McGoey is NA's first individual boys WPIAL champion since Matt McGoey in 2014.
Senior Zachary Kinne took eighth place, crossing the finish line in 16:50. Also contributing to the Tigers' title run was sophomore Andrew Kollitz (13th), junior Stephen Nalepa (20th), senior Ethan James (21st), senior Luke Turkovich (31st) and sophomore Connor Foody (41st). For a look at the boys WPIAL Class AAA results, click here.
With the WPIAL title at hand, the NA cross country team turns its attention to the PIAA championship on Saturday, November 3.