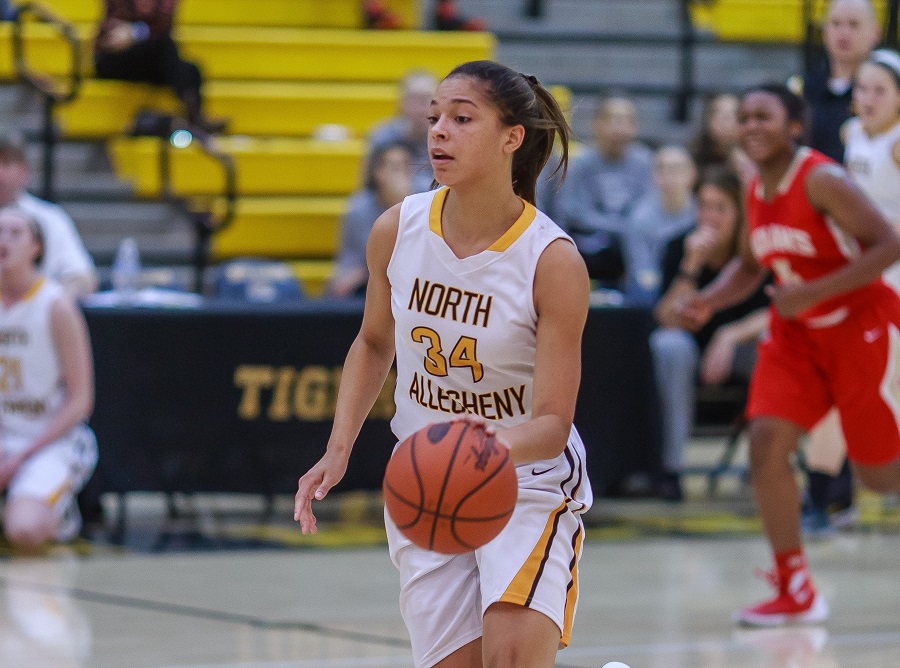 Wright Automotive Tip-Off Tournament Set For Dec. 9 – 12
North Allegheny high school will play host to the annual Wright Automotive Tip-Off Tournament on Friday, December 9 through Monday, December 12. Eight girls' basketball teams from across western Pennsylvania will be competing in this year's event, including the host North Allegheny Lady Tigers. Here's a quick look at the team's competing with a schedule of events below:
North Allegheny Tigers
The Lady Tigers were state semifinalists and WPIAL runners-up last season during a 25-5 season. The 25 wins matched a program record. Under second-year head coach Spencer Stefko, North Allegheny will turn to senior forward Hailey Zeise, a Stony Brook University recruit, as one of the team leaders following the graduation of D-I athletes Abby Gonzales and Taylor Lake. Zeise was third on the squad in scoring last season with 9.6 points per game and second in rebounding with 5.1 boards per contest. Sophomore Rachel Martindale, a talented two-sport athlete, presents a threat at the perimeter and averaged 9.1 ppg last year as a freshman.
Altoona Mountain Lions
A perennial championship contender in District 6, the Mountain Lions are hoping to return to the district title game after a 14-8 campaign in 2015-16. Altoona fell in the District 6 finals to State College, 52-27, a team the Mountain Lions defeated the year prior in the district finals thanks to the heroics of then-sophomore Paige Whitfield. Whitfield drained a bucket with 5.7 seconds left to lift Altoona to a 46-45 win over State College for the district crown two years ago. Whitfield and 6-2 senior forward Paige Biesecker are expected to be leaders for the Mountain Lions.
Blackhawk Cougars
A powerhouse in Class AAA over the years, the Cougars make the jump to Quad-A this season. Last year, Blackhawk fell short of a third-straight state title but did reach the PIAA playoffs with a 19-8 record. Senior Breanna Hoover is a clutch defensive player with strong shooting from the perimeter for the Cougars. In the opening day of the Wright Automotive Tip-Off tournament, Blackhawk will play Villa Maria who ended the Cougars season with 57-31 win the PIAA playoffs last year.
Chartiers Valley Colts
The Colts are coming off a 15-11 campaign and appearance in the WPIAL quarterfinals. CV is hoping to make an impact in Class 5A Section 1 with a sister duo that can score points in a hurry. Nicknamed the "Splash Sisters" by second-year head coach Dan Slain, Lauren and Mackenzie Wagner will be players to keep an eye on.
Mt. Lebanon Blue Devils
No matter what players are on the team you can always expect the Blue Devils to be a top contender in the WPIAL thanks to long-time head coach Dori Oldaker. Oldaker led Blackhawk to PIAA championships in 1999 and 2000, and directed Mt. Lebanon to three consecutive state titles from 2009-2011. The year's version of the Blue Devils will be paced on the floor by senior McKenzie Bushee who averaged nearly 16 points per game last season. Junior Kate Srmac is a southpaw guard who can create problems for defenses. The Blue Devils finished the 2015-16 season with a 16-10 record and an appearance in the PIAA playoffs.
Penn Hills Indians
Like North Allegheny, the Penn Hills Indians were one of the top teams in Class AAAA last season and will be making the bump to the brand new 6A classification in the WPIAL. The Indians were a sparkling 23-4 last season but two of those losses were two the NA Tigers, including a 68-40 loss in the WPIAL semifinals. Penn Hills is again expected to be an upper tier team thanks to the talents of guard Desiree Oliver. Oliver enters her senior season with 1,177 career points and averaged 18.8 points per game last season. The Division 1 recruit made a verbal commitment last month to Temple University.
Norwin Knights
If you haven't  noticed, the Wright Automotive Tip-Off tournament is loaded with talent. Furthering that point are the Norwin Knights who are two-time reigning WPIAL champions. Two years ago, the Knights defeated Penn Hills for the WPIAL crown and last season topped North Allegheny at the Peterson Events Center by erasing a 13-point fourth quarter deficit for a 63-57 overtime win. The Knights finished the 2015-16 season with a 27-1 record, with their only loss coming to North Allegheny in the PIAA quarterfinals. Norwin will have to find scoring from a new source this season following the graduation of the program's most decorated player, Alayna Gribble. Now a freshman at the University of Pittsburgh, Gribble ended her high school career as Norwin's all-time leading scorer with 1,782 points, among numerous other accolades.
Villa Maria Victors
The Villa Maria Victors were just win away from capturing a PIAA title last season in Class AAA and suffered their only loss in a dazzling 29-1 campaign in the state championship game, 46-29, to Archbishop Wood. Villa Maria will have to move on without guard Sara Agnello (Lafayette), guard Anna Sweny (Canisius) and forward Jennifer Oduho (Youngstown State) who have all graduated and are currently playing Division I basketball.  The Victors do return 5-8 senior guard Julia Casella and 6-2 junior forward Madison Demski to the starting lineup. Head coach Doug Chuzie preaches defense first so expect a strong defensive effort no matter how much talent was lost to graduation.
| Tip-Tournament Schedule | | | |
| --- | --- | --- | --- |
| | Friday, December 9 | | |
| 3:30 pm - Game 1 | Mt. Lebanon (V) vs. Chartiers Valley (V) | Court I | |
| 5:00 pm - Game 2 | North Allegheny (V) vs. Penn Hills (V) | Court I | |
| 6:30 pm - Game 3 | Blackhawk (V) vs. Villa Maria (V) | Court I | |
| 8:00 pm - Game 4 | Norwin (V) vs. Altoona (V) | Court I | |
| | | | |
| 3:30 pm - Game 5 | North Allegheny (JV) vs. Penn Hills (JV) | Court II | |
| 5:00 pm - Game 6 | CANCELLED | | |
| 6:30 pm - Game 7 | Norwin (JV) vs. Altoona (JV) | Court II | |
| 8:00 pm - Game 8 | Blackhawk (JV) vs. Villa Maria (JV) | Court II | |
| | | | |
| | Saturday, December 10 | | |
| 12:00 pm - Game 9 | Loser of Game 1 vs. Loser of Game 3 | Court I | |
| 1:30 pm - Game 10 | Winner of Game 1 vs. Winner of Game 3 | Court I | |
| 3:00 pm - Game 11 | Loser of Game 2 vs. Loser of Game 4 | Court I | |
| 4:30 pm - Game 12 | Winner of Game 2 vs. Winner of Game 4 | Court I | |
| | | | |
| 12:00 pm - Game 13 | Winner of Game 5 vs. Winner of Game 7 | Court II | |
| 1:30 pm - Game 14 | Loser of Game 5 vs. Loser of Game 7 | Court II | |
| 3:00 pm - Game 15 | Mt. Lebanon vs. Winner of Game 8 | Court II | |
| 4:30 pm - Game 16 | CANCELLED | | |
| | | | |
| | Sunday, December 11 | | |
| 1:00 pm - Game 17 | Villa Maria (V) vs. Norwin (V) | Court I | |
| 2:30 pm - Game 18 | Chartiers Valley (V) vs. Altoona (V) | Court I | |
| 4:00 pm - Game 19 | Mt. Lebanon (V) vs. Penn Hills (V) | Court I | |
| | | | |
| 12:00 pm - Game 20 | Villa Maria (JV) vs. Norwin (JV) | Court II | |
| 1:30 pm - Game 21 | North Allegheny (JV) vs. Altoona (JV) | Court II | |
| 3:00 pm - Game 22 | Mt. Lebanon (JV) vs. Penn Hills (JV) | Court II | |
| | | | |
| | Monday, December 12 | | |
| 6:00 pm - Game 23 | North Allegheny (JV) vs. Blackhawk (JV) | Court I | |
| 7:30 pm - Game 24 | North Allegheny (V) vs. Blackhawk (V) | Court I | |