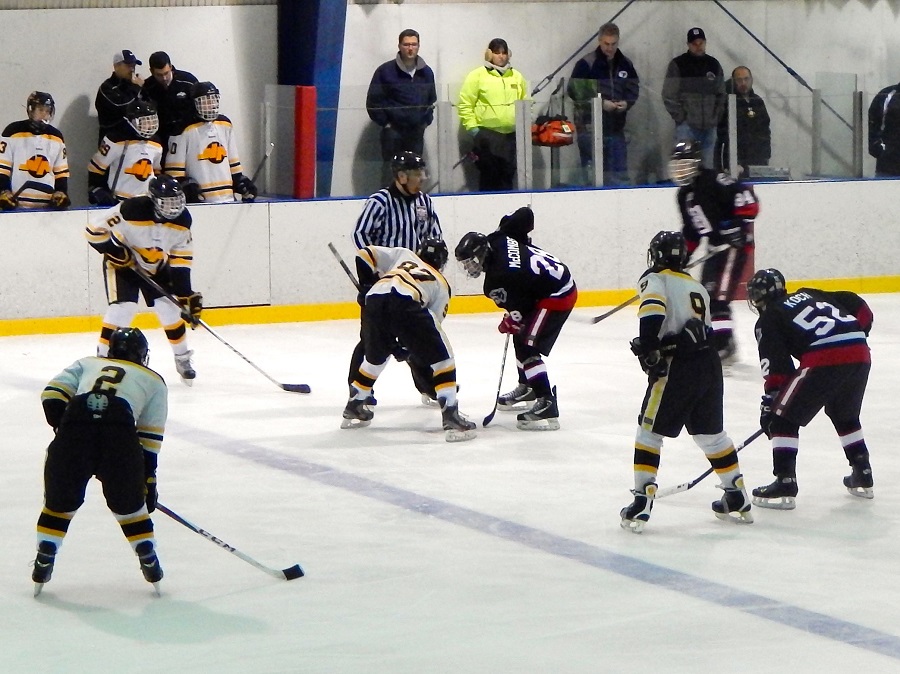 Third Period Outburst Vaults NA Past Panthers, 4-3
Three third period goals helped North Allegheny rally to a 4-3 victory over the Upper St. Clair Panthers on Tuesday night at the BladeRunners complex in Warrendale. The game was tightly contested in the first two periods with both teams scoring only one goal apiece within that span. Daniel Bostedo gave the Tigers a 1-0 lead with a goal coming with just two seconds left in the first period.  The Panthers answered in the second period with a marker by Jacob Puccetti and the score was even, 1-1. 
An interference penalty on the Tigers late in the second period carried over into the third and the Panthers took advantage in a more fast-paced final stanza. Lightning quick Austin Cassidy tallied a power play goal 32 seconds into the third period and USC held a 2-1 lead.  However, a holding penalty on Cassidy at the 6:27 mark of the third opened the floodgates for the Tigers. Dawson Richard scored a goal on the man-advantage to tie the game at 2-2 with 9:04 to play. Less than two minutes later, the Tigers grabbed the lead when Tyler Wilson beat USC goalie Tyler Finn for a 3-2 NA advantage.  Dominic Zangaro scored an important insurance goal with 3:14 remaining to make it 4-2, Tigers.  Refusing to go away quietly, Upper St. Clair gave itself hope with another tally by Cassidy with 51 second left to play.  The Panthers' desperation effort would end without the equalizer and the Tigers held on for a one-goal victory.
The Tigers outshot the Panthers 31-18 on the night.  North Allegheny's Joe Hubert earned the win by making 16 saves. Tyler Finn was peppered with NA shots but still managed 27 saves.
North Allegheny improves to 4-2 with the win and jumps back into sole possession of first place in Section 2.  Upper St. Clair falls to 4-2 and sits in second place in Section 1. The Tigers return to the ice on Tuesday with a home contest against the Mt. Lebanon Blue Devils.  Start time is slated for 6:10 pm.  
Ice Hockey Summary vs. Upper St. Clair 11-26-13
| GAME SUMMARY | | | | |
| --- | --- | --- | --- | --- |
| SCORE BY PERIODS | 1 | 2 | 3 | FINAL |
| Upper St. Clair | 0 | 1 | 2 | 3 |
| North Allegheny | 1 | 0 | 3 | 4 |
Ice Hockey Individual Scoring vs. Upper St. Clair
| INDIVIDUAL STATS | | |
| --- | --- | --- |
| FIRST PERIOD | | |
| North Allegheny | Daniel Bostedo | 16:58 |
| SECOND PERIOD | | |
| Upper St. Clair | Jacob Puccetti (Austin Cassidy, Christian Stage) | 1:24 |
| THIRD PERIOD | | |
| Upper St. Clair | Cassidy (Patrick Woomer) - PP | 0:32 |
| North Allegheny | Dawson Richard (Erik Chidester, Christian Louria) - PP | 7:54 |
| North Allegheny | Tyler Wilson | 9:45 |
| North Allegheny | Dominic Zangaro | 13:46 |
| Upper St. Clair | Cassidy (Kasey Colcombe) | 16:09 |