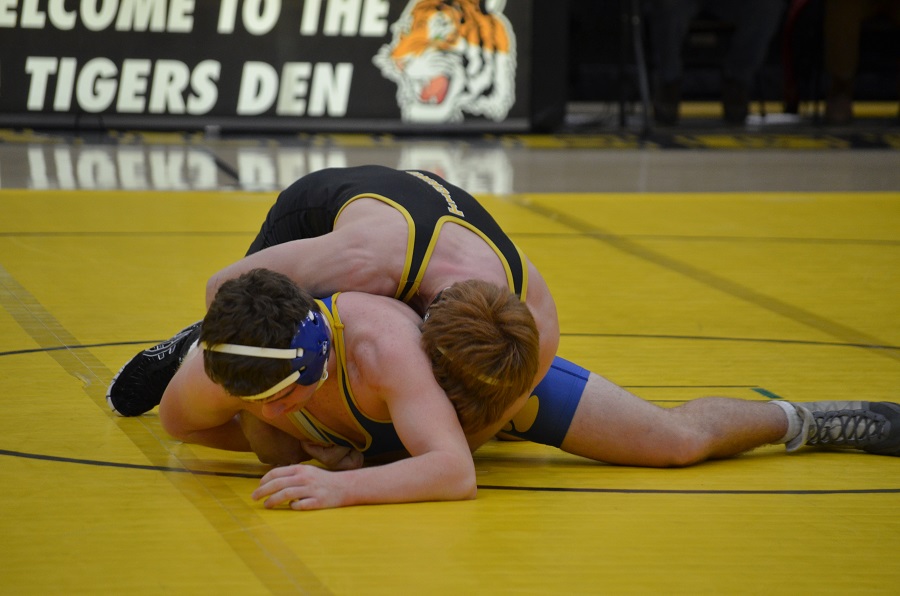 Tigers Capture Section 3B Title With 39-31 Win Over Hampton
In a battle of section unbeatens, the North Allegheny wrestling team prevailed over the Hampton Talbots on Wednesday night, 39-31. The victory gives the Tigers the Section 3B title heading into the Section 3-AAA tournament at Seneca Valley next week.
North Allegheny led 33-31 going into the final and decisive bout of the night. At 106 pounds, North Allegheny freshman Dylan Coy earned a win by fall over Jack Koren to secure the victory and the Section 3B crown. For his critical pinfall, Coy was named the Wright Automotive Wrestler of the Match by the North Allegheny Sports Network.
With the benefit of two wins by forfeit, North Allegheny jumped to a 12-6 lead over Hampton through four bouts. The Tigers increased the lead to 18-6 thanks to a win by fall from Max Stedeford at 138 pounds over Hampton's Jonathan McGuire.
Hampton trimmed the NA advantage to 18-16 with a major decision by Tyer Kocak at 145 pounds and a pinfall from Liam Helon at 152.  The Tigers regained their edge with back-to-back victories for a 27-16 lead as Brady Leczo earned a 4-1 decision over Gage Galuska at 160 pounds and senior Jon Hoover picked up a fall over Conrad Harold at 170. Hoover was also recognized before the matchup with Hampton on senior night as the team's lone senior.
Despite an 11-point advantage, Hampton stormed back for a 31-27 lead with two bouts remaining. NA collected a win by forfeit at 285 to retake the lead, 33-31, leaving the final bout at 106 pounds to decide the outcome. That set the stage for Coy's heroics and a 39-31 Tigers triumph.
With the win, North Allegheny improves to 5-0 in Section 3B, while Hampton falls to 4-1. Up next is the Section 3-AAA tournament at Seneca Valley on Wednesday beginning at 6:00 p.m.
Wrestling Match Summary: NA vs. Hampton
| Weight | Wrestlers | Score |
| --- | --- | --- |
| 113 | Brady Walker (NA) wbf | |
| 120 | Josh Campbell (H) dec. Brad Stipetich (NA) | 3-2 |
| 126 | Selena Brown (NA) wbf | |
| 132 | Zachary Wright (H) dec. Freddy Junko | 4-3 |
| 138 | Max Stedeford (NA) pinned Jonathan McGuire (H) | 3:02 |
| 145 | Tyer Kocak (H) maj. dec. Ian Branstetter (NA) | 14-3 |
| 152 | Liam Helon (H) pinned Bobby Snyder (NA) | 2:47 |
| 160 | Brady Leczo (NA) dec. Gage Galuska (H) | 4-1 |
| 170 | Jon Hoover (NA) pinned Conrad Harold (H) | 3:22 |
| 182 | Corey Scherer (H) pinned Christian Wojnar (NA) | 1:02 |
| 195 | Jayden Resch (H) | |
| 220 | Justin Hart (H) dec. Ben Grafton (NA) | 9-4 |
| 285 | Austin Huebner (NA) wbf | |
| 106 | Dylan Coy (NA) pinned Jack Koren (H) | 0:48 |