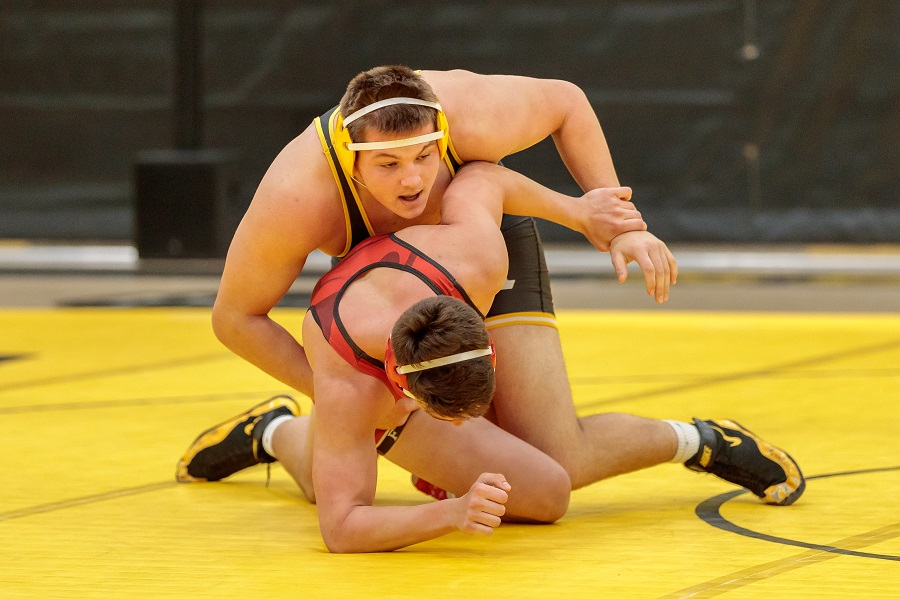 Devine Repeats As Section Champ, 10 NA Grapplers Advance To WPIAL Tournament
North Allegheny will send 10 wrestlers to the WPIAL Class AAA individual wrestling tournament following an outstanding performance at the Section 3-AAA tournament on Saturday. The weekend was highlighted by senior Derek Devine who won his second straight section title with a win by fall over Seneca Valley's Kevin Meeder at 285 pounds.
There were three silver medalists for the Tigers, including Freddy Junko, Jon Hoover and Ben Grafton. Junko reached the finals at 113 pounds and gave a valiant effort in a hard-fought 6-2 loss to Shaler's Ryan Sullivan. Sullivan is the No. 1-ranked wrestler in the state and a returning state finalist.
Hoover advanced to the finals at 160 pounds before suffering a medical default defeat to Jake Richardson of Mars in the title bout. Grafton, the fifth-seed at 220 pounds, pinned fourth-seeded Joe Kramer from Shaler and defeated top-seed Saavon Mosby from Knoch by an 8-3 decision en route to the finals at 220 pounds.
Senior Jacob Downing, who attained his 100th career win last week in a dual meet win over Thomas Jefferson, took home a bronze medal with a win by fall over Robert Palmeri of Pine-Richland at 126 pounds. Also earning Section 3-AAA bronze were Max Stedeford (106), and Gabe Falo (132). Sophomore Nick Marcenelle reached the third-place bout at 145 pounds to qualify for the WPIAL tournament.
Senior Mohammaad Khatami entered the tournament seeded 10th out of 10 wrestlers but managed to defeated the sixth, seventh and ninth-seeded wrestlers to secure his first ever berth in the WPIAL tournament. Khatami closed out his performance with a 3-1 decision over Jack Turner of Indiana.
Senior Manuel Bautista came into the tournament seeded seventh and notched his first appearance in the WPIAL championships with wins over the 10th, eighth and sixth-seeded wrestlers. In the fifth place match, Bautista used a takedown in overtime to punch his ticket in a 7-5 decision over Josh Miller of Fox Chapel.
Senior Andrew Wang came up just one win short of advancing with a sixth place finish. For a complete look at the brackets from the Section 3-AAA tournament, click here.
The WPIAL individual championships will be held on Friday and Saturday at Canon-McMillan High School.