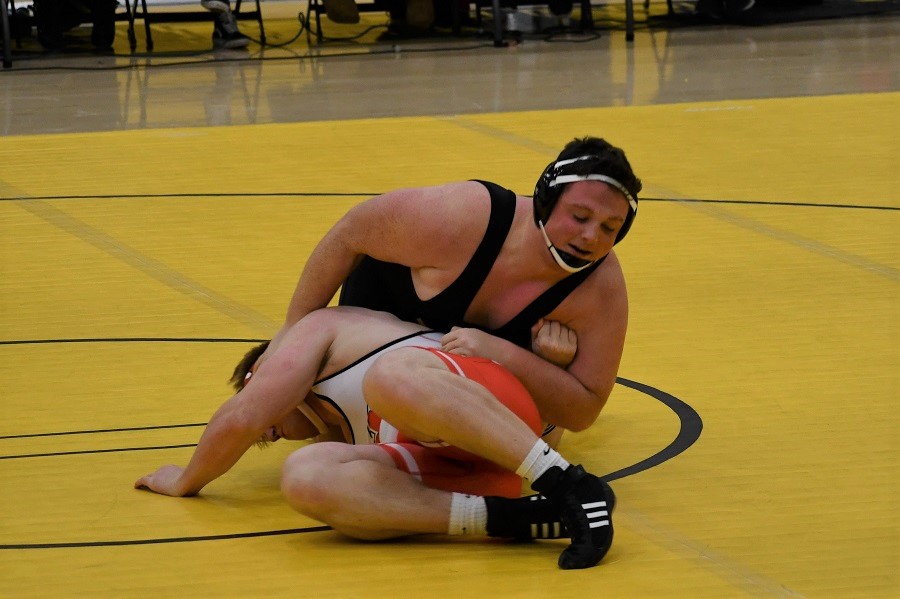 Ben Grafton Crowned Champion, NA Takes 2nd At Allegheny County Tournament
In final preparation before the Section 3-AAA tournament, the North Allegheny wrestling team took second place at the annual Allegheny County Tournament on Saturday. The Tigers totaled a team score of 222.5, finishing narrowly behind tournament champion Pine-Richland who posted a score of 223.2.
The Tigers crowned one individual champion at 285 pounds as Ben Grafton defeated Nick Murphy of Elizabeth Forward by a 3-1 decision in the title bout. Dylan Coy (120) and Max Stedeford (138) reached the finals in their respective weight classes and took home silver medals.
In all, eight NA grapplers earned medals. At 145 pounds, Freddy Junko defeated Christopher Beatty of Chartiers Valley by an 8-4 decision in the third-place consolation. Grant MacKay pinned Jacob Lukez of Pine-Richland at the 2:43 mark in the third-place bout at 152 pounds. Nick Marcenelle also won bronze at 195 pounds with a win by fall at 2:01 over Ethan Cain of Elizabeth Forward.
In the fifth-place consolation at 132 pounds, A.J. Rohan picked up a 5-2 decision over Henry Orlandini of Montour. At 152 pounds, Ian Branstetter also earned a fifth-place medal with a default victory over Josh Miller of Fox Chapel.
Following another successful tournament appearance, North Allegheny will host the Section 3-AAA Team tournament on Wednesday. The action begins at 6:00 p.m. as the Tigers will take on Butler. The championship and consolation rounds will follow at approximately 7:15 p.m. You can listen to all the action live on the North Allegheny Sports Network.