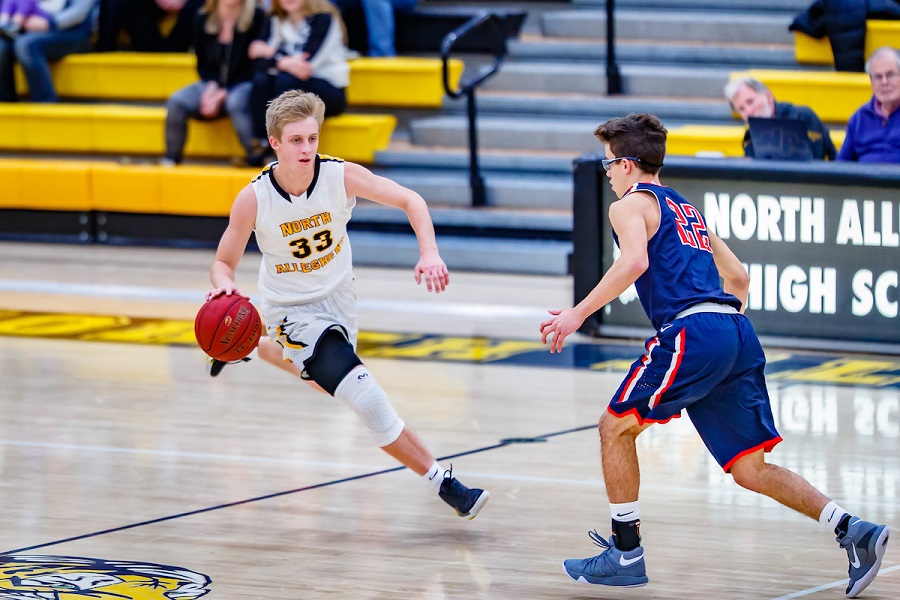 Central Catholic Edges NA On Buzzer-Beater, 50-48
Senior Cole Mason's bucket at the buzzer lifted the Central Catholic Vikings to a 50-48 win over the North Allegheny Tigers on Tuesday night. The last-second shot by Mason keeps Central Catholic undefeated in Section 1-6A action. Mason finished the night with nine points and 10 rebounds.
Facing the first-place Vikings on the road, the Tigers played valiantly and kept the game close thanks to 15-point performances from Ray Sandherr and Anthony Hattrup. Sandherr buried 3 of 4 shots from beyond the arc and tallied two steals and two assists. Hattrup connected on 6 of 9 attempts from the field and added two steals, two assists and a block. NA was without leading scorer Curtis Aiken and center Zach Johnson for the second straight game.
Central Catholic was paced by senior Luke Nedrow who netted a game-high 19 points. Junior Maurice Shipman tallied 16 points with four 3-pointers.
North Allegheny falls to 2-7 overall and 0-4 in Section 1-6A. Central Catholic leaps to 6-5 overall and 5-0 in section play. The Tigers will host the Seneca Valley Raiders on Friday night at 7:30 p.m. The game will be broadcast live via the internet on the North Allegheny Sports Network.