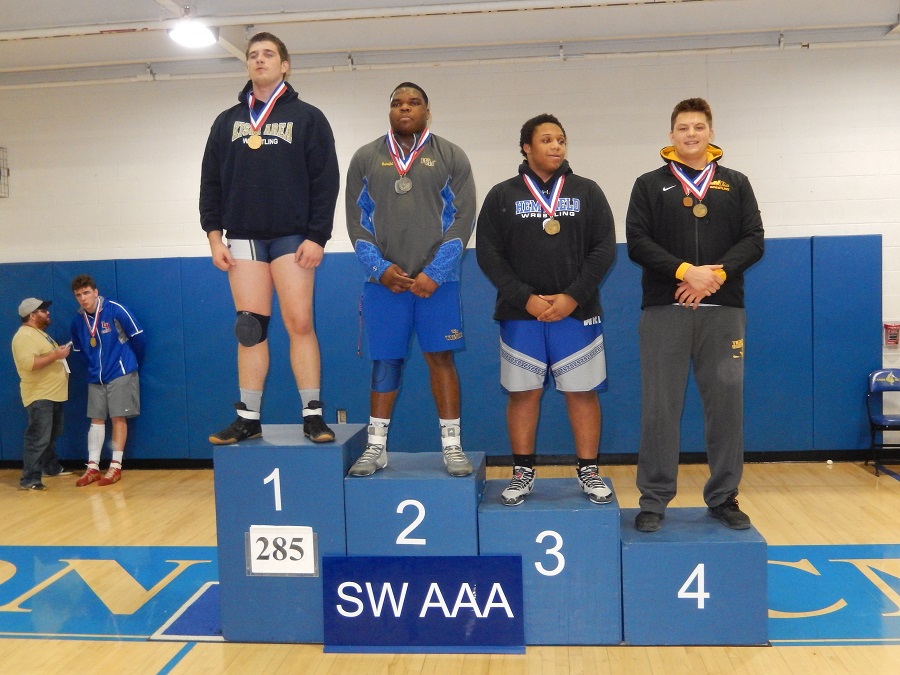 Derek Devine Qualifies For PIAA Tournament
North Allegheny senior Derek Devine claimed a fourth-place finish at the WPIAL Class AAA individual wrestling tournament on Saturday at Canon-McMillan High School and qualified for the PIAA individual wrestling tournament next week. Devine was one of six North Allegheny wrestlers who competed in day two of action at the WPIAL tournament.
Devine started the day in the winner's bracket but dropped a 9-1 decision to West Mifflin's Gerald Brown in the semifinal bout. In the consolation bracket, Devine bounced back with a 4-2 win over Nathan Hoagland of Mt. Lebanon to reach the third-place bout. In the third-place bout, Devine put forth a valiant effort before dropping a narrow 1-0 decision to Isaiah Vance of Hempfield.
Sophomore Freddy Junko put together a nice run in the consolation bracket at 113 pounds, picking up wins over Garrett Thompson of Franklin Regional and Kellen Lynch of Thomas Jefferson before eventually falling the fourth round of the consolations with a narrow 1-0 defeat to Jordan Watters of West Allegheny.
Similar to Junko, junior Jon Hoover strung together a pair of wins in the consolation bracket with a win by fall over Dylan McAnulty of Indiana and a 5-2 decision over Jake Richardson of Mars prior to a 1-0 loss to Nick Delp of Kiski Area.
At 126 pounds, senior Jacob Downing earned an 8-3 decision in the second round of the consolations over Mason Franks of Connellsville. At 220, sophomore Ben Grafton picked up a 5-3 decision over Andy Mellinger of McKeesport.  Both Downing and Grafton were upended in the third round of the consolations.
Senior Gabe Falo also reached day two of the WPIAL individual tournament. He fell to Zachary Macy of Chartiers Valley in the second round consolations at 132 pounds. For a look at North Allegheny's results in day two of the tournament, see below.
WPIAL Class AAA Wrestling Championships - Day Two
Saturday, March 3 at Canon-McMillan High School
| Weight | Wrestlers | Score |
| --- | --- | --- |
| 113 - 2nd Consolation | Freddy Junko (NA) dec. Garrett Thompson (Franklin Regional) | 2-1 |
| 3rd Consolation | Freddy Junko (NA) dec. Kellen Lynch (Thomas Jefferson) | 1-0 |
| 4th Consolation | Jordan Watters (West Allegheny) dec. Freddy Junko (NA) | 1-0 |
| | | |
| 126 - 2nd Consolation | Jacob Downing (NA) dec. Mason Franks (Connellsville) | 8-3 |
| 3rd Consolation | Zach McCann (Franklin Regional) dec. Jacob Downing (NA) | 9-5 |
| | | |
| 132 - 2nd Consolation | Zachary Macy (Chartiers Valley) dec. Gabe Falo (NA) | 8-1 |
| | | |
| 160 - 2nd Consolation | Jon Hoover (NA) pinned Dylan McAnulty (Indiana) | 0:43 |
| 3rd Consolation | Jon Hoover (NA) dec. Jake Richardson (Mars) | 5-2 |
| 4th Consolation | Nick Delp (Kiski Area) dec. Jon Hoover (NA) | 1-0 |
| | | |
| 220 - 2nd Consolation | Ben Grafton (NA) dec. Andy Mellinger (McKeesport) | 5-3 |
| 3rd Consolation | Connor Forrest (Hopewell)pinned Ben Grafton (NA) | 3:31 |
| | | |
| 285 - Semifinals | Gerald Brown (West Mifflin) maj. dec. Derek Devine (NA) | 9-1 |
| 4th Consolation | Derek Devine (NA) dec. Nathan Hoagland (Mt. Lebanon) | 4-2 |
| 3rd Place | Isaiah Vance (Hempfield) dec. Derek Devine (NA) | 1-0 |
| | | |