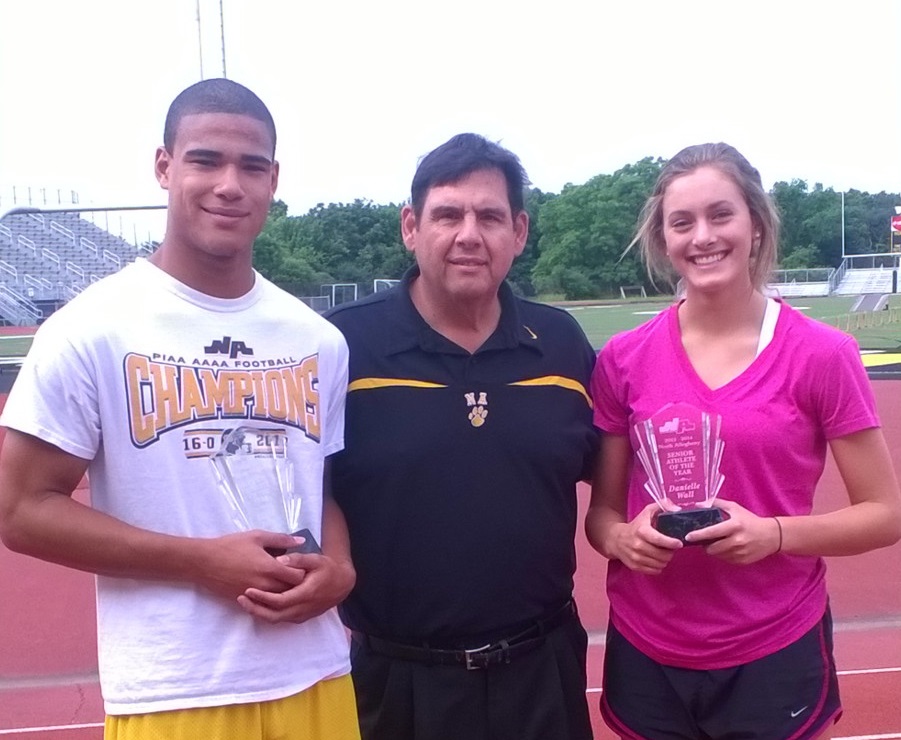 Elijah Zeise, Danielle Wall Named NA Athletes of the Year
The North Allegheny Athletic Department is proud to announce the winners of the Male and Female Athletes of the Year for the 2013-2014 school year.  Football and Basketball player Elijah Zeise was named the North Allegheny Male Athlete of the Year.  Volleyball and Basketball player Danielle Wall was recognized as the North Allegheny Female Athlete of the Year.
Zeise, a Pitt recruit, produced a career year on the gridiron with 49 receptions for 952 yards and nine touchdowns. Also a talented defensive back, Zeise tallied 31 tackles and collected a team-best five interceptions. Amongst numerous accolades received this fall, Zeise was named to the Pennsylvania Sports Writers All-State Team. A testament to his character and drive, Zeise overcame a shoulder injury sustained in the final football game of the year to be a key contributor on the NA Boys' Basketball Team. Zeise helped the NA hoopsters to the WPIAL semifinals and PIAA second round, averaging 11 points per game and over six rebounds per contest. Zeise was the third leading scorer and second leading rebounder on a team that went 22-5.
Also a talented two-sport athlete, Wall helped the Girls' Volleyball squad to a WPIAL championship and an appearance in the PIAA quarterfinals. Hammering opponents with a wicked swing from the outside, Wall helped the Tigers to a 20-1 record and was selected to the All-State Team as an outside hitter. On the hardwood, Wall provided the Lady Tigers with good size in the paint with her 5'11'' frame. In large part to the talents of Wall, the NA Girls' Basketball Team reached the WPIAL and PIAA semifinals, producing an astonishing 25-3 record. Wall was the second leading rebounder on the team, pulling down a total of 116 rebounds and averaging 4.8 boards per game.  The senior forward averaged nearly six points per game.
Congratulations to Elijah and Danielle and best of luck in their future endeavors!
(In photo above from left to right: Elijah Zeise, NA Athletic Director Bob Bozzuto, and Danielle Wall)