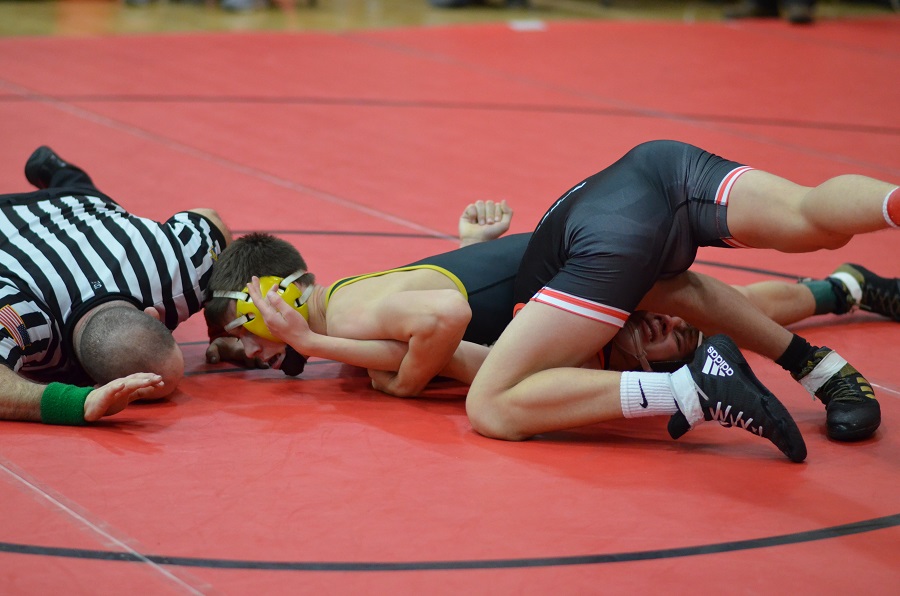 Four Tigers Move On To Semifinals At WPIAL Individual Wrestling Tournament
Four North Allegheny wrestlers have advanced to the semifinals of the WPIAL Class AAA individual wrestling tournament at Canon-McMillan High School. In all, nine Tigers remain in action and will take part in day two of the tournament.
Competing in the semifinals on Saturday will be Dylan Coy (120), Grant MacKay (152), Nick Marcenelle (182) and Ben Grafton (285).
In day one, Coy earned a win by fall over Bryson Bench of Bethel Park in the first round and followed that up with another pinfall over Costa Moore of Canon-McMillan in the quarterfinals.
MacKay collected a 5-2 decision over George Shultz of Connellsville in the opening round and topped Norwin's Chase Kranitz in the quarterfinals by a 7-2 decision.
Marcenelle was dominant with a first-round tech fall over Trystan Alava of Thomas Jefferson. Marcenlle then posted a quarterfinal round win over Connellsville's Dakoda Rodgers with a 7-2 decision.
Grafton barely broke a sweat with a first-round pin fall in 11 seconds over Andre Rhone of West Mifflin. In the quarterfinals, Graton picked up a 3-1 decision over Ryan Howard of Waynesburg.
Still alive in the consolation bracket are Nick Gorman (113), Nathan Monteparte (126), Max Stedeford (138), Freddy Junko (145) and Ian Branstetter (160). Sam Horton (106) and A.J. Rohan (132) were eliminated with pigtail round losses.
Day two of the WPIAL Class AAA tournament gets underway at 10:00 a.m. on Saturday morning.
WPIAL Class AAA Wrestling Championships - Day One
Friday, February 28 at Canon-McMillan High School
| Weight | Wrestlers | Score |
| --- | --- | --- |
| 106 - Pigtail | Cody Garanci (McK) maj. dec. Sam Horton (NA) | 8-0 |
| | | |
| 113 | Nate Jones (WAY) dec. Nick Gorman (NA) | 4-1 |
| 1st Consolation | Nick Gorman (NA) pinned Ryan Klingensmith | 0:31 |
| | | |
| 120 | Dylan Coy (NA) pinned Bryson Bench (BP) | 2:48 |
| Quarterfinals | Dylan Coy (NA) pinned Costa Moore (CM) | 1:34 |
| | | |
| 126 | Bryce Wilkes (PT) dec. Nathan Monteparte | 5-3 |
| 1st Consolation | Nathan Monteparte (NA) dec. Louie Pietragallo (ML) | 9-2 |
| | | |
| 132 - Pigtail | Eli Crittenden (ML) dec. A.J. Rohan (NA) | 2-1 |
| | | |
| 138 | Max Stedeford (NA) dec. Parker Loera (BP) | 5-1 |
| Quarterfinals | Chanz Shearer (SV) dec. Max Stedeford (NA) | 6-3 |
| | | |
| 145 | Freddy Junko (NA) pinned Christopher Beatty (CV) | 5:34 |
| Quarterfinals | Ty Linsenbigler (Hemp) dec. Freddy Junko (NA) | 8-2 |
| | | |
| 152 | Grant MacKay (NA) dec. George Shultz (Connellsville) | 5-0 |
| Quarterfinals | Grant MacKay (NA) dec. Chase Kranitz (Norwin) | 7-2 |
| | | |
| 160 | Trevor Verkleeren (Hemp) tech fall Ian Branstetter (NA) | 15-0 |
| 1st Consolation | Ian Branstetter (NA) dec. Clayton Holloway (McK) | 9-5 |
| | | |
| 182 | Nick Marcenelle (NA) tech fall Trystan Alava (TJ) | 16-0 |
| Quarterfinals | Nick Marcenelle (NA) dec. Dakoda Rodgers (Connellsville) | 7-2 |
| | | |
| 285 | Ben Grafton (NA) pinned Andre Rhone (WM) | 0:11 |
| Quarterfinals | Ben Grafton (NA) dec. Ryan Howard (WAY) | 3-1 |
| | | |