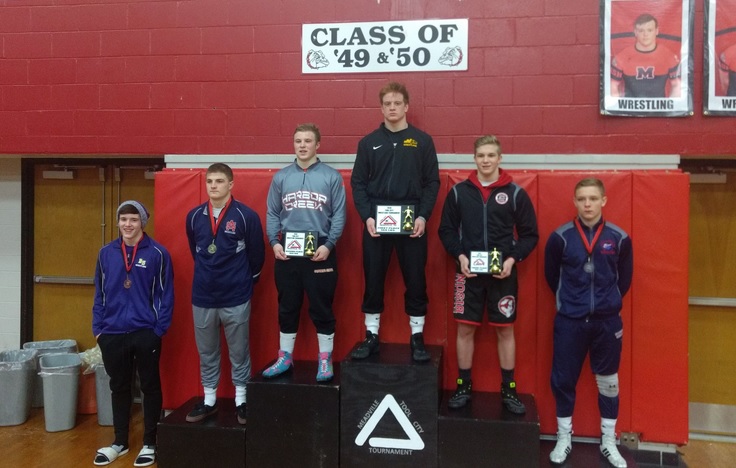 Four Tigers Place, Jon Hoover Wins Gold At Tool City Tournament
North Allegheny placed four wrestlers at the 39th annual Tool City Wrestling Tournament this weekend at Meadville High School, including a first-place performance by junior Jon Hoover at 160 pounds. Hoover was the No. 4 seed in the bracket and defeated Jacob Lloyd of Fort Le Boeuf by a 9-1 decision, Hunter Wright of Clearfield by a 10-4 decision, and top-seeded Jake Pollack of Shaler Area by a 7-2 decision on his way to the title bout. For 160 pound gold, Hoover took down second-seeded J.T. Bratt from Harbor Creek in a 3-1 decision.
Hoover's performance helped the Tigers tally a team score of 106, good for 10th place at the tournament. Section rival Seneca Valley won its first ever Tool City Tournament title with a team score of 244. For a complete look at the Tool City Wrestling Tournament bracket, click here.
Along with Hoover, NA senior Jacob Downing took home a bronze medal at 126 pounds with a 4-2 decision over third-seeded Jason Geyer of Seneca Valley in the third-place bout.
Freddy Junko was the No. 4 seed at 120 pounds and toppled Peyton Smay of Clearfield with a win by fall and defeated Alex Kightlinger of Saegertown, 4-0, to reach the semifinals. Junko's impressive run in the winner's bracket came to an end in the semis as the NA sophomore fell to top-seed and eventual champion Louis Newell of Seneca Valley before ultimately  taking fourth place in the weight class. Newell, a three-time PIAA medalist, became the seventh wrestler in tournament history to win four straight titles.
At 145 pounds, sophomore Nick Marcenelle claimed sixth place with a terrific run through the consolation bracket. Marcenelle defeated Caleb Freeland of Clearfield, 5-1, and Bradley Motter of General McLane, 3-1, on his way to a sixth-place showing.
The North Allegheny wrestling team returns to section action on Wednesday night with a home match against the Shaler Titans. You can listen to all the action via the internet on the North Allegheny Sports Network.