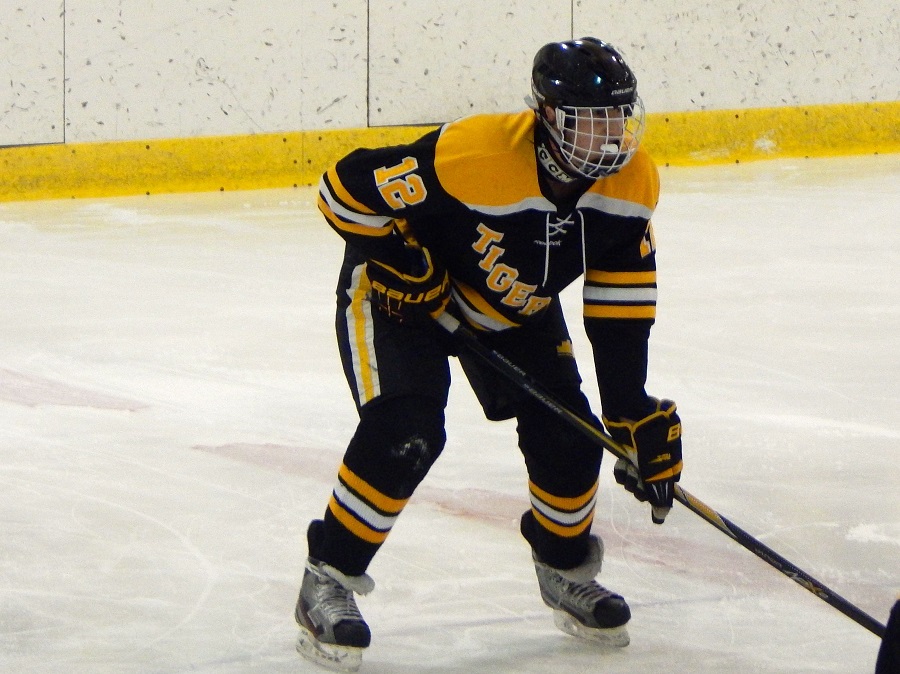 Fox Chapel Surprises Tigers, 4-2
The Fox Chapel Foxes surprised the North Allegheny Ice Hockey Team on Sunday night and skated to a 4-2 victory over the reigning PIHL champions.  The Tigers bombarded Fox Chapel goalie Chad Veltri with 48 shots, but the enemy net minder was unrelenting and made 46 saves.
North Allegheny was able to beat Veltri at the 3:42 mark of the second period when Tyler Wilson scored a power play goal to give the Tigers a 1-0 lead.  Later in the period at the 13:26 mark, a man advantage situation allowed Fox Chapel an opportunity to tie the game.  Jonathan Rice netted a power play marker to even score, but more importantly, initiate four consecutive goals scored by the Foxes.
Brian Beal added a goal with 1:41 remaining in the second period, and Benjamin Friedland garnered back-to-back goals in the third to give Fox Chapel a 4-1 lead with 1:17 remaining.  Erik Chidester scored for the Tigers with two second left to play to bring the final to 4-2, Foxes.  Joe Huber was in net for the Tigers and stopped 24 shots.
North Allegheny drops to 12-6-1 with the loss while Fox Chapel, who's already been eliminated from playoff contention, improves to 3-16-0.  The Tigers will visit the Central Catholic Vikings on Tuesday night in their regular season finale.  The opening faceoff is slated for 8:30 pm.
Ice Hockey Summary vs. Fox Chapel 2-23-14
| GAME SUMMARY | | | | |
| --- | --- | --- | --- | --- |
| SCORE BY PERIODS | 1 | 2 | 3 | FINAL |
| North Allegheny | 0 | 1 | 1 | 2 |
| Fox Chapel | 0 | 2 | 2 | 4 |
Ice Hockey Individual Scoring vs. Fox Chapel
| INDIVIDUAL STATS | | |
| --- | --- | --- |
| FIRST PERIOD | | |
| | NO SCORING | |
| SECOND PERIOD | | |
| North Allegheny | Tyler Wilson (Dawson Richard, William Rahenkamp) - PP | 3:42 |
| Fox Chapel | Jonathan Rice (Benjamin Friedland, Jasper Urricchio) - PP | 13:26 |
| Fox Chapel | Brian Beal (Anthony Veltri) | 15:43 |
| THIRD PERIOD | | |
| Fox Chapel | Benjamin Friedland | 10:19 |
| Fox Chapel | Bejamin Friedland (Jonathan Rice, Adam Rosenberg) | 15:43 |
| North Allegheny | Erik Chidester (Dawson Richard, Marty Hubert) | 16:58 |