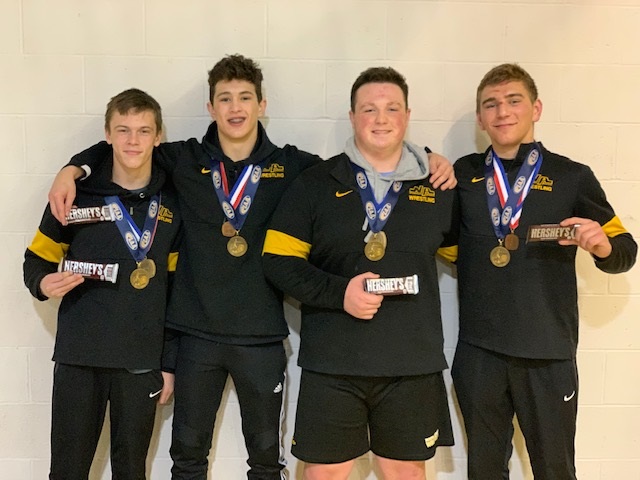 Hershey Bound; Four Tigers Punch Ticket To PIAA Individual Tournament
The North Allegheny wrestling team will send four Tigers to the PIAA individual wrestling tournament next week in Hershey. Sophomore Dylan Coy (120), freshman Grant MacKay (152), senior Nick Marcenelle (182) and senior Ben Grafton (285) all punched their ticket to states with a strong finish at the WPIAL Class AAA individual wrestling tournament at Canon-McMillan on Saturday.
All four grapplers began the day in the semifinal round but were defeated, sending them to the consolation bracket. Coy and Grafton both won WPIAL bronze in their respective weight classes. Coy posted two straight wins, including a 2-0 decision over Canon-McMillan's Costa Moore. Grafton picked up a pair of consolation wins that included a 3-0 decision over Quientin Franklin of South Fayette.
MacKay and Marcenelle each earned fourth-place medals to secure a spot in the PIAA tournament.
Also competing in day two action for the Tigers were Nick Gorman (113), Nathan Monteparte (126), Max Stedeford (138), Freddy Junko (145) and Ian Branstetter (160). Gorman and Stedeford both earned a pair of wins in the consolation bracket and came just one win short of reaching the PIAA tournament. For full brackets from the tournament, click here.
The PIAA Class AAA individual wrestling tournament begins on Thursday, March 5 at 4:00 p.m.
WPIAL Class AAA Wrestling Championships - Day Two
Saturday, February 29 at Canon-McMillan High School
| Weight | Wrestlers | Score |
| --- | --- | --- |
| 113 - 2nd Consolation | Nick Gorman (NA) dec. Brandon Dami (CM) | 7-6 |
| 3rd Consolation | Nick Gorman (NA) maj. dec. Hunter Swedish (SV) | 11-3 |
| 4th Consolation | Mason Prinkey (Connellsville) dec. Nick Gorman (NA) | 8-6 |
| | | |
| 120 - Semifinals | Dylan Chappell (SV) dec. Dylan Coy (NA) | 4-0 |
| 4th Consolation | Dylan Coy (NA) dec. Dom Giordano (KA) | 6-2 |
| 3rd Place Consolation | Dylan Coy (NA) dec. Costa Moore (CM) | 2-0 |
| | | |
| 126 - 2nd Consolation | Lucas Kapusta (Hemp) dec. Nathan Monteparte (NA) | 3-1 |
| | | |
| 138 - 2nd Consolation | Max Stedeford (NA) pinned Christian Scheller (Mars) | 2:15 |
| 3rd Consolation | Max Stedeford (NA) maj. dec. Micah Finley (Trinity) | 11-0 |
| 4th Consolation | John Altieri (Norwin) dec. Max Stedeford (NA) | 4-2 |
| | | |
| 145 - 2nd Consolation | Freddy Junko (NA) dec. Colton Stoneking (WAY) | 4-1, TB2 |
| 3rd Consolation | Jackson Gray (ML) dec. Freddy Junko (NA) | 7-4) |
| | | |
| 152 - Semifinals | Sammy Starr (KA) pinned Grant MacKay (NA) | 3:18 |
| 4th Consolation | Grant MacKay (NA) dec. Daniel Yetsick (Ambridge) | 2-0 |
| 3rd Place Consolation | Chase Kranitz (Norwin) dec. Grant MacKay (NA) | 2-1 |
| | | |
| 160 - 2nd Consolation | Logan Hoffman (BV) dec. Ian Branstetter (NA) | 9-6 |
| | | |
| 182 - Semifinals | Gerrit Nijenhuis (CM) pinned Nick Marcenelle (NA) | 2:35 |
| 4th Consolation | Nick Marcenelle (NA) dec. Jared Curcio (KA) | 5-2 |
| 3rd Place Consolation | Justin Hart (Hampton) dec. Nick Marcenelle (NA) | 3-2 |
| | | |
| 285 - Semifinals | William McChesney (Greensburg Salem) dec. Ben Grafton (NA) | 5-2 |
| 4th Consolation | Ben Grafton (NA) dec. Logan Danielson (TJ) | 4-2 |
| 3rd Place Consolation | Ben Grafton (NA) dec. Quentin Franklin (South Fayette) | 3-0 |
| | | |