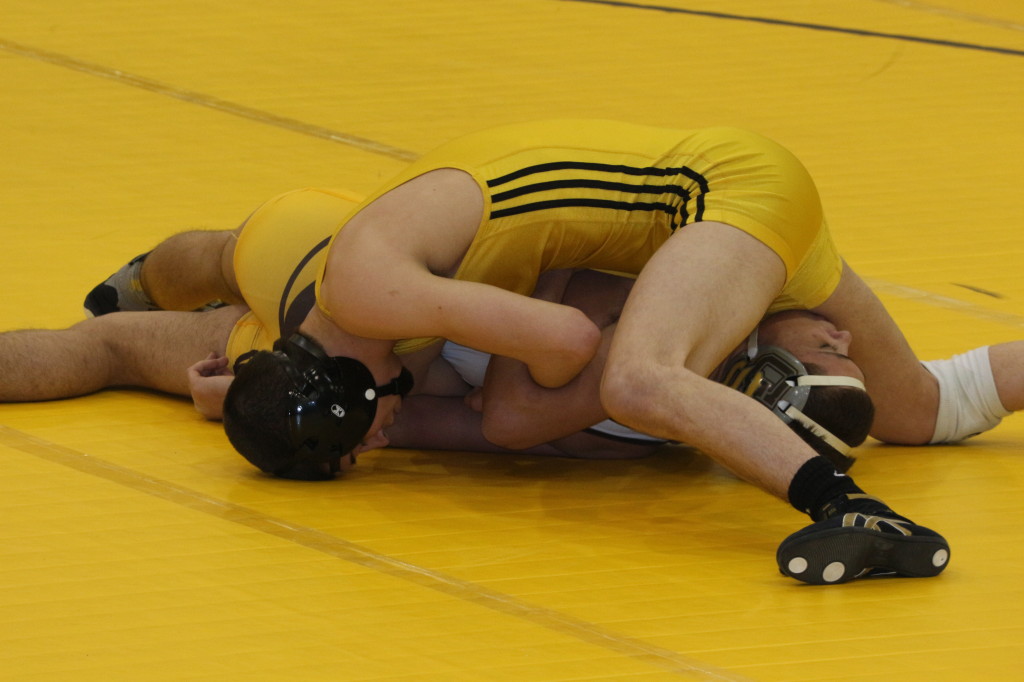 Jake Hinkson Wins No. 100, Tigers Rout Indiana
Senior Jake Hinkson won his 100th career match and North Allegheny dominated the Indiana Little Indians on Wednesday night, 62-6, in the Section 3-AAA opener. Hinkson started the night  at 145 pounds against Indiana's David McElravy earned a 6-3 decision to improve his all-time record to 100-33. Hinkson was named the Wright Automotive Wrestler of the Match.
From the moment Hinkson topped McElravy, the rout was on. The Tigers built a 26-0 lead before Indiana earned its only victory at 220 pounds, a win by forfeit by Brent Johnson. In all, the Tigers posted three falls and collected six wins by forfeit in an easy win. Sophomore Jon Hoover earned a fall in 42 seconds over A.J. Ryan at 152 pounds, junior Derek Devine pinned Jordan Smith at 285 pounds in 55 seconds, and freshman Nick Marcanelle pinned Parker Scherf in 1:11 at 126 pounds. Seniors Sean Hoover and Jake Woodley earned major decision wins at 170 and 195 pounds, respectively. Woodley's victory was the 102nd of his career, having reached the century mark over the weekend at the Eastern Area Tournament.
In addition to a second place finish at the Eastern Area Tournament, the Tigers are off to a great start with a 1-0 record in section action. Indiana falls to 0-1. North Allegheny returns to the mat this weekend at the Beast of the East Tournament.
Wrestling Match Summary: NA vs. Indiana
| Weight | Wrestlers | Score |
| --- | --- | --- |
| 145 | Jake Hinkson (NA) dec. David McElravy (IND) | 6-3 |
| 152 | Jon Hoover (NA) pinned A.J. Ryan (IND) | 0:42 |
| 160 | Jacob Smalley (NA) wbf | |
| 170 | Sean Hoover (NA) maj. dec. Bobby Bell (IND) | 8-0 |
| 182 | Jarod Kramer (NA) dec. Keegan Ryan (IND) | 9-7 |
| 195 | Jake Woodley (NA) maj. dec. Alex Donahue (IND) | 16-4 |
| 220 | Brent Johnson (IND) wbf | |
| 285 | Derek Devine (NA) pinned Jordan Smith (IND) | 0:55 |
| 106 | Freddy Junko (NA) wbf | |
| 113 | Double Forfeit | |
| 120 | Mohammaad Khatami (NA) wbf | |
| 126 | Nick Marcanelle (NA) pinned Parker Scherf (IND) | 1:11 |
| 132 | Jiatian Qu (NA) wbf | |
| 138 | Zach Stedeford (NA) wbf | |