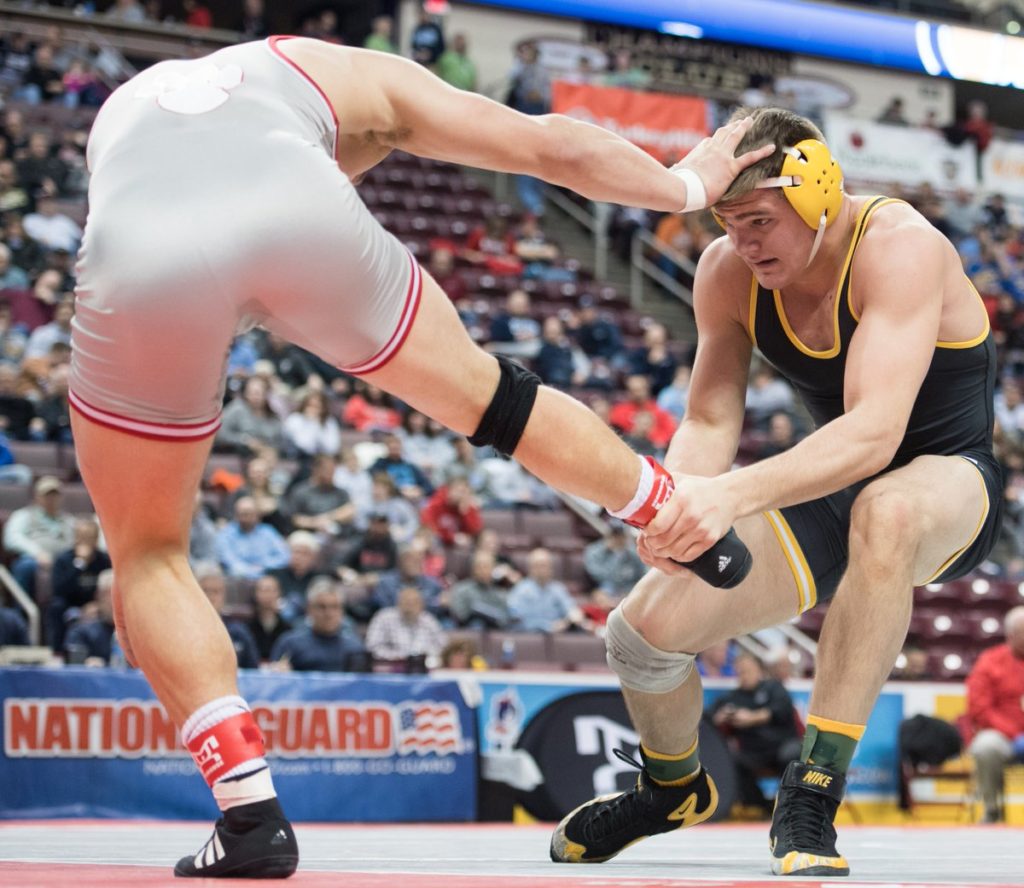 Jake Woodley Becomes Two-Time State Champion
Senior Jake Woodley earned two more wins at the PIAA tournament on Saturday to cap off a brilliant career at North Allegheny as a two-time state champion. Woodley pinned Nick Duliakis of Owen J. Roberts in the semifinals at 195 pounds and finished off his journey for state gold with a 3-1 decision over Ethan Laird of General McLane in the championship bout. The Oklahoma recruit ends the season with a 50-2 record and a career mark of 147-42.
At 160 pounds, senior Eric Hong culminated his trek through the consolation bracket to earn a PIAA bronze medal. Hong started the day with an 8-0 major decision over Jason Montgomery of Bethel Park and followed that up by exacting revenge over Ryan Resnick of Owen J. Roberts. Resnick had upset Hong in the first round of the tournament on Thursday but in the rematch Hong claimed a 3-1 decision to advance to the third-place bout. Hong defeated Jonah Barley of Penn Manor for third place by a 3-2 decision.
At 145 pounds, Jake Hinkson dropped a narrow 2-1 decision to Brock Port of Bellefonte in the semifinals but rebounded with a consolation win over Willam Evanitsky of Scranton, his second of the tournament over Evanitsky, by a 3-2 decision. In the third-place bout, Brock Wilson pinned Hinkson at 5:25 ending a terrific run by the NA senior in the state tournament.  For a complete look at the PIAA Class AAA bracket, click here.
Congratulations to the North Allegheny wrestling team and coaching staff for an outstanding 2016-17 season.
(Photo courtesy of Stephanie Chambers and the Tribune Review.)
PIAA Class AAA Wrestling Championships - Day Three
Saturday, March 11 at Giant Center (Hershey, PA)
| Weight | Wrestlers | Score |
| --- | --- | --- |
| 145 - Semifinals | Brock Port (Bellefonte) dec. Jake Hinkson (NA) | 2-1 |
| 5th Consolation | Jake Hinkston (NA) dec. William Evanitsky (Scranton) | 3-2 |
| 3rd Place Bout | Brock Wilson (Nazareth) pinned Jake Hinkson (NA) | 5:25 |
| | | |
| 160 - 4th Consolation | Eric Hong (NA) maj. dec. Jason Montgomery (Bethel Park) | 8-0 |
| 5th Consolation | Eric Hong (NA) dec. Ryan Resnick (Owen J. Roberts) | 3-1 |
| 3rd Place Bout | Eric Hong (NA) dec. Jonah Barley (Penn Manor) | 3-2 |
| | | |
| 195 - Semifinal | Jake Woodley (NA) tech fall Nick Duliakis (Owen J. Roberts) | 22-7 |
| Championship Bout | Jake Woodley (NA) dec. Ethan Laird (General McClane) | 3-1 |