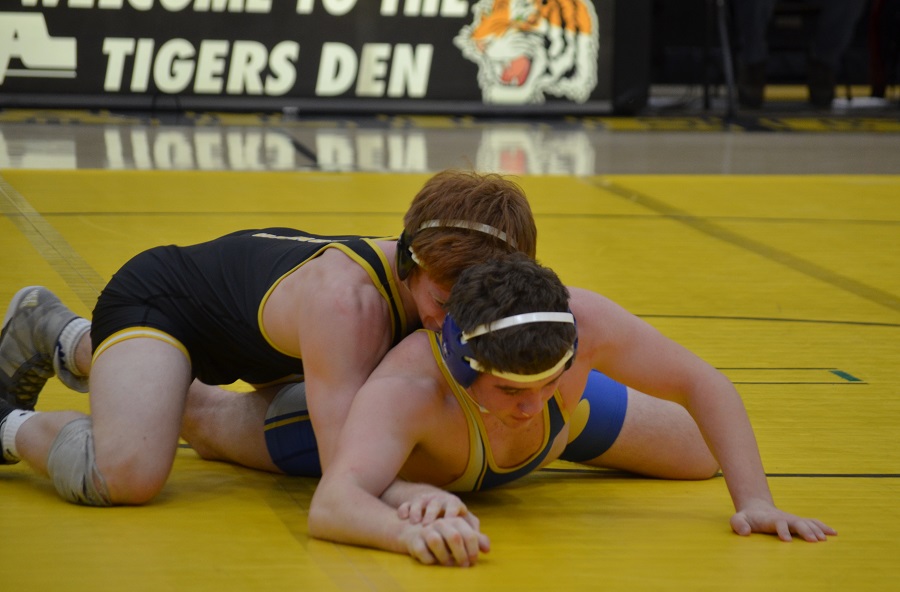 Jon Hoover Captures Gold At Section 3-AAA Individual Tournament
After capturing second, third and fourth-place finishes the last three seasons, senior Jon Hoover captured the elusive gold at the Section 3-AAA individual wrestling tournament on Saturday at Fox Chapel High School. The Virginia Military Institute commit claimed the section crown at 170 pounds with a 9-1 major decision over A.J. Ryan of Indiana in the championship bout.
Hoover was one of six North Allegheny wrestlers who placed at the section tournament, earning a spot in the WPIAL individual tournament this week.
Along with Hoover, juniors Freddy Junko (126) and Ben Grafton (220) both reached the title bouts their respective weight classes. Junko and Grafton each earned second-place medals for the second straight section tournament.
Other medalists included sophomores Brad Stipetich (113) and Max Stedeford (132) who each won bronze. Stipetich defeated Dustin Lenker of Shaler by a 6-2 decision and Stedeford earned a 10-0 major decision in their respective third-place bouts. Junior Ian Branstetter reached the consolation bout at 138 pounds but fell in a tech fall defeated to Ian Scarberry of Shaler. For a look at the Section 3-AAA tournament results, click here.
Hoover, Junko, Grafton, Stipetich, Stedeford and Branstetter will all prepare for the WPIAL individual tournament on Friday, March 1 at Canon-McMillan.