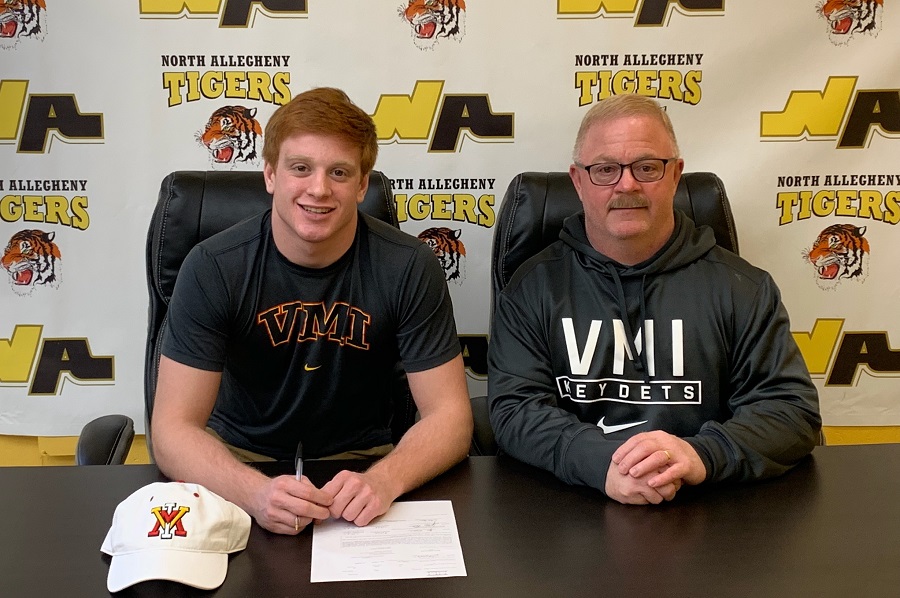 Jon Hoover Signs Letter Of Intent To Wrestle At VMI
North Allegheny senior Jon Hoover signed his letter of intent to continue his wrestling career at the collegiate level at the Virginia Military Institute. VMI is a Division I wrestling program in the Southern Conference.
Hoover posted a record of 35-7 as junior last season and garnered a silver medal at the Section 3-AAA individual wrestling tournament at 160 pounds. As a result, he qualified for the WPIAL individual tournament as well. Hoover enters his senior season with 74 career wins and hopes to reach the 100-win plateau this winter.
Overall, Hoover is a three-time regional qualifier and NHSCA All-American (160 pounds.) He also received the Tough Tiger Award last year from the North Allegheny coaching staff.
Hoover will wrestle at 170 pounds for his senior season before pursuing a degree in Political Science at VMI. He is pictured above with his father, John.