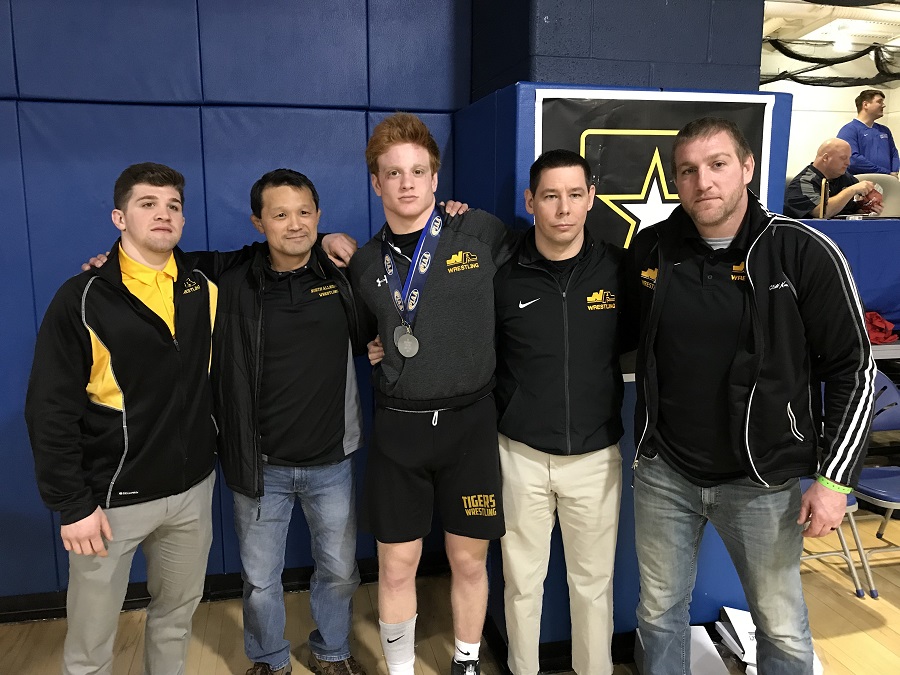 Jon Hoover Wins WPIAL Silver, Qualifies For State Tournament
North Allegheny senior Jon Hoover won WPIAL silver on Saturday in the final day of the WPIAL Class AAA individual wrestling tournament at Canon-McMillan High School.
Hoover reached the title bout at 170 pounds thanks to a 4-3 decision over Kiski Area's Nick Delp in the semifinals, atoning for a loss to Delp in last year's individual tournament. Delp was ranked No. 6 in the state. In the final at 170, Hoover was defeated by fall by Canon-McMillan's Garrett Nijenhaus, who is ranked No. 2 in the state. With the second-place finish, Hoover qualifies for the PIAA individual tournament in Hershey next week.
At 113 pounds, Brad Stipetich earned a pair of consolation wins with an 11-1 major decision over Dustin Lenkner of Shaler and a 5-4 decision over Evan Whiteside of Gateway. Stipetich fell just shy of the third-place bout, losing by tech fall to Franklin Regional's Finn Solomon the fourth-round consolation.
Freddy Junko (126), Max Stedeford (132) and Ben Grafton (220) were all participants in the consolations in day two of the tournament for their respective weight classes but ultimately fell short of reaching the third-place bout. All of the North Allegheny results from Saturday are listed below.
Hoover will represent the NA wrestling team at the PIAA Class AAA individual wrestling tournament, which gets underway on Thursday at 4:00 p.m.
WPIAL Class AAA Wrestling Championships - Day Two
Saturday, March 2 at Canon-McMillan High School
| Weight | Wrestlers | Score |
| --- | --- | --- |
| 113 - 2nd Consolation | Brad Stipetich (NA) maj. dec. Dustin Lenkner (Shaler) | 11-1 |
| 3rd Consolation | Brad Stipetich (NA) dec. Evan Whiteside (Gateway) | 5-4 |
| 4th Consolation | Finn Solomon (Franklin Regional) tech fall Brad Stipetich (NA) | 16-0 |
| | | |
| 126 - 2nd Consolation | Freddy Junko (NA) dec. Zach Wright (Hampton) | 2-1 |
| 3rd Consolation | Jordan Watters (West Allegheny) dec. Freddy Junko (NA) | 3-2 |
| | | |
| 132 - 2nd Consolation | Justin Perkins (Penn Hills) dec. Max Stedeford (NA) | 7-1 |
| | | |
| 170 - Semifinals | Jon Hoover (NA) dec. Nick Delp (Kiski Are) | 4-3 |
| Championship | Garrett Nijenhaus (Canon-McMillan) pinned Jon Hoover (NA) | 3:23 |
| | | |
| 220 - 2nd Consolation | Ben Grafton (NA) maj. dec. Peyton Kelly (Penn-Trafford) | 10-0 |
| 3rd Consolation | Damon Thompson (North Hills) dec. Ben Grafton (NA) | 3-2 |
| | | |