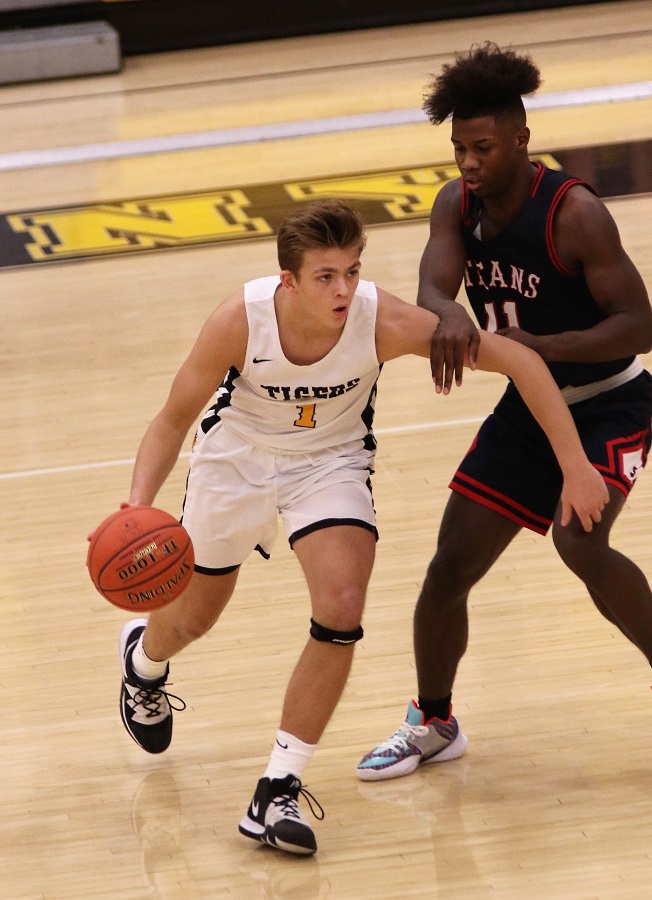 McDowell Rallies In 4th To Edge NA, 69-64
North Allegheny led for most of the night against one of the top teams in District 10 but the McDowell Trojans rallied in the fourth quarter to come away with a 69-64 win and the Wright Automotive Holiday Tournament title. The Trojans used a game-ending 15-0 run to erase a 10-point deficit.
Leading 17-16 late in the first quarter, North Allegheny opened things up with hot shooting from beyond the arc for a 9-0 run. Senior Zach Andreykovich buried a pair of 3-pointers and senior Grant Timmerson added another just before the end of the first quarter to give the Tigers a 26-16 lead.
McDowell opened the second quarter on a 10-0 run and tied the game at 28-28 on the strength of Jonah Bock and William Jeffress. Bock poured in three 3-pointers in the first half and Jeffress controlled the inside with 10 points.
Undaunted, Andreykovich answered with a 3-pointer to give NA the lead back, 31-28, midway through the second quarter. Andreykovich knocked down 4 of 5 shots from beyond the arc in the first half on his way to a 14-point performance. With Andreykovich hitting on the outside, junior Greg Habib had the shooting touch in the mid-range and helped North Allegheny to a 42-37 lead at the half.
In the second half, the Tigers led by as much as 12 points in the third quarter and held a 64-54 advantage with just over three minutes remaining in the game. Habib continued his torrid shooting in the second half and led NA with a game-high 20 points. For his efforts, Habib was named the Wright Automotive Player of the Game.
Despite the double-digit lead, McDowell chipped away over the final three minutes with a 15-0 run and earned a 69-64 win.
Along with Andreykovich and Habib, Timmerson finished in double figures with 16 points. Habib and Timmerson were both named to the all-tournament team.
For McDowell, Jeffress led with 17 points, senior Jaeden Jefferson netted 16 points and Bock chipped in with 13 points. Jefferson and Bock were named to the all-tournament team and Jeffres, ranked as one of the top juniors in the nation by ESPN, earned the tournament MVP award.
With the loss, North Allegheny falls to 5-5 overall, while McDowell improves to 8-1 on the season. The Tigers return to section play on Friday night with a visit to Pine-Richland at 7:30 p.m.
Wright Automotive Holiday All-Tournament Team (Boys)
| Player | School |
| --- | --- |
| Elgin Oliver | Gateway |
| Jonah Bock | McDowell |
| Jaeden Jefferson | McDowell |
| Greg Habib | North Allegheny |
| Grant Timmerson | North Allegheny |
| Curtis Blair | Steward School |
| Isaiah Simmons | Steward School |
| | |
| Most Valuable Player | |
| William Jeffress | McDowell |
| | |