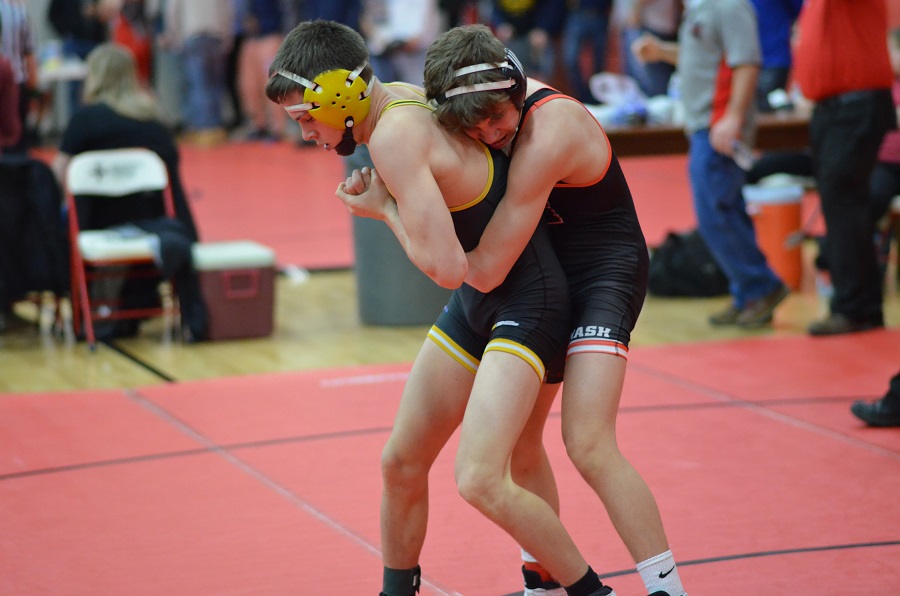 NA Bows Out To Canon-McMillan In WPIAL Quarterfinals
North Allegheny's run through the WPIAL team tournament came a close on Wednesday night with a quarterfinal round loss to Canon-McMillan, 39-21.
The Tigers hung tough with the third-seeded Big Macs in the early going and took a 9-6 lead on a win by fall from Max Stedeford (138) and an 11-7 decision from Freddy Junko (145) over Gabe Stafford. After the Big Macs tied the score at 9-9, Ian Branstetter (160) answered with an 8-4 decision over Blake Joseph to give NA the lead back, 12-9.
Canon-McMillan won the next four bouts to take a 27-12 lead, an advantage it would not relinquish. The Tigers trimmed the score to 27-18 thanks to a win by fall from Ben Grafton (285) over Austin Smith. However, a pin fall from Canon-McMillan's Jacob Houpt (106) and a 7-3 decision by Brandon Dami (113) sealed the win for the Big Macs.
Before the team portion of the season concluded for the Tigers, sophomore Dylan Coy (120) captured a hard-fought 1-0 decision against Costa Moore to earn Wright Automotive Wrestler of the Match honors. Coy and Moore are two of the top wrestlers in the WPIAL at 120 pounds.
A 3-0 decision by Jacob Gardner at 126 pounds finished off a 39-21 victory for Canon-McMillan. The Big Macs advance to face Seneca Valley in the WPIAL semifinals on Saturday.
Prior to the quarterfinal matchup with Canon-McMillan, North Allegheny began the night with a first-round victory over Mt. Lebanon, 54-12. The Tigers ran roughshod over the Blue Devils with five wins by fall courtesy of Grant MacKay (160), Bobby Snyder (182), Grafton (285), Sam Horton (106) and Nick Gorman (113). At 138 pounds, Stedeford was named the Wright Automotive Wrestler of the Match with a dominant 17-1 tech fall over Darvish Kapitonov.
The team portion of the season ends for North Allegheny with a 7-2 overall record. The NA grapplers will turn their attention next to the Section 3-AAA Individual Tournament on Saturday, Feb. 22.
WPIAL Class AAA 1st Round: NA vs. Mt. Lebanon
| Weight | Wrestlers | Score |
| --- | --- | --- |
| 126 | Nathan Monteparte (NA) maj. dec. Louie Pietragallo (ML) | 13-3 |
| 132 | A.J. Rohan (NA) dec. Eli Crittenden (ML | 3-0 |
| 138 | Max Stedeford (NA) tech fall Darvish Kapitonov (ML) | 17-1 |
| 145 | Jackson Gray (ML) dec. Freddy Junko (NA) | 3-2 |
| 152 | Ian Branstetter (NA) dec. Luke Loving (ML) | 9-3 |
| 160 | Grant MacKay (NA) pinned Fayzullo Solohiddinov (ML) | 1:29 |
| 170 | Mac Stout (ML) pinned Nick Caruso (NA) | 1:08 |
| 182 | Bobby Snyder (NA) pinned Edward Kubit (ML) | 1:50 |
| 195 | Luke Stout (ML) dec. Nick Marcenelle (NA) | 8-2 |
| 220 | Luke Rumpler (NA) dec. Kade Capristo (ML) | 2-0 |
| 285 | Ben Grafton (NA) pinned Ben Streiff (ML) | 1:26 |
| 106 | Sam Horton (NA) pinned Elliot McGregor (ML) | 3:00 |
| 113 | Nicholas Gorman (NA) pinned Totoy Abellar (ML) | 1:40 |
| 120 | Dylan Coy (NA) wbf | |
************
WPIAL Class AAA Quarterfinal: NA vs. Canon-McMillan
| Weight | Wrestlers | Score |
| --- | --- | --- |
| 132 | Jimmy Baxter (CM) pinned A.J. Rohan (NA) | 1:01 |
| 138 | Max Stedeford (NA) pinned Gianmarco Ramos (CM) | 4:24 |
| 145 | Freddy Junko (NA) dec. Gabriel Stafford (CM) | 11-7 |
| 152 | Tanner Rohaley (CM) dec. Grant MacKay (NA) | 10-4 |
| 160 | Ian Branstetter (NA) dec. Blake Joseph (CM) | 8-4 |
| 170 | Matthew Furman (CM) dec. Bobby Snyder (NA) | 8-2 |
| 182 | Tyler Rohaley (CM) pinned Nick Caruso (NA) | 0:43 |
| 195 | Gerrit Nijenhuis (CM) pinned Cameron Fries (NA) | 0:34 |
| 220 | Evan Miller (CM) dec. Nick Marcenelle (NA) | 5-3 |
| 285 | Ben Grafton (NA) pinned Austin Smith (CM) | 0:44 |
| 106 | Jacob Houpt (CM) pinned Sam Horton (NA) | 3:15 |
| 113 | Brandon Dami (CM) dec. Nicholas Gorman (NA) | 7-3 |
| 120 | Dylan Coy (NA) dec. Costa Moore (CM) | 1-0 |
| 126 | Jacob Gardner (CM) dec. Nathan Monteparte (NA) | 3-0 |