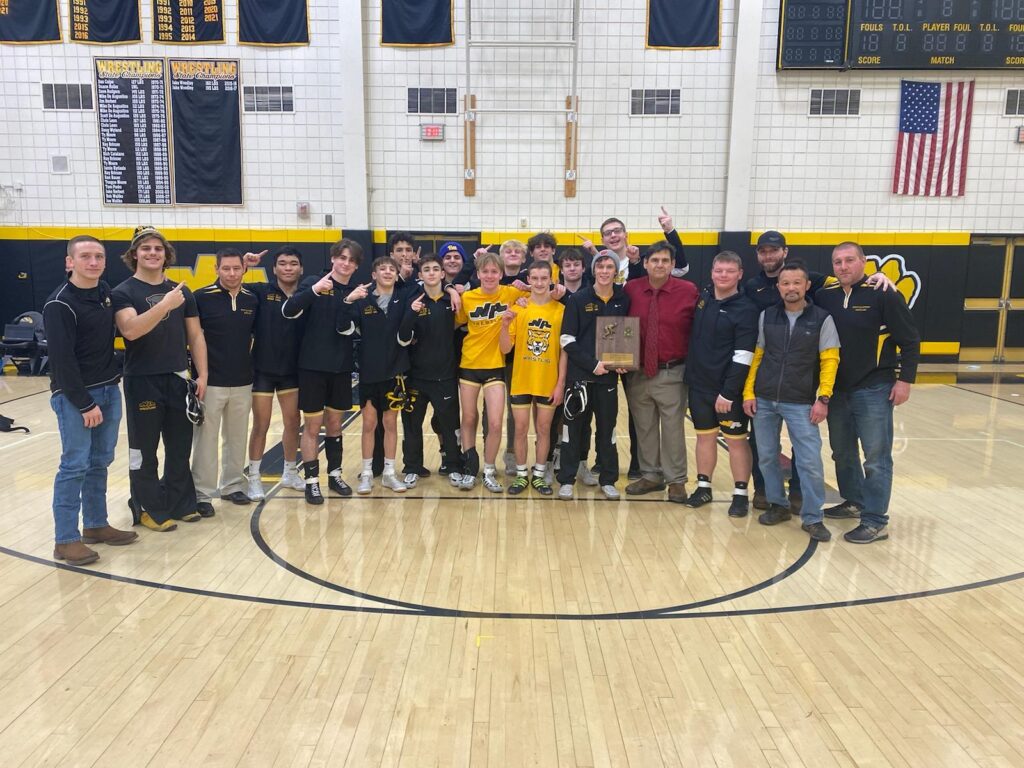 NA Claims Section 3-AAA Title With 33-30 Win Over Butler
The North Allegheny wrestling team won the Section 3-AAA championship for the first time since 2017 with an exciting 33-30 triumph over the Butler Golden Tornado on Wednesday night. The Tigers opened the night with a semifinal win over West Allegheny, 47-14, and then rallied from a 21-3 deficit to beat Butler for the section title.
Down by 18 points through five bouts, the Tigers began their comeback bid with a win by fall by Aidan Buggey at 215 pounds over Braylon May in just 10 seconds to cut the deficit to 21-9. Butler, who was seeking its first ever section crown, seemingly regained momentum with a win by fall from Jacob Pomykata at 285 pounds for a 27-9 lead.
Despite the victory by Pomykata, the Tigers rattled off wins in the next five bouts to take a lead the they wouldn't relinquish. At 106 pounds, Casey Walker earned a 6-0 decision to trim the score to 27-12. At 113 pounds, William Bentrim followed with a crucial win by fall over Kelley Schaukowitsch to earn Wright Automotive Wrestler of the Match honors. Bentrim's triumph brought the score to 27-18, Golden Tornado.
The Tigers continued to rally at 120 pounds with a 9-6 decision by Sam Horton over Gavin Rush, followed by a prompt pin fall courtesy of Dylan Coy at 126 pounds in just 11 seconds to tie the score at 27-27. At 132 pounds, Nathan Monteparte pinned Kase Chopp to give North Allegheny its first lead of the night, 33-27.
In the evening's last bout, Butler's Dominic Vivirito earned a 6-4 decision but it wasn't enough for the Tornado, who fell to North Allegheny by a 33-30 final.
Prior to the Section 3-AAA championship match with Butler, North Allegheny started the night with 47-14 victory against West Allegheny in the semifinals. The Tigers fell behind 14-6 through five bouts but didn't lose again en route to a blowout win. North Allegheny won the next eight consecutive bouts against the Indians, including pin falls by Tyler Magorien (189), Joseph Booth (285) and Coy (126). Booth was named the Wright Automotive Wrestler of the Match for his win by fall over Shane Tuthill in 1:40.
With the Section 3-AAA title win, North Allegheny improves to 6-0 overall and advances into the WPIAL Class AAA Team Tournament next week. The team tournament will be broadcast by the North Allegheny Sports Network.
Section 3-AAA Semifinal Summary: NA vs. West Allegheny
| Weight | Wrestlers | Score |
| --- | --- | --- |
| 138 | Jayson Flener (NA) pinned J.T. Hollyfield (WA) | 3-1 |
| 145 | Curtis Brown (WA) dec. Krist Vizcarra (NA) | 4-2 |
| 152 | Kellen Buggey (NA) dec. Ben Moore (WA) | 11-6 |
| 160 | Nico Taddy (WA) pinned Adam Rohan (NA) | 3:38 |
| 172 | Shawn Taylor (WA) tech fall Anthony Spivak (NA) | 19-4 |
| 189 | Tyler Magorien (NA) pinned Seth Weese (WA) | 0:42 |
| 215 | Aidan Buggey (NA) wbf | |
| 285 | Joseph Booth (NA) pinned Shane Tuthill (WA) | 1:40 |
| 106 | Casey Walker (NA) tech fall Cade Stern (WA) | 16-1 |
| 113 | William Bentrim (NA) dec. Caiden Harbert (WA) | 10-5 |
| 120 | Sam Horton (NA) wbf | |
| 126 | Dylan Coy (NA) pinned Chase Schepis (WA) | 1:19 |
| 132 | Nathan Monteparte (NA) dec. Nick Jones (WA) | 9-4 |
---
Section 3-AAA Championship Summary: NA vs. Butler
| Weight | Wrestlers | Score |
| --- | --- | --- |
| 145 | Levi Donnel (B) pinned Krist Vizcarra (NA) | 2:39 |
| 152 | Cade Savochka (B) dec. Kellen Buggey (NA) | 11-5 |
| 160 | Adam Rohan (NA) dec. Matthew Zinkhann (B) | 3-0 |
| 172 | Landon Christie (B) pinned Anthony Spivak (NA) | 0:51 |
| 189 | Michael Kreinbucher (B) pinned Tyler Magorien (NA) | 1:43 |
| 215 | Aidan Buggey (NA) pinned Braylon May (B) | 0:10 |
| 285 | Jacob Pomykata pinned Joseph Booth (NA) | 1:30 |
| 106 | Casey Walker (NA) dec. Ana Malovich (B) | 6-0 |
| 113 | William Bentrim (NA) pinned Kelley Schaukowitsch (B) | 3:27 |
| 120 | Sam Horton (NA) dec. Gavin Rush (B) | 9-6 |
| 126 | Dylan Coy (NA) pinned Aiden Plopl (B) | 0:11 |
| 132 | Nathan Monteparte (NA) pinned Kase Chopp (B) | 1:26 |
| 138 | Dominic Vivirito (B) dec. Jayson Flener (NA) | 6-4 |