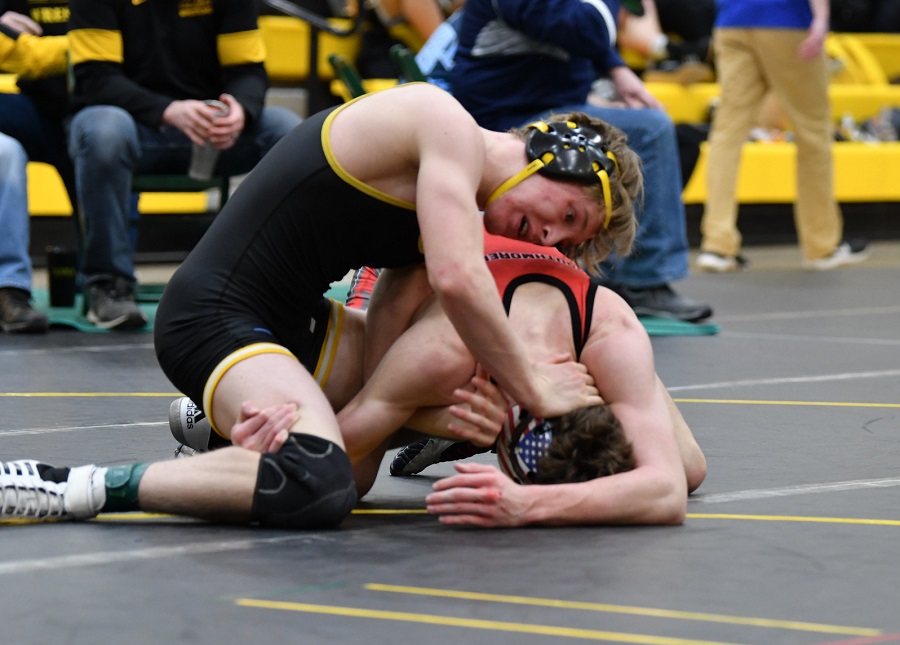 NA Cruises To 52-10 Win Over North Hills In Section Opener
The North Allegheny boys' wrestling team rolled to a 52-10 victory over North Hills in the Section 2-AAA opener on Thursday night. The Tigers won the first 10 bouts of the night enroute to an insurmountable 44-0 lead.
In the lopsided dual meet, the Tigers picked up five wins by fall courtesy of Casey Walker (114), William Bentrim (127), Nathan Monteparte (139), Adam Rohan (172) and Aidan Buggey (215). At 160 pounds, Krist Vizcarra earned 19-4 tech fall against Santo Cerminaro for an impressive victory. Bonus point wins were record by Sam Horton (133) and Jayson Flener (152) with major decisions in their respective weight classes.
North Allegheny sits at 1-0 following the season-opening win, while North Hills slips to 0-1. The Tigers will take part in the Trinity Duals on Saturday.
Wrestling Match Summary: NA vs. North Hills
| Weight | Wrestlers | Score |
| --- | --- | --- |
| 107 | Gus Stedeford (NA) dec. Logan Milligan (NH) | 6-0 |
| 114 | Casey Walker (NA) pinned Armani Polito (NH) | 0:41 |
| 121 | Griffen Reid (NA) dec. Giavonie Schipani (NH) | 4-2 |
| 127 | William Bentrim (NA) pinned Mica Lee (NH) | 0:41 |
| 133 | Sam Horton (NA) maj. dec. Kaden Salvatore (NH) | 12-4 |
| 139 | Nathan Monteparte (NA) pinned Drake Witkowsky (NH) | 1:41 |
| 145 | Jayden Cullens (NA) dec. Carter Morvay (NH) | 3-2 |
| 152 | Jayson Flener (NA) maj. dec. Derrick Falk (NH) | 13-0 |
| 160 | Krist Vizcarra (NA) tech fall Santo Cerminaro (NH) | 19-4 |
| 172 | Adam Rohan (NA) pinned Sebastian Lopez (NH) | 1:24 |
| 189 | Evan Letky (NH) maj. dec. Mason Hartung (NA) | 10-1 |
| 215 | Aidan Buggey (NA) pinned Spencer Pantales (NH) | 3:00 |
| 285 | Lucas Palermo (NH) pinned Anthony Spivak (NA) | 0:50 |