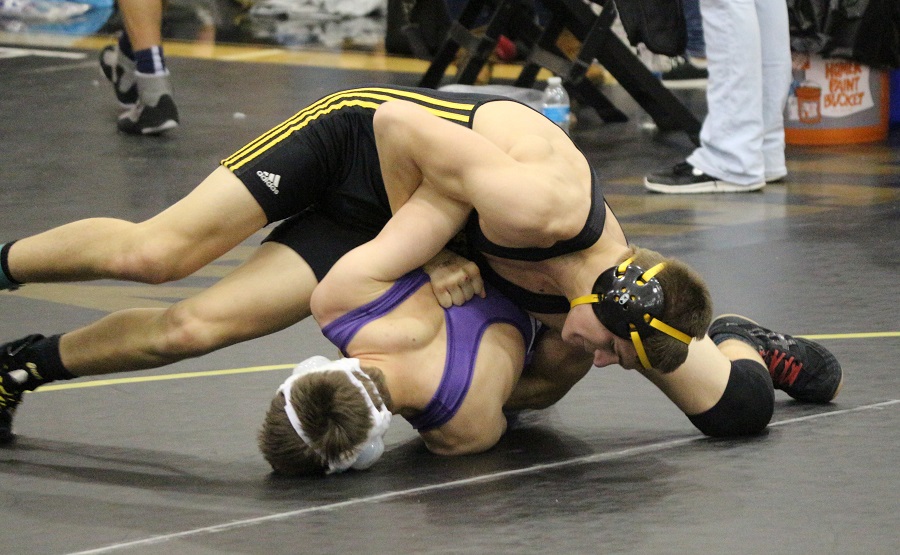 NA Crushes Fox Chapel For Section Win, 52-25
North Allegheny used eight pinfalls to throttle Fox Chapel on the road, 52-25, in Section 3-AAA action on Wednesday night. The Tigers opened the night with three consecutive falls to build an 18-0 lead and never looked back en route to a convincing win.
The meet began at 145 pounds with Zach Stedeford wrestling up a weight class, stepping in for Jake Hinkson who was out with pneumonia. Stedeford set the tone for night by pinning R.J. Okunewick on 1:54 to give the Tigers a 6-0 lead. Junior Derek Devine carried that momentum into his bout with fifth-ranked Jared Pegher at 285 pounds and pinned his opponent in 42 seconds into the second period. Owning a 12-0 lead, freshman Freddy Junko extended the advantage to 18-0 with a prompt fall over Magnus Loeffler.
From there, the pins kept accumulating for the Tigers in a blowout win. Others collecting wins by fall included junior Gabe Falo (120), sophomore Caleb Schweiger (126), senior Luke Landefeld (138), sophomore Jon Hoover (152) and senior Sean Hoover (170).
In the most anticipated bout of the night, top-ranked Jake Woodley battled fourth-ranked Zach Carcy at 195 pounds. Woodley, a University of Oklahoma recruit, displayed why he is one of the top wrestlers in the country by controlling Carcy in a thorough 15-5 major decision. For his efforts, Woodley was named the Wright Automotive Wrestler of the Match.
With the win, North Allegheny sits at 2-0 overall and 2-0 in Section 3B. Fox Chapel dips to 0-2 on the season. The Tigers will take part in the Powerade Wrestling Tournament at Canon-McMillan High School on December 29 and 30.
Wrestling Match Summary: NA vs. Fox Chapel
| Weight | Wrestlers | Score |
| --- | --- | --- |
| 145 | Zach Stedeford (NA) pinned R.J. Okunewick (FC) | 1:54 |
| 285 | Derek Devine (NA) pinned Jared Pegher (FC) | 2:42 |
| 106 | Freddy Junko (NA) pinned Magnes Loeffler (FC) | 0:51 |
| 113 | Jordano Matamoros (FC) wbf | |
| 120 | Gabe Falo (NA) pinned Juan Morales (FC) | 3:09 |
| 126 | Caleb Schweiger (NA) pinned Alex Wecht (FC) | 1:03 |
| 132 | Avery Bursick (FC) dec. Nick Marcenelle (NA) | 9-4 |
| 138 | Luke Landefeld (NA) pinned Josh Miller (FC) | 0:41 |
| 152 | Jon Hoover (NA) pinned Mitch Zukerman (FC) | 0:57 |
| 160 | Billy Myers (FC) pinned Jacob Smalley (NA) | 4:19 |
| 170 | Sean Hoover (NA) pinned Sean Mahon (FC) | 0:36 |
| 182 | Mike Mahon (FC) maj. dec. Jacob Fritsch (NA) | 11-3 |
| 195 | Jake Woodley (NA) maj. dec. Zach Carcy (FC) | 15-5 |
| 220 | Eddie Farrell (FC) wbf | |