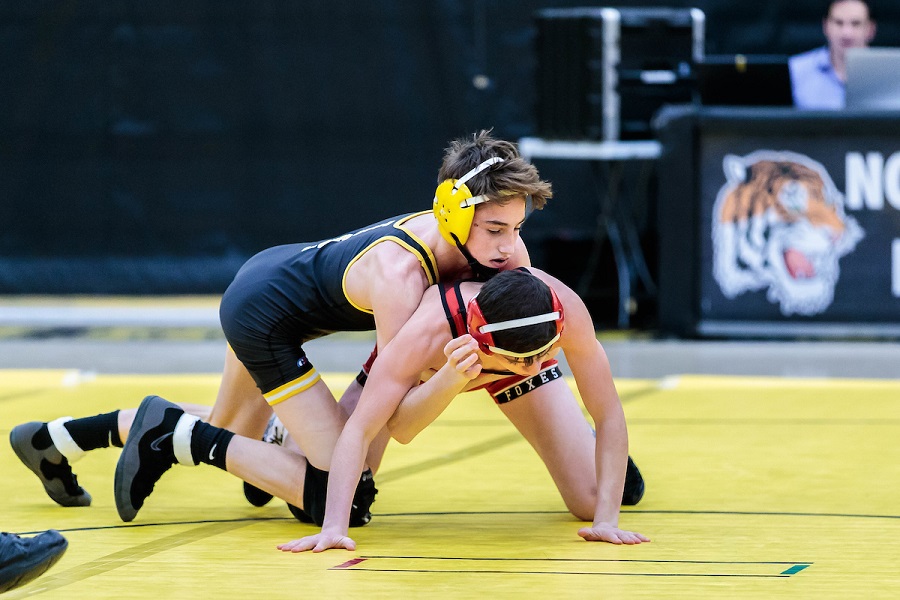 NA Drops Final Dual Meet to Thomas Jefferson
In the final dual meet of the season, the North Allegheny wrestling team fell to the Thomas Jefferson Jaguars on Wednesday night, 51-27.
The Tigers received a pair of wins by fall courtesy of sophomore Max Stedeford and senior Jon Hoover. Stedeford pinned Ridge Viha at 132 pounds and Hoover pinned Andy Kalup at 170 pounds in just 42 seconds.
At 220 pounds, junior Ben Grafton earned a 9-2 decision over Austin Sobek. Freshman Dylan Coy and sophomore Massima Curry both collected wins by forfeit at 106 and 113 pounds, respectively.
Next up is the individual portion of the wrestling schedule as the NA grapplers will participate in the Section 3-AAA tournament on Saturday, February 23.
Wrestling Match Summary: NA vs. Thomas Jefferson
| Weight | Wrestlers | Score |
| --- | --- | --- |
| 106 | Dylan Coy (NA) wbf | |
| 113 | Massima Curry (NA) wbf | |
| 120 | Kale Buckiso (TJ) pinned Brad Stipetich (NA) | 3:32 |
| 126 | Michael Zacur (TJ) pinned Selena Brown (NA) | 0:35 |
| 132 | Max Stedeford (NA) pinned Ridge Viha (TJ) | 3:09 |
| 138 | Brian Finnerty (TJ) pinned Dom Hogan (NA) | 2:00 |
| 145 | Brendan Finnerty (TJ) pinned Ian Branstetter (NA) | 3:39 |
| 152 | Alex Weber (TJ) pinned Brandon Weaver (NA) | 1:14 |
| 160 | Brendan Fitz (TJ) dec. Christian Wojnar (NA) | 6-3 |
| 170 | Jon Hoover (NA) pinned Andy Kalup (TJ) | 0:42 |
| 182 | Trystan Alava (TJ) wbf | |
| 195 | Max Shaw (TJ) wbf | |
| 220 | Ben Grafton (NA) dec. Austin Sobeck (TJ) | 9-2 |
| 285 | Darius Barrett (TJ) wbf | |