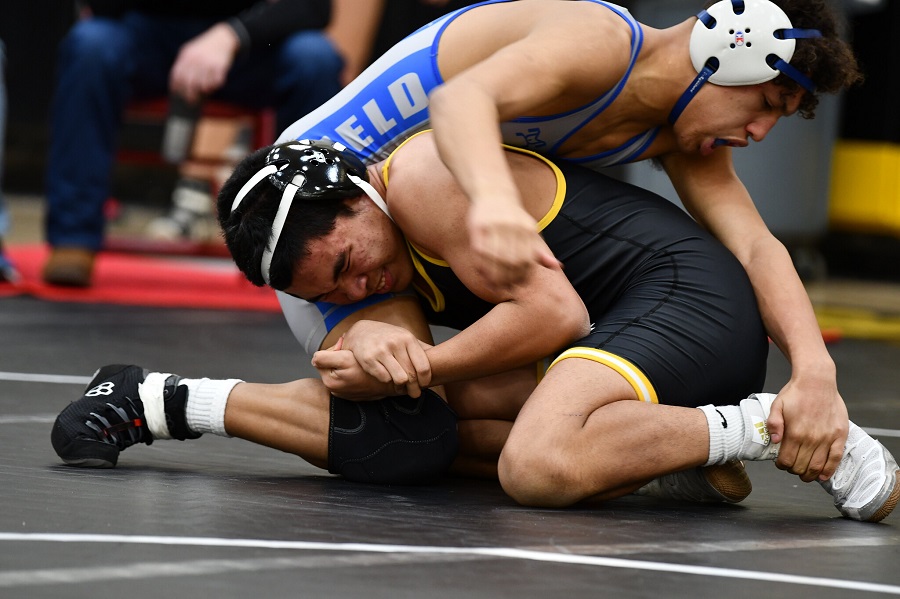 NA Earns Section Sweep, Including Dramatic Win Over Pine-Richland
The North Allegheny boys' wrestling team earned a section sweep on Wednesday night with a 51-21 win over North Hills and a dramatic 34-33 triumph against host Pine-Richland by tiebreaker.
Trailing 33-18 with just three bouts remaining, the Tigers were in desperate need of a pinfall. Junior Nathan Monteparte delivered with a win by fall over Quinn Foster at 132 pounds to trim the deficit to 33-24. Junior Jayson Flener came through at 138 pounds with another critical win by fall in 1:55 over Rowan Foster to cut the score to 33-30, Pine-Richland, with one final bout remaining. The dramatic finale came down to NA's Krist Vizcarra and Pine-Richland's Mark Paluselli at 145 pounds. The Tigers' sophomore earned a clutch 6-1 decision to tie the score at 33-33. With more total victories (7-6) in the dual meet, North Allegheny won the tiebreaker and prevailed, 34-33.
Earlier in the night, the Tigers won big against North Hills and jumped out to an 18-0 lead behind a pair of forfeits and a win by fall courtesy of Kellen Buggey over Parker George at 160 pounds. North Hills responded with two wins by fall from Evan Letky (172) and Andrew Szymczak (215) in the next three bouts to trim the NA lead to 24-12. The Tigers received a win by forfeit at 189 pounds in between the victories by Letky and Szymczak.
At 285 pounds, Aidan Buggey earned a hard-fought 4-3 decision (UTB) at 285 pounds over Lucas Palermo and another NA win by forfeit increased the score to 33-12, Tigers. North Hills managed to trim the score to 33-15 thanks to a 7-5 win by Giavone Schipani at 113 pounds, but North Allegheny clinched the victory at 120 pounds with a prompt win by fall from Sam Horton for a 39-15 lead. Horton pinned Jameson Overton in just 34 seconds. Three forfeits, two for the Tigers, in the final three bouts brought the final score to 51-21, North Allegheny.
Following Wednesday night's action, North Allegheny improves to 2-0 in Subsection 3B-AAA. The Tigers will next focus on the Mid-Winter Mayhem Individual Tournament this Friday and Saturday.
Wrestling Match Summary: NA vs. North Hills
| Weight | Wrestlers | Score |
| --- | --- | --- |
| 145 | Krist Vizcarra (NA) wbf | |
| 152 | Travis Stipetich (NA) wbf | |
| 160 | Kellen Buggey (NA) pinned Parker Geiger (NH) | 1:05 |
| 172 | Evan Letky (NH) pinned Nick Caruso (NA) | 5:11 |
| 189 | Anthony Spivak (NA) wbf | |
| 215 | Andrew Szymczak (NH) pinned Tyler Magorien (NA) | 0:52 |
| 285 | Aidan Buggey (NA) dec. Lucas Palermo (NH) | UTB, 4-3 |
| 106 | Casey Walker (NA) wbf | |
| 113 | Giavonie Schipani (NH) dec. William Bentrim (NA) | 7-5 |
| 120 | Sam Horton (NA) pinned Jameson Overton (NH) | 0:34 |
| 126 | Ben Schneider (NH) wbf | |
| 132 | Nathan Monteparte (NA) wbf | |
| 138 | Jayson Flener (NA) wbf | |
Wrestling Match Summary: NA vs. Pine-Richland
| Weight | Wrestlers | Score |
| --- | --- | --- |
| 152 | Kellin Laffey (PR) maj. dec. Travis Stipetich (NA) | 13-1 |
| 160 | Jacob Lukez (PR) tech fall Kellen Buggey (NA) | 16-1, 5:10 |
| 172 | Nick Caruso (NA) pinned Dustin Edwards (PR) | 0:33 |
| 189 | Cole Wilson (PR) pinned Tyler Magorien (NA) | 4:45 |
| 215 | Aidan Buggey (NA) dec. Dante Cruz (PR) | 6-1 |
| 285 | Joseph Schneck (PR) wbf | |
| 106 | Casey Walker (NA) wbf | |
| 113 | William Bentrim (NA) dec. Shane Simpson (PR) | 8-3 |
| 120 | Dominic Ferraro (PR) wbf | |
| 126 | Anthony Ferraro (PR) pinned Sam Horton (NA) | 3:14 |
| 132 | Nathan Monteparte (NA) pinned Quinn Foster (PR) | 1:51 |
| 138 | Jayson Flener (NA) pinned Rowan Foster (PR) | 1:55 |
| 145 | Krist Vizcarra (NA) dec. Mark Paluselli (PR) | 6-1 |