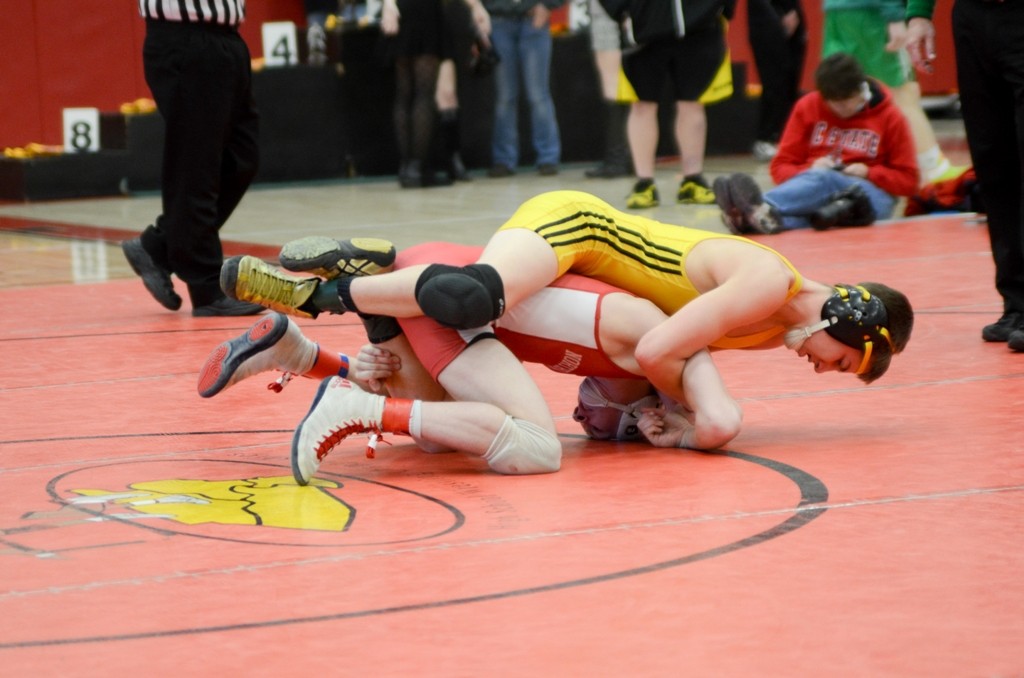 NA Edged By Cathedral Prep In PIAA Consolations, 27-26
Still vying for third place on the final day of the PIAA tournament in Hershey, North Allegheny's run came to an end in the consolation bracket with a narrow loss to Cathedral Prep, 27-26.
The nail-biting finish came down to the very end. North Allegheny trailed, 24-16, with four bouts remaining before trimming the deficit to 24-23 with a 7-2 decision by Zach Stedeford at 138 pounds and a 12-3 major decision by Jake Hinkson at 145 pounds. Cathedral Prep opened its lead up to four points, 27-23, with a 3-0 decision by Carter Starocci over Jon Hoover at 152 pounds.
A trip to the consolation finals came down to the 160 pound bout between NA standout Eric Hong and Prep's Dazjon Casto. For Prep, Casto needed to avoid being pinned or a major decision and he did just that. Hong picked up a 5-2 decision over Casto which left the Tigers just one point short of Cathedral Prep, 27-26.
Despite the loss, there were plenty of fine performances by NA grapplers. Sean Hoover delivered a major decision at 182 pounds with an 8-0 win over Evan Selker. Senior Jake Woodley pinned DyJheir Norman at 220 pounds in 2:28. Other NA wrestlers earning victories included Freddy Junko (106) and Jacob Downing (113).
North Allegheny concludes the team portion of the season with an overall record of 13-3. The NA wrestlers will take to mat for the individual section tournament on Saturday, February 25.
Wrestling Match Summary: NA vs. Cathedral Prep
| Weight | Wrestlers | Score |
| --- | --- | --- |
| 170 | Luigi Yates (CP) pinned Jared Kramer (NA) | 2:14 |
| 182 | Sean Hoover (NA) maj. dec. Evan Selker (CP) | 8-0 |
| 195 | Michael Hughes (CP) dec. Jacob Fritsch (NA) | 7-1 |
| 220 | Jake Woodley (NA) pinned DyJheir Norman (CP) | 2:28 |
| 285 | Kawaun Deboe (CP) dec. Derek Devine (NA) | 4-0 |
| 106 | Frederick Junko (NA) dec. Jacob Brumett (CP) | 3-0 |
| 113 | Jacob Downing (NA) dec. Brady Sittinger (CP) | 4-0 |
| 120 | Andrew Stark (CP) dec. Gabe Falo (NA) | 1-0 |
| 126 | Tyler McKinney (CP) dec. Nick Marcenelle (NA) | 8-2 |
| 132 | Spencer Staab (CP) pinned Will Baierl (NA) | 3:42 |
| 138 | Zach Stedeford (NA) dec. Marques McClorin (CP) | 7-2 |
| 145 | Jake Hinkson (NA) maj. dec. Albert Taylor (CP) | 12-3 |
| 152 | Carter Starocci (CP) dec. dec. Jon Hoover (NA) | 3-0 |
| 160 | Eric Hong (NA) dec. Dazjon Casto (CP) | 5-2 |