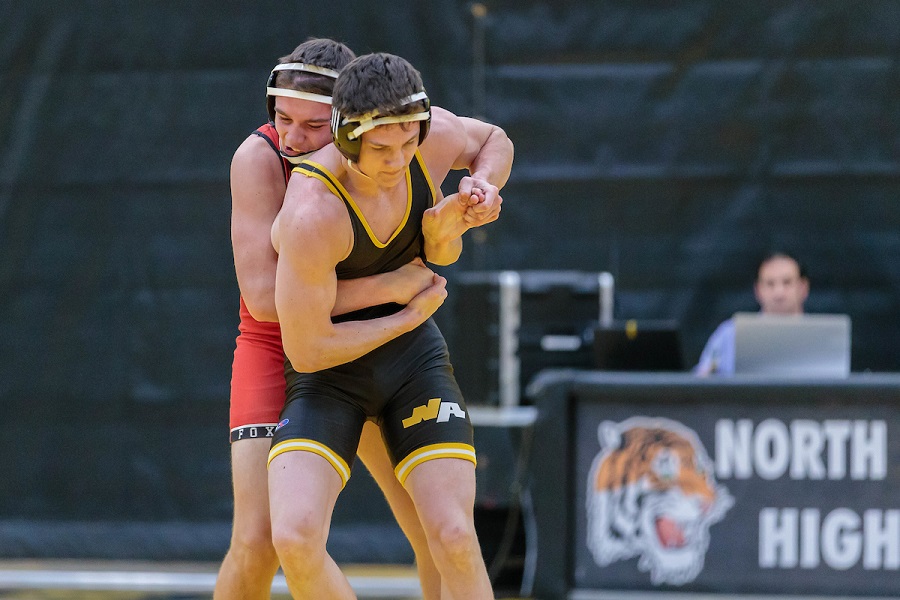 NA Edged By Hampton, 34-32
A short-handed North Allegheny wrestling team fell, 34-32, in a hard-fought battle with the Hampton Talbots on Wednesday night in Section 3-AAA action. With several wrestlers out due to illness, the Tigers nearly pulled out what would have been an exceptional road victory.
The night began at 126 pounds where NA's Jacob Downing picked up a 6-0 decision over Tyler Kocak to give the Tigers a 3-0 lead. Hampton responded by winning three of the next four bouts, including a wins by fall courtesy of Gage Galuska (138) and Vincent Schmitt (152), to take a 15-6 lead.
North Allegheny's Jacob Smalley (160) turned the tables on Hampton with a win by fall over Conrad Harold and Jon Hoover (170) followed with a 19-4 tech fall over Corey Scherer to give the Tigers the lead back, 17-15.
Hampton leapfrogged the Tigers on a narrow 2-1 decision by Chad Scherer at 182 pounds for an 18-17 advantage. The Talbots added a major decision by Justin Hart at 195 pounds to expand the lead to 22-17.
Sophomore Ben Grafton answered back for NA and picked up a huge win by fall over Nathan Tabon at 220 pounds to propel the Tigers to a 23-22 lead. Unfortunately for NA, forfeits in two of the last four bouts helped Hampton escape with a 34-32 victory.
Hampton remains undefeated in Section 3B with a 3-0 record. North Allegheny slips to 2-1 in the subsection. North Allegheny will take part in the Tool City Invitational this weekend.
Wrestling Match Summary: NA vs. Hampton
| Weight | Wrestlers | Score |
| --- | --- | --- |
| 126 | Jacob Downing (NA) dec. Tyler Kocak (H) | 6-0 |
| 132 | Zach Wright (H) dec. Gabe Falo (NA) | 5-3 |
| 138 | Gage Galuska (H) pinned Andrew Wang (NA) | 3:02 |
| 145 | Nick Marcenelle (NA) dec. Liam Helon (H) | 7-2 |
| 152 | Vincent Schmitt (H) pinned Bobby Snyder (NA) | 1:54 |
| 160 | Jacob Smalley (NA) pinned Conrad Harold (H) | 4:15 |
| 170 | Jon Hoover (NA) tech fall Corey Scherer (H) | 19-4 |
| 182 | Chad Scherer (H) dec. Jimmy Turici (NA) | 2-1 |
| 195 | Justin Hart (H) maj. dec. Pier Ferrara (NA) | 16-5 |
| 220 | Ben Grafton (NA) puned Nathan Tabon (H) | 3:23 |
| 285 | Dawson Dietz (H) wbf | |
| 106 | Tyler Tarr (H) wbf | |
| 113 | Max Stedeford (NA) pinned Cameron Rakar (H) | 1:21 |
| 120 | Freddy Junko (NA) dec. Joshua Campbell (H) | 6-1 |