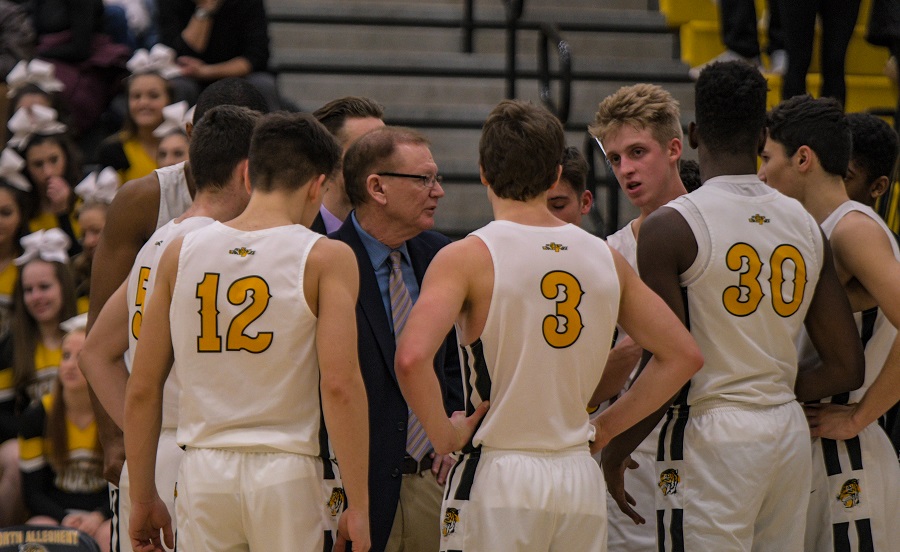 NA Falls In WPIAL 1st Round To Canon-McMillan In OT, 61-59
By Jared Barton
It was just around this time two years ago when Canon-McMillan topped North Allegheny 70-67 in round one of the WPIAL Boys Basketball Playoffs.
This time, the Big Macs clawed back from an 11-point deficit to take down the Tigers 61-59 in overtime at West Allegheny High School.
It was a back-and-forth matchup in the first quarter, with NA taking a small 10-9 lead at the end of the frame. The scoring heated up for both teams in the second quarter, but was still close at halftime with the Tigers leading, 27-24.  Junior Mike Iuzzolino and senior Nico Erimias led the charge with eight points apiece half way through the contest. Canon-McMillan senior Drew Engel dropped four three-point shots in the first half to keep the game in reach.
North Allegheny owned the third quarter, with Anthony Hattrup and Erimias leading the way. The Tigers held a 41-31 lead heading into the final frame.
The fourth quarter was a bit of a different story, as the Big Macs combined solid defense with timely scoring to pull back into the game.  CM rattled off an 8-0 run with just minutes remaining to tie the game at the end of regulation.  Erimias had a chance to propel the Tigers to victory with a last second prayer from beyond the arc, but the shot bounced off of the backboard. Iuzzolino fouled out of the contest with three minutes left in the fourth. His absence was missed throughout the rest of the game.
In overtime, aggressive Canon-Mac defense made the difference, led by senior Luke Palma, whose four steals led all players in the game. Multiple fouls slowed the pace in OT, but the Big Macs made the necessary shots to secure the win off of the scoring of seniors Ethan Beachy and Elliot Waller.
Hattrup earned Wright Automotive Player of the Game honors, leading all scorers with 19 points and seven rebounds.
The Big Macs improve to 15-8 overall on the season and advance to the WPIAL Quarterfinal matchup with Latrobe on Saturday. North Allegheny's season comes to an end with a 13-9 overall record.