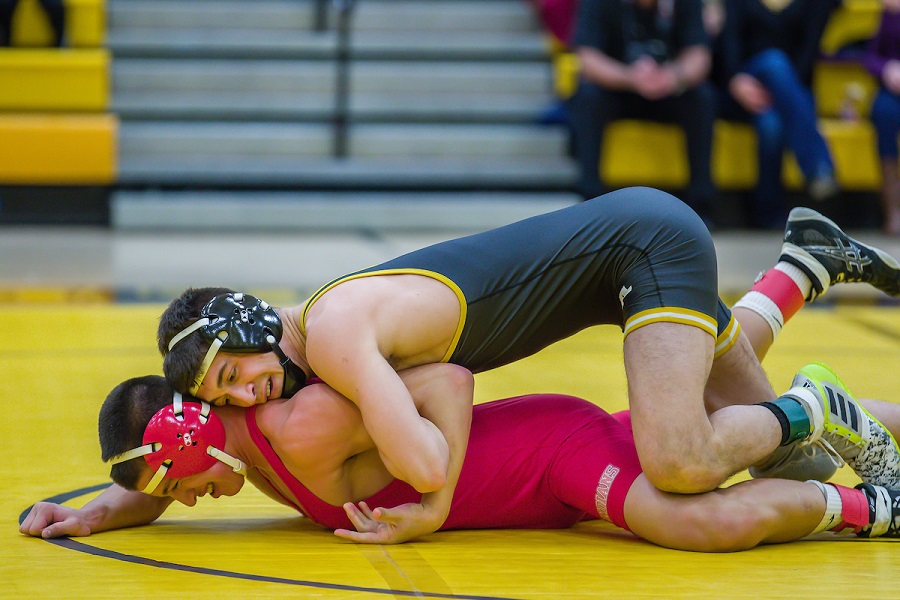 NA Grapplers Crush Carrick In PIAA Prelim, 73-6
The North Allegheny wrestling team cruised past Carrick on Monday night in the preliminary round of the PIAA wrestling tournament with a 73-6 triumph over the Raiders. The Tigers trounced the Pittsburgh City League champions with an astonishing nine pin falls. Carrick's only victory was a win by forfeit for Joe Dang at 113 pounds.
Collecting falls for the Tigers were Derek Devine (285), Will Baierl (132), Zach Stedeford (138), Jake Hinkson (145), Eric Hong (160), Jared Kramer (170), Jacob Fritsch (182), Benjamin Smallwood (195) and Jake Woodley (220). Also earning bonus point wins were Frederick Junko (106) with a tech fall over Mike Dearlo, Nick Marcenelle (126) with a 10-0 major decision over Spencer Cebula, and Jon Hoover (152) with a 13-1 major decision over Juan Rodriguez.
With the win, the Tigers improve to 11-1 on the season. North Allegheny will take on Father Judge, the District 12 champion, on Thursday in the opening round of the PIAA tournament in Hershey.
Wrestling Match Summary: NA vs. Carrick
| Weight | Wrestlers | Score |
| --- | --- | --- |
| 285 | Derek Devine (NA) pinned Josh Cline (C) | 0:26 |
| 106 | Frederick Junko (NA) tech fall Mike Dearlo (C) | 19-4 |
| 113 | Joe Dang (C) wbf | |
| 120 | Jiatian Qu (NA) wbf | |
| 126 | Nick Marcenelle (NA) maj. dec. Spencer Cebula (C) | 10-0 |
| 132 | Will Baierl (NA) pinned Dom Emma (C) | 1:34 |
| 138 | Zach Stedeford (NA) pinned Justice Jones (C) | 2:45 |
| 145 | Jake Hinkson (NA) pinned Seth Finnegan (C) | 2:27 |
| 152 | Jon Hoover (NA) maj. dec. Juan Rodriguez (C) | 13-1 |
| 160 | Eric Hong (NA) pinned L.J. Orbovich (C) | 1:16 |
| 170 | Jared Kramer (NA) pinned Steve Schramm (C) | 4:35 |
| 182 | Jacob Fritsch (NA) pinned Justin Burns (C) | 0:35 |
| 195 | Benjamin Smallwood (NA) pinned Jonas Chan (C) | 4:34 |
| 220 | Jake Woodley (NA) pinned Dale Davis (C) | 1:27 |