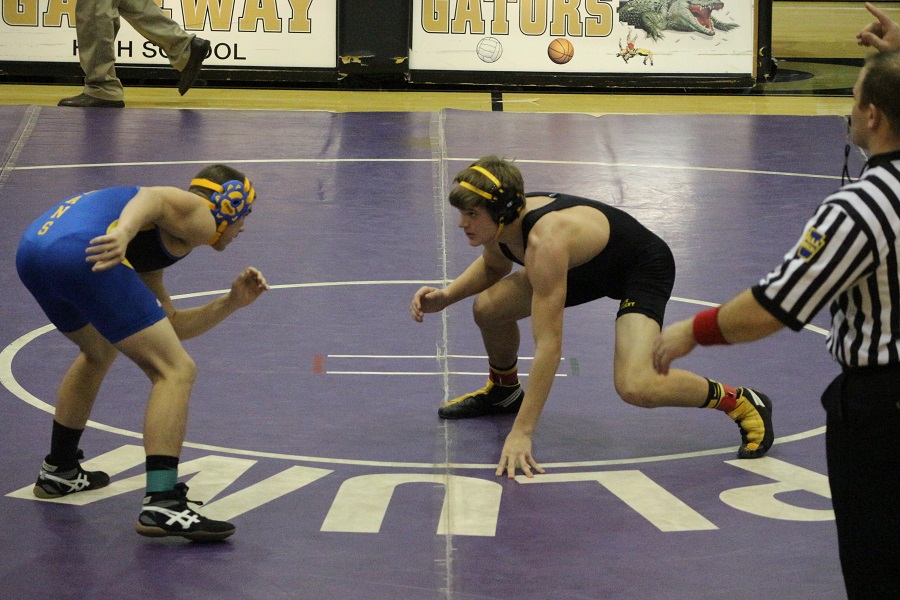 NA Grapplers Dump Belle Vernon, 44-15
In a battle between two top 10 ranked teams, the North Allegheny Tigers toppled the Belle Vernon Leopards on Thursday night, 44-15. In the non-section meet, the Tigers outmuscled their worthy opponent for three falls and two major decisions en route to the victory.
At 126 pounds, Dom Forys claimed a fall over Mitchell Hartman and A.J. Boeh pinned Luke Durigon in 1:25 at 138 pounds.  At 195 pounds, Zach Smith earned a quick pin over William Korber.  Helping NA to the comfortable win, Will Baierl (132) earned an 11-3 major decision over Dylan Lundy and Jake Woodley (160) picked up an 18-7 major decision over Joshua Godzin.
North Allegheny improves to 3-0 overall with the win.  Belle Vernon drops only their second meet of the season, falling to 5-2 on the year. The Tigers varsity squad will participate at the Manheim Invitational next weekend.
Wrestling Match Summary: NA vs. Belle Vernon
| Weight | Wrestlers | Score |
| --- | --- | --- |
| 106 | Zack Stedeford (NA) SV Jacob Dunlop (BV) | 6-4 |
| 113 | Luke Landefeld (NA) dec. Tyler Seliga (BV) | 7-3 |
| 120 | Scotty Stossel (NA) dec. Brendan Hasson (BV) | 8-1 |
| 126 | Dom Forys (NA) pinned Mitchell Hartman (BV) | 0:53 |
| 132 | Will Baierl (NA) maj. dec. Dylan Lundy (BV) | 11-3 |
| 138 | A.J. Boeh (NA) pinned Luke Durigon (BV) | 1:25 |
| 145 | Richie Boeh (NA) dec. Cameron Evans (BV) | 7-3 |
| 152 | Derek Verkleeren (BV) pinned Drew Landefeld (NA) | 5:03 |
| 160 | Jake Woodley (NA) maj. dec. Joshua Godzin (BV) | 18-7 |
| 170 | Austin Bell (BV) dec. Colton Byerly (NA) | 10-6 |
| 182 | Clay Byerly (NA) dec. Milton Kobaly (BV) | 10-7 |
| 195 | Zach Smith (NA) pinned William Korber (BV) | 0:48 |
| 220 | Layne Skundrich (NA) dec. Patrick Mayernik (BV) | 3-1 |
| 285 | Austin Sluk (BV) pinned Mark Littlefield (NA) | 3:06 |