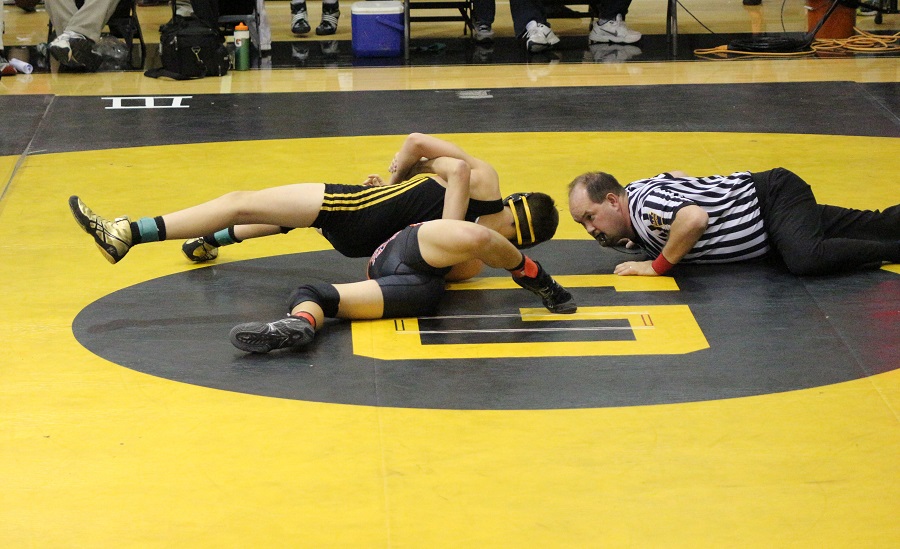 NA Grapplers Edge Council Rock South To Advance At Hershey
The North Allegheny wrestling team edged Council Rock South on Friday evening, 33-30, to advance to the Third Round Consolations of the PIAA Team Tournament. With the Tigers leading 27-24 with two bouts to go, sophomore Zack Stedeford picked up a fall over Troy Nation at 120 pounds to clinch a North Allegheny victory. The Tigers improve to 17-4 overall and will face District 3 runner-up Central Dauphin this morning at 9:00.
North Allegheny trailed 14-8 before rolling off four straight wins to take a 27-14 lead. Clay Byerly earned a 12-0 major decision at 182 pounds, Jeff Clemans delivered a 5-4 decision at 195 pounds, and Zach Smith and Layne Skundrich came up with back-to-back falls at 220 and 285 pounds, respectively.
Council Rock South cut the NA lead to 27-24 with a major decision by Riley Palmer at 106 pounds and a fall by Ben Radner at 113 pounds, but Stedeford answered with the match-clinching fall at 120 pounds to lift the Tigers to the next round.
For a look at the PIAA Class AAA bracket, click here.
Wrestling Match Summary: NA vs. Council Rock South
PIAA Class AAA Consolations 2nd RD
| Weight | Wrestlers | Score |
| --- | --- | --- |
| 132 | Joe Little (CR) dec. Jake Hinkson (NA) | 4-3 |
| 138 | A.J. Boeh (NA) maj. dec. Shane Flanagan (CR) | 10-0 |
| 145 | Lucas Martoccio (CR) maj. dec. Will Baierl (NA) | 14-2 |
| 152 | Dylan Schwartz (CR) dec. Sean Hoover (NA) | 7-3 |
| 160 | Jake Woodley (NA) maj. dec. Robert Cooper (CR) | 16-4 |
| 170 | Joe Doyle (CR) maj. dec. Jacob Fritch (NA) | 12-3 |
| 182 | Clay Byerly (NA) maj. dec. Scott Mackin (CR) | 12-0 |
| 195 | Jeff Clemens (NA) dec. Ben Kenis (CR) | 5-4 |
| 220 | Zach Smith (NA) pinned Thiason Nguyen (CR) | 0:56 |
| 285 | Layne Skundrich (NA) pinned Brandon Kohn (CR) | 1:52 |
| 106 | Riley Palmer (CR) maj. dec. Gabe Falo (NA) | 14-1 |
| 113 | Ben Radner (CR) pinned Jacob Downing (NA) | 0:52 |
| 120 | Zack Stedeford (NA) pinned Troy Nation (CR) | 3:59 |
| 126 | Zack Trampe (CR) wbf | |