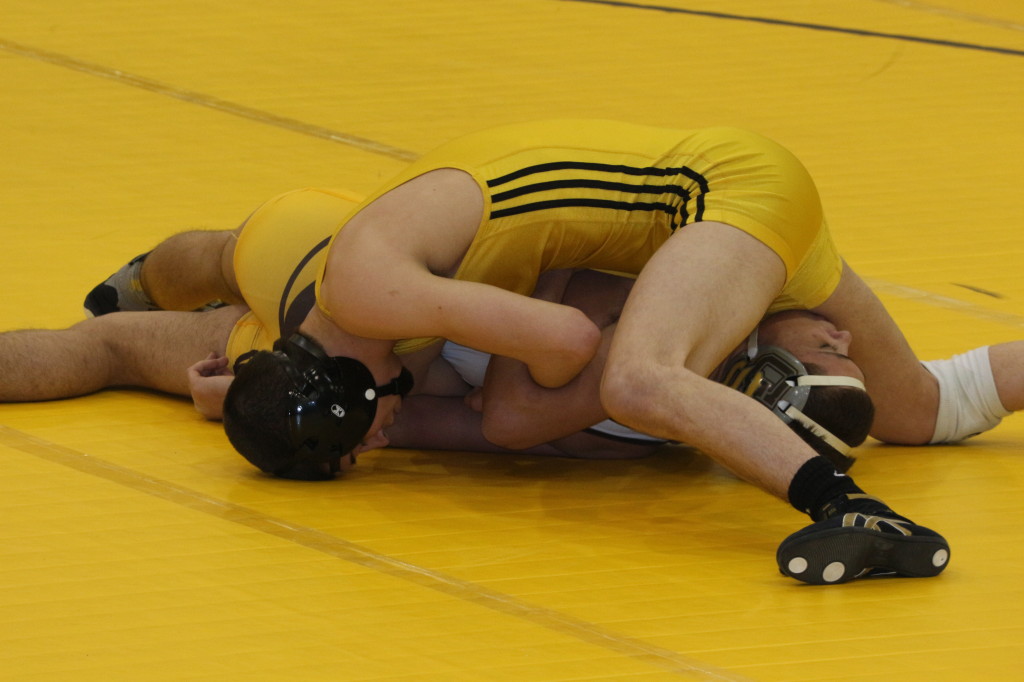 NA Grapplers Reach PIAA Final Four, Day Three Of States
The North Allegheny wrestling team reached the PIAA final four on Friday and fell to Bethlehem Catholic, 50-23. The Tigers reached the state semifinals by beating Exeter Township earlier in the day, 36-26.
Against Exeter, the Tigers fell behind 15-0 and trailed 26-17 before staging a thrilling comeback. North Allegheny won the final four bouts to punch its ticket to the state's final four. Zach Stedeford began the rally with a 9-1 major decision over Justin Landis at 138 pounds. Jake Hinkson followed with a win by fall over Gage Moran at 145 pounds to take a 27-26 lead. Jon Hoover improved the team lead to 30-26 with a 7-0 decision over Tyler Harkness. In the final bout of the meet, Eric Hong quickly finished off Exeter and Tyler Borton at 160 pounds with a win by fall in 1:40 for a 36-26 triumph.
Advancing to the semifinals against Bethlehem Catholic, the runners up from District 11, the Tigers again competed from behind but saw the deficit grow too large for another dramatic rally. Stedeford, Hinkson and Hong all earned wins by fall against BC in a 50-23 defeat.
North Allegheny returns to mat action in the consolation bracket this morning with an 11 a.m. meeting against the winner between Central Mountain and Cathedral Prep. For a look at the PIAA Class AAA bracket, click here.
Wrestling Match Summary: NA vs. Exeter Township
| Weight | Wrestlers | Score |
| --- | --- | --- |
| 170 | Tyler Bagoly (ET) pinned Jared Kramer (NA) | 0:48 |
| 182 | Nolan Buck (ET) dec. Jacob Fritsch (NA) | 5-2 |
| 195 | Dennis Karas (ET) pinned Benjamin Smallwood (NA) | 0:59 |
| 220 | Jacob Woodley (NA) maj. dec. Jonathan Greenleaf (ET) | 19-9 |
| 285 | Oscar Daniels (ET) dec. Derek Devine (NA) | 5-2 |
| 106 | Frederick Junko (NA) maj. dec. Jacon Keller (ET) | 13-2 |
| 113 | Jacob Downing (NA) pinned Jacob Steward (ET) | 1:01 |
| 120 | Gabe Falo (NA) dec. Ryan Watts (ET) | 3-1 |
| 126 | Chris Matthews (ET) dec. Nick Marcenelle (NA) | 3-2 |
| 132 | Austin Desanto (ET) tech fall Will Baierl (NA) | 23-8 |
| 138 | Zach Stedeford (NA) maj. dec. Justin Landis (ET) | 9-1 |
| 145 | Jake Hinkson (NA) pinned Gage Moran (ET) | 3:46 |
| 152 | Jon Hoover (NA) dec. Tyler Harkness (ET) | 7-0 |
| 160 | Eric Hong (NA) pinned Tyler Borton (ET) | 1:40 |
***********
Wrestling Match Summary: NA vs. Bethlehem Catholic
| Weight | Wrestlers | Score |
| --- | --- | --- |
| 195 | Jody Crouse (BC) pinned Benjamin Smallwood (NA) | 2:23 |
| 220 | Jacob Woodley (NA) tech fall Andrew Balukas (BC) | 20-4 |
| 285 | Niko Camacho (BC) pinned Derek Devine (NA) | 3:40 |
| 106 | Dillon Murphy (BC) pinned Frederick Junko (NA) | 0:47 |
| 113 | Kenny Herrmann (BC) dec. Jacob Downing (NA) | 3-1 |
| 120 | Zach Glenn (BC) pinned Jiatian Qu (NA) | 0:35 |
| 126 | Ryan Anderson (BC) pinned Nick Marcenelle (NA) | 1:17 |
| 132 | Jarred Papcsy (BC) tech fall Jake Hanson (NA) | 15-0 |
| 138 | Zach Stedeford (NA) pinned Colin Redington (BC) | 3:51 |
| 145 | Jake Hinkson (NA) pinned Joe Kurtz (BC) | 2:25 |
| 152 | Ryan Zeiner (BC) dec. Jon Hoover (NA) | 3-1 |
| 160 | Eric Hong (NA) pinned Garhett Gibson (BC) | 1:16 |
| 170 | Tavion Banks (BC) dec. Jacob Smalley (NA) | 6-1 |
| 182 | Michael Labriola (BC) wbf | |