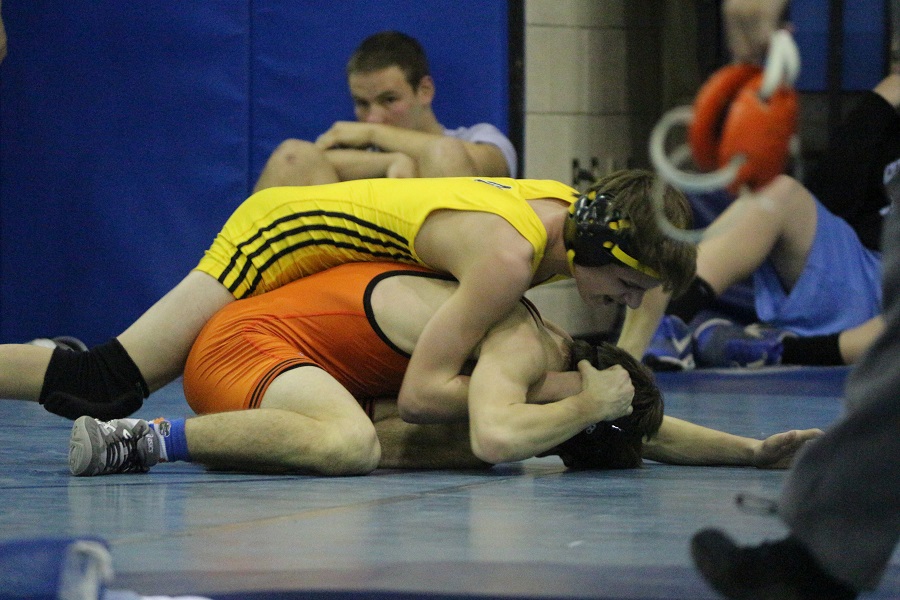 NA Grapplers Top Indiana In Section Opener, 53-15
The North Allegheny wrestling team opened the Section 3-AAA schedule on Thursday night with a 53-15 road win at Indiana. The Tigers fell behind 9-0 but dominated the rest of the night thanks to five wins by fall. Derek Devine (285), Freddy Junko (120), Gabe Falo (138), Nick Marcenelle (145) and Manuel Bautista (152) all collected pin falls in their respective weight classes.
Mohammaad Khatami posted a 12-4 major decision over Chase Cunningham at 126 pounds and Jon Hoover picked up a 13-3 major decision over A.J. Ryan at 160 pounds. Pierandrea Ferrara earned a 12-9 decision over Keegan Ryan at 182 pounds, while Maximus Stedeford and Jacob Downing collected wins by forfeit at 113 and 132 pounds, respectively.
North Allegheny will try to build on its first section at the Beast of the East Tournament this weekend.
Wrestling Match Summary: NA vs. Indiana, 12-14-17
| Weight | Wrestlers | Score |
| --- | --- | --- |
| 195 | Alex Donahue (IND) dec. Jimmy Turici (NA) | 4-3 (TB-1) |
| 220 | Jordan Smith (IND) pinned Norman Bernardi (NA) | 0:28 |
| 285 | Derek Devine (NA) pinned Brent Johnson (IND) | 5:03 |
| 106 | Double Forfeit | |
| 113 | Maximus Stedeford (NA) wbf | |
| 120 | Freddy Junko (NA) pinned Jack Turner | 1:59 |
| 126 | Mohammaad Khatami (NA) maj. dec. Chase Cunningham (IND) | 12-4 |
| 132 | Jacob Downing (NA) wbf | |
| 138 | Gabe Falo (NA) pinned Bradley Petras (IND) | 3:17 |
| 145 | Nick Marcenelle (NA) pinned Keagan Pilch (IND) | 4:49 |
| 152 | Manuel Bautista (NA) pinned Brayden Hodak (IND) | 5:39 |
| 160 | Jon Hoover (NA) maj. dec. A.J. Ryan (IND) | 13-3 |
| 170 | Dylan McAnulty (IND) pinned Jacob Smalley (NA) | 3:05 |
| 182 | Pierandrea Ferrara (NA) dec. Keegan Ryan (IND) | 12-9 |