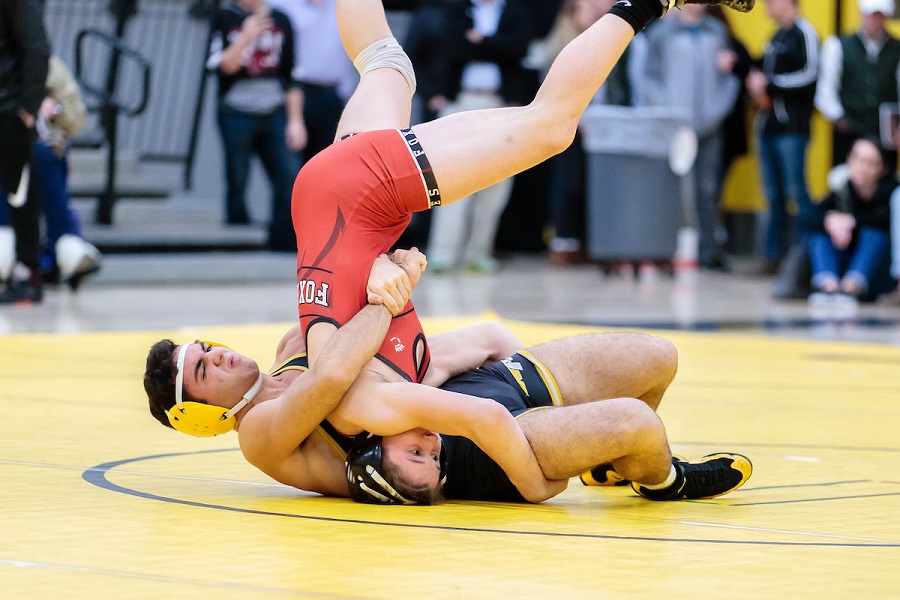 NA Grapplers Trounce Thomas Jefferson In Final Team Meet
The North Allegheny Tigers closed out the team portion of their schedule with a 50-16 win over the Thomas Jefferson Jaguars on senior night at NASH. The Tigers used three wins by fall, three forfeits and one tech fall to earn the blowout of the Jaguars.
Seniors Gabe Falo (138) and Jacob Smalley (170), and sophomore Austin Huebner (220) all earned pin falls in their respective weight classes. Junior Jon Hoover picked an impressive tech fall win over Andy Kalup at 160 pounds by a 16-1 final.
Sophomore Freddy Junko (120) garnered a 2-1 decision over Kellen Lynch, senior and Shippensburg recruit Jacob Downing (132) earned a hard-fought 6-5 decision over Jake Fisher, and Manuel Batista (152) came through with a 5-2 decision over Brendan Fitz to help NA to the non-section victory.
North Allegheny finishes the regular season with a 7-3 record. The NA grapplers will prepare for the Section 3-AAA Individual Tournament on Saturday, February 24.
Wrestling Match Summary: NA vs. Thomas Jefferson
| Weight | Wrestlers | Score |
| --- | --- | --- |
| 106 | Max Stedeford (NA) wbf | |
| 113 | Freddy Junko (NA) dec. Kellen Lynch (TJ) | 2-1 (TB-1) |
| 120 | Kale Buckiso (TJ) tech fall Mohammaad Khatami (NA) | 16-0 |
| 126 | Double Forfeit | |
| 132 | Jacob Downing (NA) dec. Jake Fisher (TJ) | 6-5 |
| 138 | Gabe Falo (NA) pinned Brandon Sobeck (TJ) | 0:41 |
| 145 | Ridge Vlha (TJ) pinned Andrew Wang (NA) | 3:49 |
| 152 | Manuel Bautista (NA) dec. Brendan Fitz (TJ) | 5-2 |
| 160 | Jon Hoover (NA) tech fall Andy Kalup (TJ) | 16-1 |
| 170 | Jacob Smalley (NA) pinned Ryan Davidson (TJ) | 3:44 |
| 182 | Max Shaw (TJ) tech fall Jimmy Turici (NA) | 18-3 |
| 195 | Pier Ferrara (NA) wbf | |
| 220 | Austin Huebner (NA) pinned Denver Haynes (TJ) | 1:34 |
| 285 | Derek Devine (NA) wbf | |