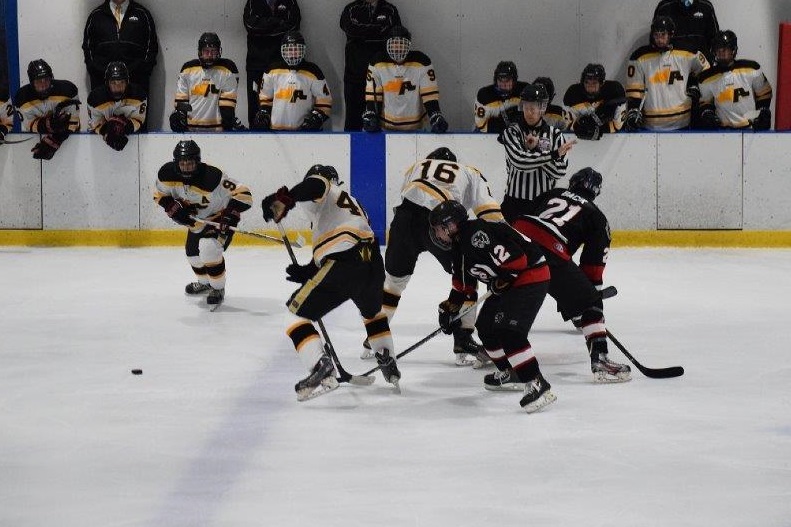 NA Ice Hockey Plays Even With Bethel Park, 3-3
The North Allegheny ice hockey team rallied from a two-goal deficit to force a 3-3 tie with Bethel Park Black Hawks on Thursday night. It's the second straight game the Tigers have played an opponent to a draw.
Senior Erik Chidester gave North Allegheny a 1-0 lead with a goal, assisted by Dawson Richard and Justin Kidd, with 6:04 gone in the first period. However, Bethel Park rattled off the next three goals to take a 3-1 lead by the 15:50 mark of the second period.
The Tigers began to swing momentum in their direction thanks to a goal late in the second period courtesy of Richard with just 34 seconds remaining to trim the score to 3-2. Maintaining that energy out of intermission, North Allegheny struck at the 3:05 mark of the third period on a goal by Bernardo Vieira to even the score at 3-3.
From there, the game turned into a defensive struggle as NA goalie Ryan Heil and Bethel Park net minder Nicholas Guimond did not permit another goal. Heil totaled 19 saves, while Guimond stopped 18 pucks.
The tie moves North Allegheny's record to 11-4-3 on the season. Bethel Park sits at 7-8-3 on the campaign. The Tigers host Erie Cathedral Prep on Monday night in a game that will be broadcast live via the internet on the MSA Sports Network.
Ice Hockey Summary vs. Bethel Park, 2-9-17
| GAME SUMMARY | | | | | |
| --- | --- | --- | --- | --- | --- |
| SCORE BY PERIODS | 1 | 2 | 3 | OT | FINAL |
| North Allegheny | 1 | 1 | 1 | 0 | 3 |
| Bethel Park | 2 | 1 | 0 | 0 | 3 |
Ice Hockey Individual Scoring vs. Bethel Park
| INDIVIDUAL STATS | | |
| --- | --- | --- |
| FIRST PERIOD | | |
| North Allegheny | Erik Chidester (Dawson Richard, Justin Kidd) | 6:04 |
| Bethel Park | Ryan Phelps (Jason Bauer) | 16:33 |
| Bethel Park | Will Douds (Vince Vetuccio, J.C. Bele) | 16:51 |
| SECOND PERIOD | | |
| Bethel Park | Bauer (Phelps) | 15:50 |
| North Allegheny | Richard (Chidester) | 16:26 |
| THIRD PERIOD | | |
| North Allegheny | Bernardo Vieira (Kidd, John Parks) | 3:05 |
| OVERTIME | | |
| | NO SCORING | |