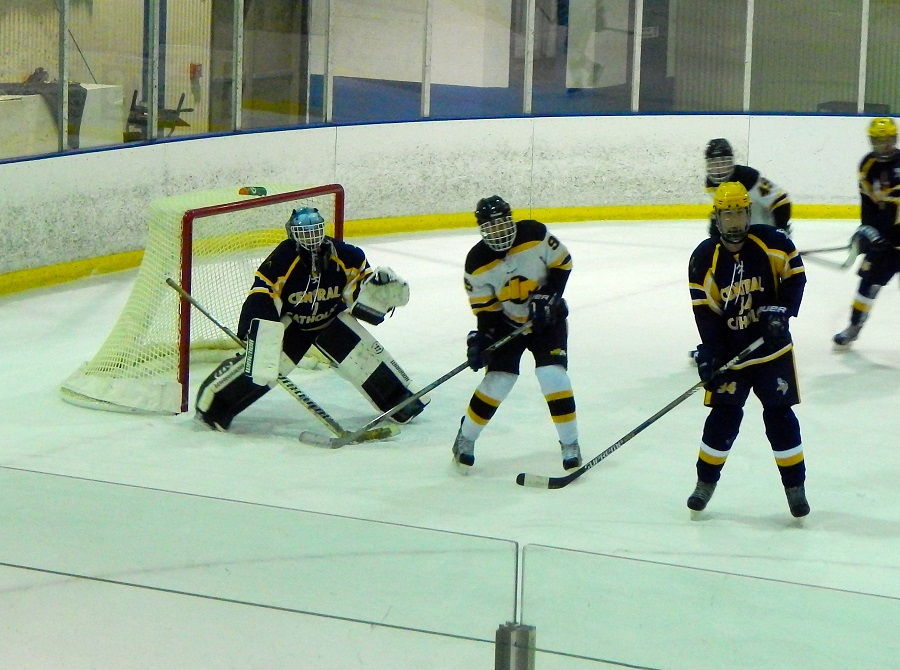 NA Ice Hockey Wins 4th Straight In OT, 1-0
In a hard-fought defensive struggle with the Central Catholic Vikings, junior Paul Gonchar lifted North Allegheny to a 1-0 victory with an overtime goal on Monday night at the BladeRunners in Warrendale. The Gonchar marker was assisted by Michael Kramer and Nathan Taylor, bringing to an end a game where scoring was at a premium.
North Allegheny goalie Douglas Wild pitched the shutout, his second of the season, with 26 saves. Central Catholic's Nate Cava was also impressive, stopping 30 of 31 shots. The game was well played on both sides with only three total penalties on the night.
With the win, the Tigers sit at 6-1 on the season and are tied for first place in Class AAA with Canon-McMillan who shares the same record. North Allegheny will face a stiff test next Tuesday night with a road contest against Peters Township.  Central Catholic falls to 1-5-1 on the season following the loss.
Ice Hockey Individual Scoring vs. Central Catholic
| INDIVIDUAL STATS | | |
| --- | --- | --- |
| FIRST PERIOD | | |
| | NO SCORING | |
| SECOND PERIOD | | |
| | NO SCORING | |
| THIRD PERIOD | | |
| | NO SCORING | |
| OVERTIME | | |
| North Allegheny | Paul Gonchar (Michael Kramer, Nathan Taylor) | |
Ice Hockey Individual Scoring vs. Central Catholic
| INDIVIDUAL STATS | | |
| --- | --- | --- |
| FIRST PERIOD | | |
| | NO SCORING | |
| SECOND PERIOD | | |
| | NO SCORING | |
| THIRD PERIOD | | |
| | NO SCORING | |
| OVERTIME | | |
| North Allegheny | Paul Gonchar (Michael Kramer, Nathan Taylor) | |