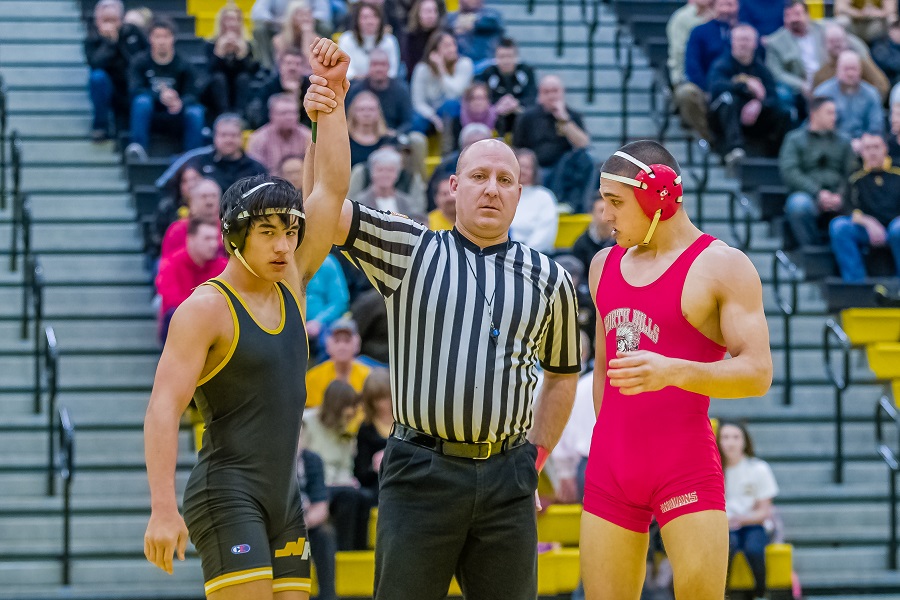 NA Locks Up 1st Place In Subsection With Win Over North Hills
The North Allegheny wrestling team secured the top spot in Section 3B-AAA by prevailing over the North Hills Indians, 41-25. The Tigers used five pinfalls to triumph over the Indians and will head to the section tournament as the No. 1 team from the subsection. Butler earned the top-seed in subsection 3A with a victory over Seneca Valley and will host the section team tournament next week.
Starting at 145 pounds, the Tigers opened the meet with three straight wins for a 17-0 lead. Senior Jake Hinkson picked up a tech fall victory over Ethan Uechi, sophomore Jon Hoover pinned Dakota Grupp at 152 pounds, and newcomer Eric Hong pinned Nathan Mankey at 160 pounds.
North Hills rallied back with three consecutive victories to cut the score to 17-13 but senior Jake Woodley gave NA momentum back with a win by fall over Zach Smith at 220 pounds to bring the score to 23-13, Tigers. North Hills won two of the next three decisions to pull to within 26-19 before the Tigers put the Indians away for good.
Junior Gabe Falo pinned Malakia Bennett at 120 pounds, freshman Nick Marcenelle picked up a 6-0 decision over Zane Curry at 126 pounds, and Will Baierl finished off the Indians with a win by fall over Armend Murtezi at 132 pounds and NA led 41-19. The Indians capped the scoring with a meaningless fall by John MacPherson at 138 pounds.
North Allegheny improves to 5-0 in Section 3 action, while North Hills drops to 3-2. The Tigers will take part in the Allegheny County Tournament this weekend.
Wrestling Match Summary: NA vs. North Hills
| Weight | Wrestlers | Score |
| --- | --- | --- |
| 145 | Jake Hinkson (NA) tech fall Ethan Uechi (NH) | 15-0 |
| 152 | Jon Hoover (NA) pinned Dakota Grupp (NH) | 1:10 |
| 160 | Eric Hong (NA) pinned Nathan Mankey (NH) | 1:36 |
| 170 | Damon Thompson (NH) maj. dec. Jimmy Turici (NA) | 10-1 |
| 182 | Jacob Stotz (NH) wbf | |
| 195 | Brian Fulton (NH) dec. Jacon Fritsch (NA) | 4-3 |
| 220 | Jake Woodley (NA) pinned Zach Smith (NH) | 3:15 |
| 285 | Sean Bright (NH) dec. Derek Devine (NA) | 5-2 |
| 106 | Frederick Junko (NA) dec. Jeremy MacPherson (NA) | 4-1 (OT) |
| 113 | Sam Hillegas (NH) dec. Jacob Downing (NA) | 2-0 |
| 120 | Gabe Falo (NA) pinned Malakia Bennett (NH) | 0:41 |
| 126 | Nick Marcenelle (NA) dec. Zane Curry (NH) | 6-0 |
| 132 | Will Baierl (NA) pinned Armend Murtesi (NH) | 0:39 |
| 138 | John MacPherson (NH) pinned Andrew Wang (NA) | 1:26 |