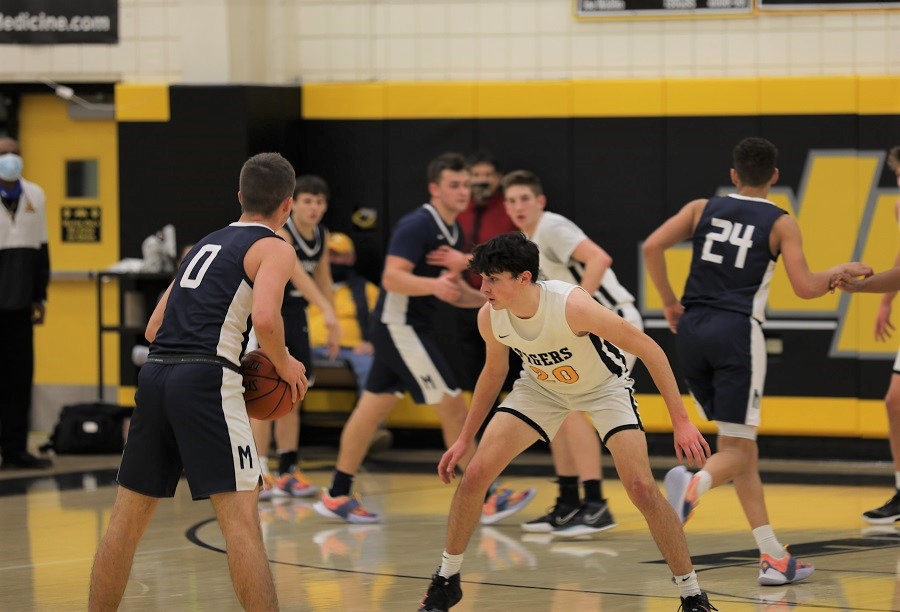 NA Outlasts McDowell For Non-Section Win, 64-57
by Rob McKinney
Following a tough loss to Chartiers Valley, North Allegheny boys' basketball responded with a 64-57 win over Erie McDowell.
McDowell came into Tuesday's game following a 63-50 win against Mt. Lebanon a few days prior. Only one McDowell Trojan scored in double digits and that was Senior Jackson Hower who tallied 24 points in the defeat. Despite Hower's strong effort, McDowell struggled to find offensive rhythm and performed poorly at the foul line. McDowell went 11-21 from the charity stripe.
Displaying some resilience defensively, the Tigers only allowed four 3-pointers all game and shut down McDowell's scoring in the third and fourth quarters. The first quarter was competitive between the two teams, but North Allegheny shined offensively in the latter part of the period. Junior Robby Jones scored nine of his 14 points in the first quarter, all coming beyond the arch.
Unlike the end of the first quarter, the second quarter was relatively quiet offensively for both sides. McDowell's Max Paris came on strong, tallying six of the team's 16 points scored in the period. Unfortunately for the Trojans, Paris didn't return to the game after the second quarter due to injury.
Following halftime, North Allegheny found their offensive stride and held McDowell to only 10 points in the quarter. Senior Khalil Dinkins and senior Greg Habib began showcasing their skills in the period, scoring four and five points, respectfully.
The final quarter was all about Habib, who tallied 10 of the Tigers' 13 points. Following his monster production in the second half, Habib finished with 20 points to lead the Tigers. Despite Habib's efforts, McDowell came within five points of tying the Tigers with just minutes on the clock. But the Tigers held on to secure their fourth win of the season.
North Allegheny improves to 4-2 overall. The Tigers will head to Butler on Friday night at 7:30 p.m to take on the Golden Tornado in a section matchup.