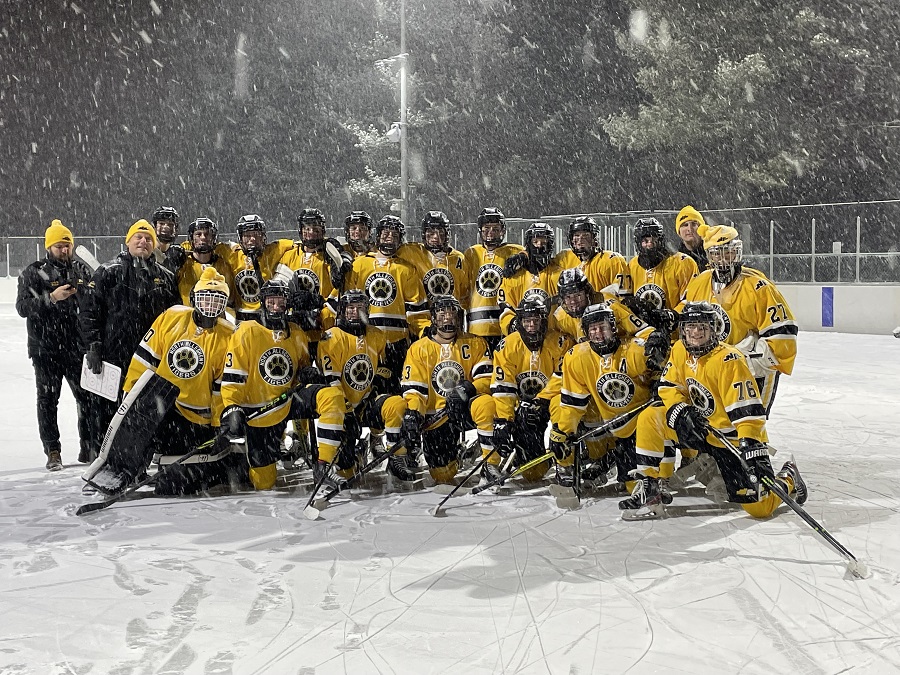 NA Outlasts Holy Ghost Prep In Snowy Outdoor Exhibition, 4-3
by Jared Barton
The North Allegheny Ice Hockey Team beat Holy Ghost Prep 4-3 in a snow globe like atmosphere at Pittsburgh's Schenley Park Thursday night. Consistent snow was falling throughout the contest, which made things tricky on the ice and forced park crews to clear snow from the playing surface in the middle of each period.
Both teams had to get used to the conditions in the first period, but North Allegheny looked a bit more comfortable in the first frame after beating Seneca Valley outside at North Park earlier in the week. No one cracked the score sheet following strong periods from NA junior goalie Rylan Murphy and Prep netminder Jason Soule. Sophomore goalie Andrew Long entered the game for the last two periods for the Tigers.
The Firebirds didn't take long to find the back of the net in the second frame. Sean Marshall scored the game's first goal just a couple minutes into the period with an assist from Dominic Lombardo. About five minutes later, the Firebirds extended the lead on a steal in the neutral zone that led to a one-on-one chance for Patrick Slook who flipped the puck into the NA net unassisted. The Tigers answered just about a minute later, as senior defenseman Kyle Holmes buried a slapshot from the near blueline to cut the lead in half 2-1 with 9:52 left in the period. Senior captain Connor Chi had the assist on the play.
The action continued in the third period as a Holy Ghost Prep goal was disallowed minutes into the final frame because it was kicked in. Four minutes later, Chi tied the game at two apiece when he took a shot in the slot and scored, assisted by junior Matt Irvin and Holmes.
Chi ties it up with 10:37 to go! 2-2 pic.twitter.com/mKHFYyr5Hh

— NATigers (@NATigerAthletic) January 7, 2022
With around nine minutes to play, the Tigers took a brief 3-2 lead when junior Nate Spak scored on a rush into the offensive zone, assisted by junior Trey Gallo and Irvin. But less than 20 seconds later, the Firebirds countered with a goal off the blade of Marshall once again, assisted by Ryan Lippy and Shaun Moore. Late game heroics led to the win for North Allegheny, as Irvin flipped a pass into the slot to Spak, who tipped it right back Irvin at the goalmouth and slid it past Soule with about 40 seconds left in regulation. The Irvin marker gave NA a 4-3 victory.
4-3 Tigers with 40 seconds left!! pic.twitter.com/a3DfkYUCLu

— NATigers (@NATigerAthletic) January 7, 2022
Following the exhibition contest, the Tigers will return to league play in first place in the PIHL AAA standings with an 11-1 overall record. NA is back in action against Baldwin at the Baierl Ice Complex Monday night at 9:00 pm. You can listen to the game on the North Allegheny Sports Network.