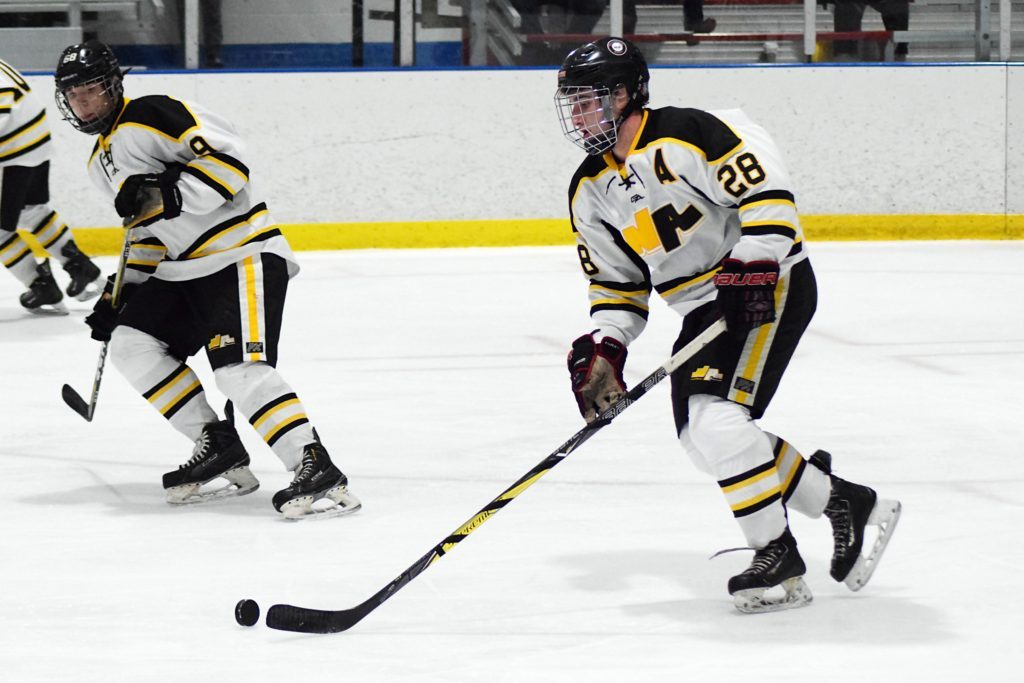 NA Powers Past Mt. Lebanon, 6-1
In a penalty-filled contest, North Allegheny cashed in for three power play goals and a 6-1 win over the Mt. Lebanon Blue Devils at the Baierl Galaxy Center in Warrendale on Monday night.  The Tigers were 3-for-7 on power play opportunities and buried the Blue Devils with four goals in the third period.  Junior Tyler Lamark and senior Tyler Duderstadt each scored a pair of goals, and senior Haden Shimko recorded a four-point night with one goal and three assists.
The first period was a stalemate most of the way through until freshman Kevin Hart scored, assisted by Christopher Hanlon, at the 11:55 mark of the period for a 1-0 lead.
An interference penalty on Mt. Lebanon's Branwen Pollett in the second period proved costly for the Blue Devils as Lamark capitalized for his first goal of the night to bring the score to 2-0, Tigers.
The Tigers blew the game open early in the third period on the strength of back-to-back power play goals by Duderstadt and Shimko for a 4-0 lead. When Hanlon was called for a holding penalty at the 8:23 mark of the third period, it appeared the Blue Devils might have a chance to scratch back into the game with a power play of their own. However, Lamark turned the tables on Mt. Lebanon by netting a short-handed goal at the 9:31 mark for a 5-0 lead.
Mt. Lebanon did eventually score on the power play thanks to an Antonio Evans marker with 6:29 left in the game to trim the score to the 5-1, Tigers. The Blue Devils' momentum was short-lived as Duderstadt scored again 44 seconds later for the Tigers to bring the score to its ultimate final, 6-1.
North Allegheny heavily outshot Mt. Lebanon, 41-19. NA's Richard Karapandi earned the win with 18 saves. Lebo's Bradley Weaver made 35 stops amongst the bombardment from the Tigers.
Following the victory, North Allegheny starts the young season with a 2-0 mark in the PIHL Class AAA standings. Mt. Lebanon slides to 0-2. The Tigers will travel to Southpointe on Tuesday, Oct. 16 for a duel with the Peters Township Indians. The game will be broadcast live via the internet by the North Allegheny Sports Network.
(Photo courtesy of Brian Mitchell, Pittsburgh Hockey Digest, burghhockey.com.)
Ice Hockey Summary vs. Mt. Lebanon, 10-8-18
| GAME SUMMARY | | | | |
| --- | --- | --- | --- | --- |
| SCORE BY PERIODS | 1 | 2 | 3 | FINAL |
| Mt. Lebanon | 0 | 0 | 1 | 1 |
| North Allegheny | 1 | 1 | 4 | 6 |