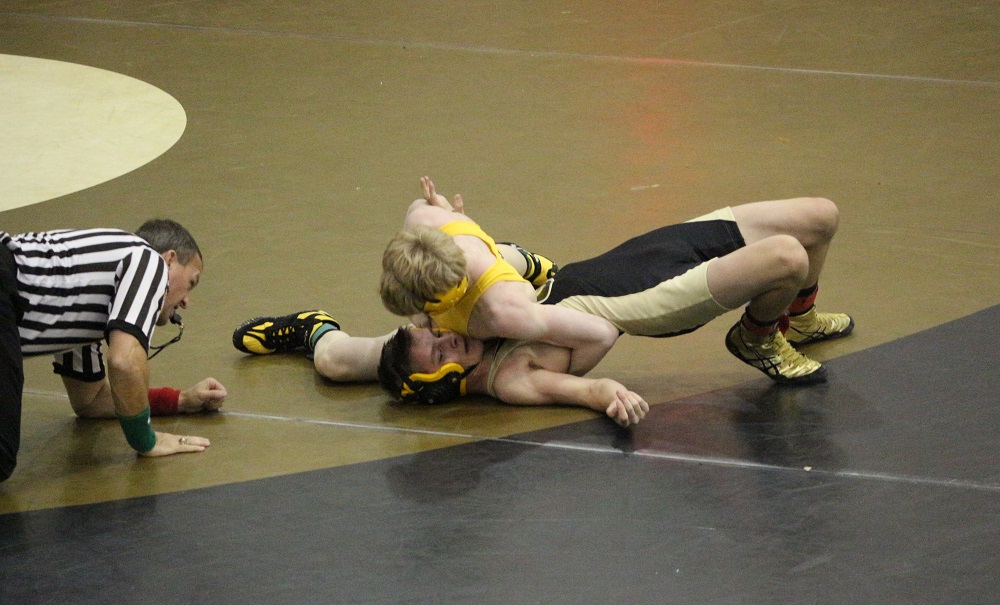 NA Punishes Pine-Richland To Finish Section Schedule
Capping off a clean sweep through Section 3-A, the North Allegheny Tigers punished the Pine-Richland Rams on Wednesday night, 58-8.  The road victory lifts the Tigers to 5-0 in section action and 8-0 overall ahead of the Section Championships next week which will be hosted by the Plum Mustangs, the top team in Section 3-B. Pine-Richland falls to 5-5 overall and 1-4 in section contests.
To wrap up the section schedule, the Tigers used three falls, three major decisions and two tech falls to batter the Rams. Zack Stedeford (106), Dom Forys (126) and Jake Hinkson (132) earned pin falls for NA.  The major decisions belonged to Luke Landefeld (113), Zach Smith (195) and Layne Skundrich (220).  The tech falls were garnered by Scotty Stossel (120) and Richie Boeh (145).
Before the Tigers take part in the Section Championships next Wednesday, the NA grapplers will take part in the highly competitive Allegheny County Tournament this weekend. Senior Dom Forys has a chance to become the third wrestler in tournament history to win four titles. The only four-time champions are Plum's Sean Clair in 2005 and Shaler's Nick Nelson in 2007. The Allegheny County Tournament begins at 10:00 am on Friday at Fox Chapel High School and will run through the day on Saturday.
Wrestling Match Summary: NA vs. Pine-Richland
| Weight | Wrestlers | Score |
| --- | --- | --- |
| 106 | Zack Stedeford (NA) pinned Alex Salas | 4:50 |
| 113 | Luke Landefeld (NA) maj. dec. Hunter Baxter (PR) | 8-0 |
| 120 | Scotty Stossel (NA) tech fall Connor Renkey (PR) | 22-7 |
| 126 | Dom Forys (NA) pinned Grant Fell (PR) | 3:57 |
| 132 | Jake Hinkson (NA) pinned Blake Watson (PR) | 3:42 |
| 138 | David Kelly (PR) dec. A.J. Boeh (NA) | 9-7 |
| 145 | Richie Boeh (NA) tech fall Nick Geyer (PR) | 16-0 |
| 152 | Blynn Shideler (NA) dec. Dylan Florentine (PR) | 7-3 |
| 160 | Brendan Burnham (PR) tech fall Jake Woodley (NA) | 16-0 |
| 170 | Colton Byerly (NA) Mfor Michael Geyer | |
| 182 | Clay Byerly (NA) wbf | |
| 195 | Zach Smith (NA) maj. dec. Keegan Harris (PR) | 13-4 |
| 220 | Layne Skundrich (NA) maj. dec. Matt Hampson (PR) | 11-2 |
| 285 | David Probert (NA) dec. Luke Krebs (PR) | 8-3 |