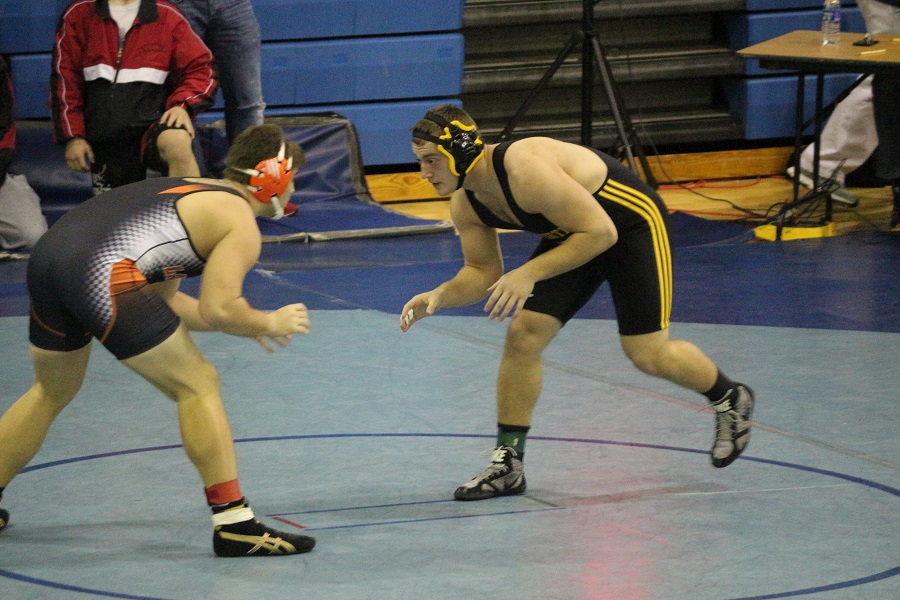 NA Reaches PIAA 3rd Place Consolations, Falls To Bethlehem Catholic
North Allegheny's magical run through the PIAA Team Tournament continued on Saturday as the Tigers reached the 3rd Place Consolations before being cut down by Bethlehem Catholic, 52-9. The Tigers preceded that match with victories over Central Dauphin and Belle Vernon in the third and fourth rounds of the consolation bracket.
The NA grapplers started the day with a 30-24 comeback win over the Central Dauphin Rams. The Tigers trailed 24-18 with three bouts to go before Clay Byerly trimmed the deficit with a 3-2 decision at 182 pounds and Jeff Clemens gave the Tigers the lead at 27-24 with a fall over Raleigh Sirb at 195 pounds. With the final bout deciding the winner, Layne Skundrich clinched the victory with a 5-1 decision over J.P Marrero to give the Tigers a 30-24 triumph.
In the fourth round of the consolation bracket, the Tigers' hopes again hinged on the final bout and Skundrich. North Allegheny and Belle Vernon were tied, 27-27, with Skundrich facing Michael Fine in the 285 pound bout. Skundrich again thrilled the black and gold faithful with a 3-2 decision to give NA a 30-27 victory over the Leopards.
Against Bethlehem Catholic, the Tigers had run out of magic and fell by a 52-9 final. Jake Woodley (160), Byerly (182) and Skundrich (285) all earned wins by decision against B.C.
North Allegheny concludes the season with a 19-5 overall record. Congratulations to coach Jamie Kyriazis and the North Allegheny wrestling team for another great season.
Wrestling Match Summary: NA vs. Central Dauphin
PIAA Class AAA Consolations 3rd RD
| Weight | Wrestlers | Score |
| --- | --- | --- |
| 285 | Zach Smith (NA) pinned Evan Childs (CD) | 0:39 |
| 106 | Jacob Downing (NA) wbf | |
| 113 | Jake Cherry (CD) pinned Gabe Falo (NA) | 2:21 |
| 120 | Austin Bentz (CD) dec. Zack Stedeford (NA) | 2-0 |
| 126 | Tyshawn White (CD) dec. Luke Landefeld (NA) | 3-2; TB |
| 132 | Jake Hinkson (NA) maj. dec. Levi Williams (CD) | 12-4 |
| 138 | Zach Elvin (CD) dec. A.J. Boeh (NA) | 5-1 |
| 145 | Koltyn Eason (CD) dec. Will Baierl (NA) | 9-4 |
| 152 | Noah Light (CD) dec. Sean Hoover (NA) | 3-0 |
| 160 | Jake Woodley (NA) dec. Mitchell Pleskonko (CD) | 9-3 |
| 170 | Carter Talbott (CD) dec. Jacob Fritch (NA) | 1-0 |
| 182 | Clay Byerly (NA) dec. Steven McNeal (CD) | 2-1; TB |
| 195 | Jeff Clemens (NA) pinned Raleigh Sirb (CD) | 1:34 |
| 220 | Layne Skundrich (NA) dec. J.P. Marrero (CD) | 5-1 |
*************
Wrestling Match Summary: NA vs. Belle Vernon
PIAA Class AAA Consolations 4th RD
| Weight | Wrestlers | Score |
| --- | --- | --- |
| 106 | Jacob Dunlop (BV) dec. Gabe Falo (NA) | 1-0 |
| 113 | Jacob Downing (NA) pinned Elijah Johnson (BV) | 4:09 |
| 120 | Zachary Hartman (BV) dec. Zack Stedeford (NA) | 2:15 |
| 126 | Brock Godzin (BV) dec. Luke Landefeld (NA) | 9-3 |
| 132 | Jake Hinkson (NA) dec. Neiko Kuntz (BV) | 8-4 |
| 138 | A.J. Boeh (NA) dec. Mitchell Hartman (BV) | 2-1 |
| 145 | Jarod Verkleeren (BV) tech fall Will Baierl (NA) | 20-3 |
| 152 | Sean Hoover (NA) pinned Cameron Evans (BV) | 3:44 |
| 160 | Derek Verkleeren (BV) maj. dec. Jacob Fritch (NA) | 10-2 |
| 170 | Jake Woodley (NA) dec. Joshua Godzin (BV) | 4-3 |
| 182 | Austin Bell (BV) dec. Clay Byerly (NA) | 1-0 |
| 195 | Milton Kobaly (BV) dec. Jeff Clemens (NA) | 11-5 |
| 220 | Zach Smith (NA) wbf | |
| 285 | Layne Skundrich (NA) dec. Michael Fine (BV) | 3-2, UTB |
*************
Wrestling Match Summary: NA vs. Bethlehem Catholic
PIAA Class AAA 3rd Place Consolations
| Weight | Wrestlers | Score |
| --- | --- | --- |
| 113 | Luke Carty (BC) pinned Gabe Falo (NA) | 1:35 |
| 120 | Jake Reigel (BC) pinned Zack Stedeford (NA) | 3:25 |
| 126 | Luke Karam (BC) maj. dec. Luke Landefeld (NA) | 11-3 |
| 132 | Joey Gould (BC) dec. Jake Hinkson (NA) | 8-2 |
| 138 | Stephen Maloney (BC) pinned A.J. Boeh (NA) | Def; 0:28 |
| 145 | Cole Karam (BC) maj. dec. Will Baierl (NA) | 16-2 |
| 152 | Michael Labriola (BC) maj. dec. Sean Hoover (NA) | 16-5 |
| 160 | Jake Woodley (NA) dec. Brandon Gallagher (BC) | 6-2 |
| 170 | Adam Soldridge (BC) maj. dec. Jacob Fritch (NA) | 10-2 |
| 182 | Clay Byerly (NA) dec. Jody Crouse (BC) | 2-0 |
| 195 | Brandon Blobe (BC) dec. Jeff Clemens (NA) | 7-2 |
| 220 | Andrew Dunn (BC) pinned Zach Smith (NA) | 1:59 |
| 285 | Layne Skundrich (NA) dec. Niko Camacho (BC) | 1-0 |
| 106 | Sean Redington (BC) wbf | |