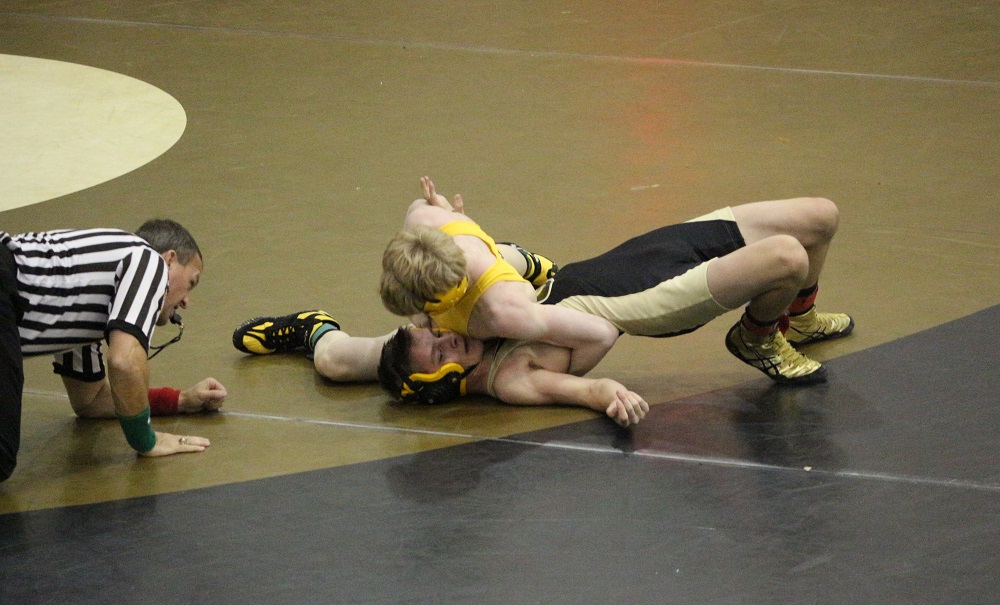 NA Sends Six To Quarterfinals At WPIAL Individual Tournament
North Allegheny advanced six wrestlers into the quarterfinals of the Class AAA Individual Wrestling Tournament on Thursday night at Canon-McMillan High School. Freshman Luke Landefeld (113), senior Scotty Stossel (120), senior Dom Forys (126), freshman Jake Hinkson (132), junior Clay Byerly (182) and senior Zach Smith (195) all moved on with first round victories.
At 138 pounds, freshman A.J. Boeh opened the tournament with a pigtail round win, claiming a 4-2 decision over Carter Shar of West Mifflin.  Boeh nearly advanced to the quarters but was edged by a 5-4 decision in his first round matchup with Canon-McMillan's Malachi Krenzelak.
Despite falling in their first round bouts, Boeh, freshman Zack Stedeford (106), senior Drew Landefeld (145), and freshman Jake Woodley (160) all remain alive in the consolation bracket of the double elimination tournament.
WPIAL Class AAA Wrestling action continues tonight with the quarterfinals and first round consolations at 6:00 pm. You can listen to the entire tournament live courtesy of WJPA Radio by clicking here.
A listing of NA results from day one at the tournament is below.  For a look at the entire Class AAA bracket, click here.
WPIAL Class AAA Wrestling Championships - Day One
Thursday, February 27 at Canon-McMillan High School
| Weight | Wrestlers | Score |
| --- | --- | --- |
| 106 | Tristan Buxton (Trinity) maj. dec. Zack Stedeford (NA) | 11-2 |
| 113 | Luke Landefeld (NA) pinned Tyler German (Thomas Jefferson) | 1:06 |
| 120 | Scotty Stossel (NA) tech fall Cameron Reynolds (Trinity) | 17-1 |
| 126 | Dom Forys (NA) tech fall Joel Cawoski (Latrobe) | 19-3 |
| 132 | Jake Hinkson (NA) pinned Logan Henderson (Waynesburg) | 5:28 |
| 138 - Pigtail match | A.J. Boeh (NA) dec. Carter Shar (West Mifflin) | 4-2 |
| First Round | Malachi Krenzelak (Canon-McMillan) dec. A.J. Boeh (NA) | 5-4 |
| 145 | Solomon Chisko (Canon-McMillan) tech fall Drew Landefeld (NA) | 19-4 |
| 160 | Colin McCracken (Waynesburg) dec. Jake Woodley | 6-2 |
| 182 | Clay Byerly (NA) dec. Colt Belardia (Elizabeth Forward) | 2-0 |
| 195 | Zach Smith (NA) tech fall Travis Schmeling (Latrobe) | 16-0 |