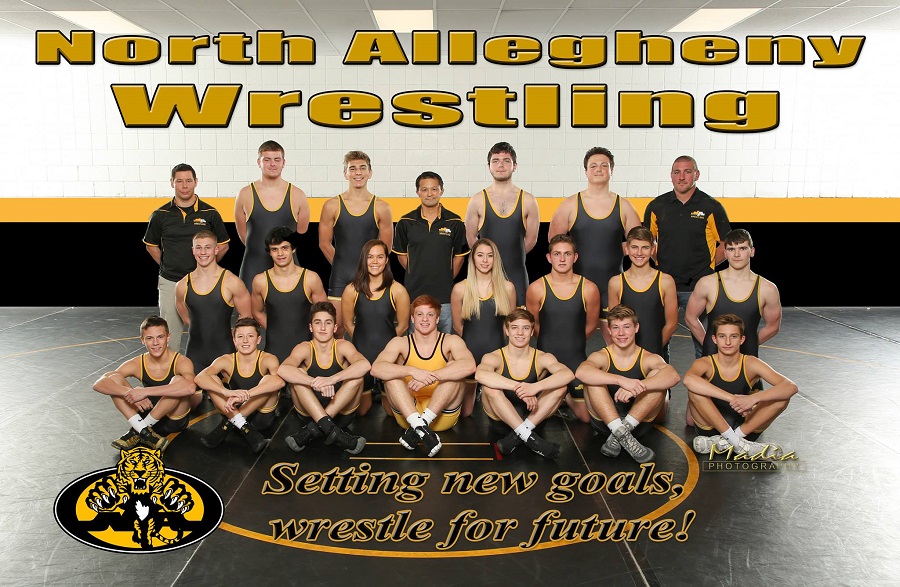 NA Stays Unbeaten In Section With 47-27 Win Over Fox Chapel
The North Allegheny wrestling team maintained its unblemished section record with a 47-27 victory at Fox Chapel on Wednesday night. The Tigers built a 28-9 lead through seven bouts and fended off the Foxes.
Sophomore Brady Leczo (170), senior Jon Hoover (182), freshman Dylan Coy (106), junior Freddy Junko (126) and junior Ian Branstetter (138) all earned wins by fall to help NA pull away. In his bout at 182, Hoover pinned Steven Cano at the 1:50 mark and was named the Wright Automotive Wrestler of the Match by the North Allegheny Sports Network.
Junior Nick Marcenelle (160) and Dom Hogan (132) also collected bonus point wins with major decisions in their respective weight classes.
With the win, North Allegheny improves to 4-0 in Section 3B in Class AAA. Fox Chapel slips to 1-3. The Tigers will take on undefeated Hampton next Wednesday in a section clash that will be broadcast live by the North Allegheny Sports Network.
Wrestling Match Summary: NA vs. Fox Chapel
| Weight | Wrestlers | Score |
| --- | --- | --- |
| 160 | Nick Marcenelle (NA) maj. dec. Alex Wecht (FC) | 9-1 |
| 170 | Brady Leczo (NA) pinned Sean Mahon (FC) | 4:40 |
| 182 | Jon Hoover (NA) pinned Steven Cano (FC) | 1:50 |
| 195 | Henry Gavazzi (FC) wbf | |
| 220 | Eddie Farrell (FC) dec. Ben Grafton (NA) | 5-2 |
| 285 | Jordan White (NA) wbf | |
| 106 | Dylan Coy (NA) pinned Ray Worsen (FC) | 0:31 |
| 113 | Jordana Matamoros (FC) pinned Massima Curry (NA) | 3:22 |
| 120 | Brad Stipetich (NA) dec. Sam Zukerman (FC) | 9-3 |
| 126 | Freddy Junko (NA) pinned Max Lucco (FC) | 1:47 |
| 132 | Dom Hogan (NA) maj. dec. Brendan Kost (FC) | 11-0 |
| 138 | Ian Branstetter (NA) pinned Joey D'Cunna (FC) | 1:13 |
| 145 | Avery Bursick (FC) pinned Brandon Weaver (NA) | 1:27 |
| 152 | Josh Miller (FC) pinned Bobby Snyder (NA) | 2:25 |