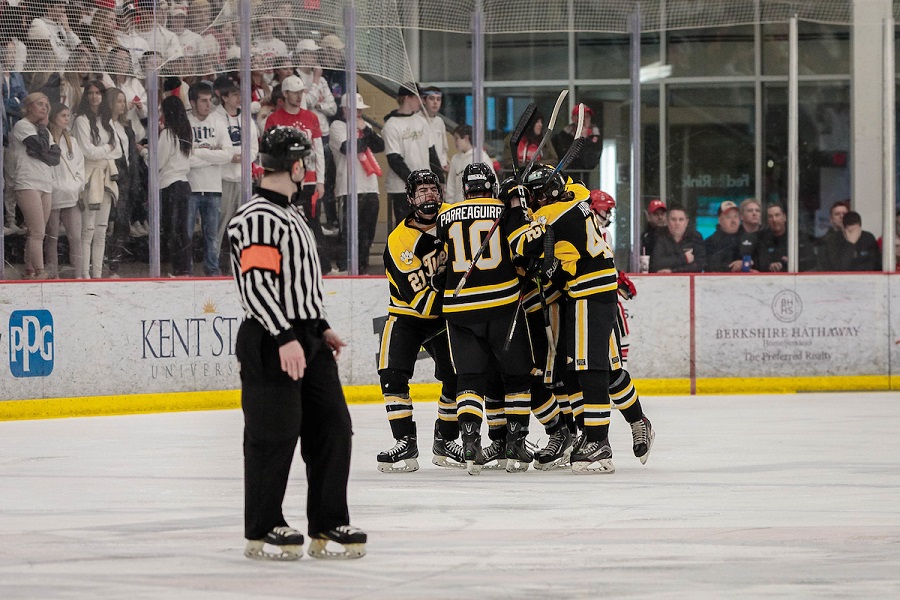 NA Uses Big Third Period To Defeat Bethel Park, 6-1
A four-goal outburst in the third period helped North Allegheny pull away from Bethel Park on Thursday night for a 6-1 road victory in the South Hills. Sophomore Connor Chi netted a hat trick and junior Aaron Mark added two goals in the third period, vaulting the Tigers back into first place in the Class AAA standings with a 6-0-1 record and 13 points.
Thursday's contest was a cleanly-played game that did not feature a single penalty. The first even strength goal of the night went to the Tigers when Chi scored at the 3:04 mark of the first period for a 1-0 lead. Bethel Park's Joey Wandrisco knotted the score at 1-1 with just 17 seconds remaining in the first.
The game stayed tied until Chi tickled the twine for the second time at the 7:24 mark of the second period, giving NA a 2-1 lead.
In the third period, it was all Tigers as Mark netted the first two goals of the stanza for a 4-1 lead. Chi completed his hat trick at the 11:05 mark of the third period and Luke Washabaugh capped the scoring over three minutes later to complete a 6-1 triumph for North Allegheny.
While the Black Hawks outshot the Tigers, 33-23, NA goalie Tyler Boyles made 32 saves to earn his fourth win of the season. Bethel Park's Dominic Zevola stopped 17 pucks in a losing effort.
The reigning Class AAA Penguins Cup champions look to continue their hot streak with a visit to Upper St. Clair on Monday night at 9:00 p.m.