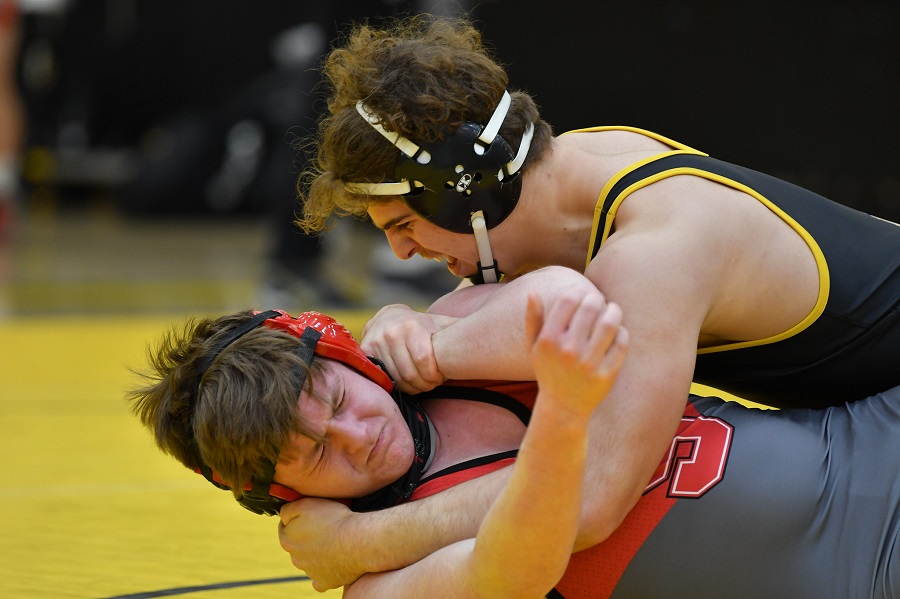 NA wins 3-of-4 at Trinity Duals
The North Allegheny boys' wrestling team traveled to Washington County on Saturday to compete at the Trinity Duals. The Tigers went 3-1 at the duals, claiming wins over Cathedral Prep (37-30), Finneytown (72-0) and Wheeling Park (33-27). NA's lone defeat came to host Trinity by a score of 48-18.
Against Cathedral Prep, North Allegheny trailed 30-22 with three bouts to go before rallying toward victory. At 285 pounds, Aidan Buggey picked up a win by forfeit to cut the deficit to 30-28 and Gus Stedeford followed with pinfall over Aiden Carter at 107 to vault NA in front, 34-30. With one bout to go, Casey Walker sealed the win by delivering a 4-2 decision over Amir Johnson at 114 pounds and the Tigers prevailed, 37-30.
North Allegheny's win over Finneytown out of Cincinnati, Ohio was a one-sided whitewash. The Tigers earned seven wins by fall, including Stedeford (107), Walker (114), Griffen Reid (121), William Bentrim (127), Jayson Flener (152), Adam Rohan (172) and Anthony Spivak (285).
In their matchup with the Wheeling Park Patriots, North Allegheny jumped out to a 13-0 lead, three bouts into the meet, and never trailed. Wins by fall were delivered by Bentrim (127) and Buggey (215).
North Allegheny's only loss on the day came to host Trinity as the Hillers opened up a 27-0 lead six bouts into the contest. The Trinity lead proved insurmountable but NA did deliver some impressive performances. At 152 pounds, Flener defeated Adam Watson by fall in 1:10. Buggey pinned Mason Kraeer in just 1:10 at 215 pounds. The final victory for the Tigers came courtesy of Stedeford at 107 pounds with a win by fall over Mickey Horne in 2:41.
Following Saturday's results, North Allegheny now boasts an overall record of 4-1 on the season. The Tigers will take part in the Kiski Area Duals on Saturday, Dec. 17.
Wrestling Match Summary: NA vs. Finneytown (OH)
| Weight | Wrestlers | Score |
| --- | --- | --- |
| 107 | Gus Stedeford (NA) pinned Khadim Lo (FT) | 2:26 |
| 114 | Casey Walker (NA) pinned Alyssa Bolt (FT) | 1:14 |
| 121 | Griffen Reid (NA) pinned My'Shawna Tinsley (FT) | 0:44 |
| 127 | William Bentrim (NA) pinned Dominick Schoff (FT) | 0:48 |
| 133 | Sam Horton (NA) wbf | |
| 139 | Nathan Monteparte (NA) wbf | |
| 145 | Double Forfeit | |
| 152 | Jayson Flener (NA) pinned Brady Votz (FT) | 1:04 |
| 160 | Krist Vizcarra (NA) wbf | |
| 172 | Adam Rohan (NA) wbf | |
| 189 | Kyran Rautenbach (NA) wbf | |
| 215 | Aidan Buggey (NA) wbf | |
| 285 | Anthony Spivak (NA) pinned James Paudel (FT) | 2:40 |
---
Wrestling Match Summary: NA vs. Trinity
| Weight | Wrestlers | Score |
| --- | --- | --- |
| 114 | Frank Fedorchak (T) pinned Casey Walker (NA) | 3:32 |
| 121 | Dominick Canali (T) pinned Griffen Reid (NA) | 1:25 |
| 127 | Thomas Allison (T) dec. William Bentrim (NA) | 5-1 |
| 133 | Luke Poland (T) pinned Sam Horton (NA) | 3:56 |
| 139 | Blake Reihner (T) dec. Nathan Monteparte (NA) | 3-1 |
| 145 | Jackson Bruckner (T) wbf | |
| 152 | Jayson Flener (NA) pinned Adam Watson (T) | 1:10 |
| 160 | Robbie Allison (T) pinned Krist Vizcarra (NA) | 3:08 |
| 172 | Bodie Morgan (T) dec. Adam Rohan (NA) | 12-5 |
| 189 | Cael Nicolella (T) dec. Kyran Rautenbach (NA) | 7-0 |
| 215 | Aidan Buggey (NA) pinned Mason Kraeer (T) | 1:10 |
| 285 | Ty Banco (T) pinned Anthony Spivak (NA) | 0:36 |
| 107 | Gus Stedeford (NA) pinned Mickey Horne (T) | 2:41 |
---
Wrestling Match Summary: NA vs. Cathedral Prep
| Weight | Wrestlers | Score |
| --- | --- | --- |
| 121 | Griffen Reid (NA) dec. Keagan Oler (CP) | 7-1 |
| 127 | William Bentrim (NA) pinned Andrew Gammon (CP) | 1:51 |
| 133 | Sam Staab (CP) pinned Sam Horton (NA) | 3:49 |
| 139 | Nathan Monteparte (NA) pinned Xavier Dombkowski (CP) | 2:29 |
| 145 | Peter Sadchikov (CP) wbf | |
| 152 | Jayson Flener (NA) maj. dec. Brandon Byrd (CP) | 9-0 |
| 160 | Jaden Crockett (CP) pinned Krist Vizcarra (NA) | 5:15 |
| 172 | Adam Rohan (NA) dec. Clay Mallory (CP) | 5-2 |
| 189 | Owen Shetler (CP) pinned Kyran Rautenbach (NA) | 3:53 |
| 215 | Isaiah Harrick (CP) pinned Anthony Spivak (NA) | 1:10 |
| 285 | Aidan Buggey (NA) wbf | |
| 107 | Gus Stedeford (NA) pinned Aiden Carter (CP) | 3:53 |
| 114 | Casey Walker (NA) dec. Amir Johnson (CP) | 4-2 |
---
Wrestling Match Summary: NA vs. Wheeling Park (WV)
| Weight | Wrestlers | Score |
| --- | --- | --- |
| 127 | William Bentrim (NA) pinned Carter Duncil (WP) | 0:43 |
| 133 | Sam Horton (NA) dec. Jerome Maynard (WP) | 7-2 |
| 139 | Nathan Monteparte (NA) maj. dec. Adam Carman (WP) | 11-3 |
| 145 | Brandon Scott (WP) wbf | |
| 152 | Jayson Flener (NA) tech fall Chance Funari (WP) | 17-0, 4:49 |
| 160 | Malaki Washington (WP) dec. Kellen Buggey (NA) | 14-8 |
| 172 | Adam Rohan (NA) dec. Jameson Maynard (WP) | 4-3 |
| 189 | Gavin Washington (WP) dec. Kyran Rautenbach (NA) | 7-1 |
| 215 | Aidan Buggey (NA) pinned Cameron Bryan (WP) | 1:25 |
| 285 | Hunter Means (WP) pinned Anthony Spivak (NA) | 0:22 |
| 107 | Gus Stedeford (NA) wbf | |
| 114 | Carter Lucas (WP) pinned Casey Walker (NA) | 5:32 |
| 121 | Noah White (WP) tech fall Griffen Reid (NA) | 15-0, 4:31 |
| | WP 2 team pts deducted | |