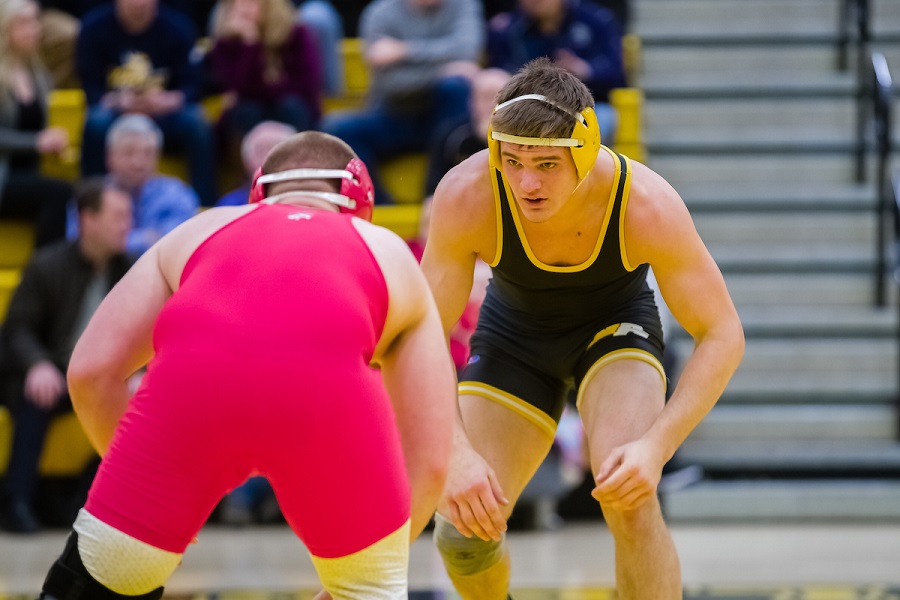 Nine Tigers Advance To Day Two Of WPIAL Wrestling Championships
Four North Allegheny wrestlers have advanced to the semifinals and five more will compete in day two of the WPIAL Class AAA individual wrestling tournament at Canon-McMillan High School. Seniors Luke Landefeld, Jake Hinkson, Eric Hong and Jake Woodley all successfully navigated their way through the first day of the tournament to earn a place in the final four of their respective weight classes.
At 132 pounds, Landefeld opened the day with a win by fall over Bryce Long of Norwin in 1:57 and followed that up with a quarterfinal victory over Joel Cawoski of Greater Latrobe by an 8-1 decision. Hinkson picked up a fall over Franklin Regional's Jimmy O'Neil at 145 pounds in 1:18 and delivered a 13-7 decision over Tyler Seliga of Belle Vernon in the quarterfinals.
At 160 pounds, Eric Hong pinned Angelo Harr of Greater Latrobe in 2:54 and defeated Franklin Regional's Dan Contraguerro in the quarterfinals by a 4-2 decision. Jake Woodley barely broke a sweat in his first round win over Penn-Trafford's Matt Wilkie at 195 pounds, pinning him in 34 seconds. Woodley followed that up with another win by fall, defeating Keyshawn Smith of Plum in 5:06.
Five other Tigers remain alive and will participate in day two of the tournament in the consolation bracket. Those NA grapplers include Jacob Downing (113), Zach Stedeford (138), Jon Hoover (145), Sean Hoover (170) and Derek Devine (285). A look at the North Allegheny results from day one at the WPIAL championships are below.
Action resumes at the Class AAA WPIAL individual wrestling tournament on Saturday morning at 10:30 a.m. You can listen to every match from the tournament courtesy of our friends at WJPA Radio by clicking here.
WPIAL Class AAA Wrestling Championships - Day One
Friday, March 3 at Canon-McMillan High School
| Weight | Wrestlers | Score |
| --- | --- | --- |
| 106 - Pigtail | Freddy Junko (NA) maj. dec. Evan Whiteside (GWY) | 10-1 |
| 1st Round | Frankie Bonura (Moon) maj. dec. Freddy Junko (NA) | 13-4 |
| 1st Consolation | Nathan Lukez (PR) maj. dec. Freddy Junko (NA) | 15-4 |
| | | |
| 113 | Jacob Downing (NA) dec. Zachary Macy (CV) | 4-2 |
| Quarterfinals | Louis Newell (SV) maj. dec. Jacob Downing (NA) | 13-3 |
| | | |
| 120 | Matt Siszka (KA) tech fall Gabe Falo (NA) | 15-0 |
| 1st Consolation | Tony Zona (PT) dec. Gabe Falo (NA) | 5-0 |
| | | |
| 126 - Pigtail | Dajuahn Hertzog (GS) dec. Nick Marcenelle (NA) | 7-0 |
| | | |
| 132 | Luke Landefeld (NA) pinned Bryce Long (NWN) | 1:57 |
| Quarterfinals | Luke Landefeld (NA) dec. Joel Cawoski (GL) | 8-1 |
| | | |
| 138 | Zach Stedeford (NA) pinned Chris Zona (NWN) | 4:34 |
| Quarterfinals | Cam Connor (KA) dec. Zach Stedeford (NA) | 3-1 |
| | | |
| 145 | Jake Hinkson (NA) pinned Jimmy O'Neil (FR) | 1:18 |
| Quarterfinals | Jake Hinkson (NA) dec. Tyler Seliga (BV) | 13-7 |
| | | |
| 152 - Pigtail | Jon Hoover (NA) dec. Michael Standish (AG) | 1-0 |
| 1st Round | Luke Stout (ML) dec. Jon Hoover (NA) | 4-1 |
| 1st Consolation | Jon Hoover (NA) dec. Jake Pollak (SH) | 3-1 |
| | | |
| 160 | Eric Hong (NA) pinned Angelo Harr (GL) | 2:54 |
| Quarterfinals | Eric Hong (NA) dec. Dan Contraguerro (FR) | 4-2 |
| | | |
| 170 | Sean Hoover (NA) maj. dec. Gehrig Hutchinson (BLWN) | 8-0 |
| Quarterfinals | Kyle Homet (WBG) dec. Sean Hoover (NA) | 3-2 |
| | | |
| 182 - Pigtail | Jared Kramer (NA) dec. R. Wintermantel (ML) | 5-2 |
| 1st Round | Teegan Hahn (GS) maj. dec. Jared Kramer (NA) | 14-3 |
| 1st Consolation | Austin McConaghy (Moon) pinned Jared Kramer (NA) | 4:12 |
| | | |
| 195 | Jake Woodley (NA) pinned Matt Wilkie (PT) | 0:34 |
| Quarterfinals | Jake Woodley (NA) pinned Keyshawn Smith (Plum) | 5:06 |
| | | |
| 285 | Derek Devine (NA) pinned Daniel McGeough (CV) | 2:55 |
| Quarterfinals | Roman Macek (Montour) dec. Derek Devine (NA) | 5-1 |
| | | |